It's been nearly 200 years since Baron Nathan Rothschild uttered his famous investing aphorism "buy when there is blood in the street." During Rothschild's salad years, in the early 19th century, the quote could be taken literally or figuratively.
Today, the aphorism is strictly figurative, but that's not to say that contemporary investors might not feel as though they are experiencing a little blood-letting at times, particularly long-term investors in WCI Communities, Inc. (NYSE: WCI), a designer, builder, and sometimes manager of leisure-oriented master-planned communities. WCI's primary market, Florida (90% of revenues), has consistently outpaced the country in foreclosures and delinquency for most of 2007.
Serving a collapsing market is at best ignominious. To wit, the following table is the verbatim lead in to WCI's second-quarter 2007 press release. (Note the use of the word "highlights." It's ironic, but it's not the sort of irony that generally amuses investors.)
Second Quarter Financial Highlights:
• Net loss: $33.2 million.
• Basic and diluted EPS: loss of $0.79.
• Recorded pre-tax impairments and write-offs of $36 million.
• Revenues: $241.8 million—down 54.2%.
• Gross new orders: $155.7 million—down 50.1%.
• Backlog at June 30, 2007: $635.6 million.
• Generated cash flow from operating activities and investing
activities of $119.8 million YTD as of June 30, 2007—$86.3
million from operating and $33.5 million from investing activities.
Here are a few more "highlights" divulged in a subsequent conference call: total homebuilding down 61.7%, with traditional homebuilding down 30.6% and average prices down 15.7%; tower homebuilding down 99%, with 68 defaults causing a reversal of $59.3 million; traditional net orders down 64.9%. It's a total downer, to be sure.
Unfortunately, the home-building environment is unlikely to look up anytime in the relevant future. "We believe the slowdown in new unit orders is attributable to a national softening in demand for new homes as well as an oversupply of homes available for sale, particularly in our Florida market," WCI management said in a statement stating the obvious, adding that "we have little or no visibility on when market conditions are likely to improve."
What's particularly frustrating for investors is that this opaque future was preceded by a very clear past. In March, legendary value investor Carl Icahn bid $22 a share for all of WCI shares, but management rejected the offer as inadequate, and then proved it was adequate by availing itself to all other potential suitors, of which there were none. The stock price subsequently dropped to an all-time low of $5 a share, where it remains to this day.
So why take a risk on what seems an intractable mess? First, WCI is a classic deep-value, contrarian investment, and such investments can lead to big returns (hence the sagacity of the Rothschild quote). Second, Icahn has assumed control. His 14.5% stake, along with management's poor performance, has enabled him to garner three board seats and the chairmanship.
That's good news for investors, because Icahn is a master at extracting value from undervalued assets. Indeed, much of his fortune ($15 billion and counting) has been accumulated by buying distressed business and persuading management (often with a velvet-covered fist) to extract hidden value sooner rather than later. He has applied this form of tough love to American Railcar Industries, Inc. (Nasdaq: ARII), XO Communications Holdings Inc. (OTC:XOHO), Imclone Systems Incorporated (Nasdaq: IMCL), Time Warner Inc. (NYSE: TWX), Korea Tobacco & Ginseng, and many companies with enviable success.
And for all its perceptible troubles WCI has extractable value. Morningstar analyst Eric Landry believes that the $937 million of land and land improvements on WCI's books are probably understated because about 60% of the company's land was put under contract before prices rocketed in 2004. Landry also notes that WCI owns 18 golf courses and several marinas, which can be liquidated to shore up the capital structure.
Goldman Sachs recently re-initiated coverage with a "neutral" rating and a target price of $8 a share. (Goldman had suspended coverage because it was advising WCI management during its brief courting period, so it likely has insight that other research firms lack.) Goldman stated in a research note that "despite the bleak outlook we have a Neutral rating on WCI because (a) the weak fundamentals of building towers and selling homes in Florida are seemingly priced into the shares (WCI is trading at 32% of book value) and (b) new leadership at the company may support investor interest in the shares near term."
As of August, WCI had total liquidity, measured as cash plus available capacity under a revolving facility, of approximately $315 million and outstanding letters of credit of $43.6 million. WCI has also indicated that new board members might explore a possible "rights offering." Under one possible scenario, common stock would be offered to current shareholders, entitling them to buy subsequent shares at a discount. In other words, there is still some wiggle room for WCI to extract itself from its current predicament.
It won't be easy, but it's doable, at least according to the lead investor. "Despite the rough road ahead, I believe in the long-term value of the company and view the WCI platform as a unique vehicle to take advantage of the current market disarray," Icahn said in a recent statement that sounds almost Rothschildian in its tone.
Shares of WCI closed at $5.74 yesterday. Over the last 52 weeks, shares have ranged between $4.95 and $24.20.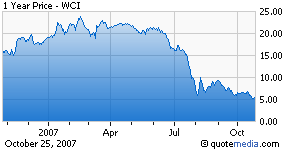 Disclosure: none