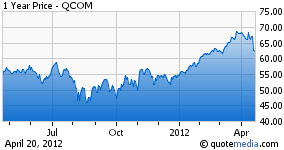 Qualcomm's (QCOM) earnings report offered clues regarding how Apple (AAPL) suppliers fared last quarter. As expected, ramping demand ahead of the iPad launch sparked chip unit volume.
Qualcomm's mobile station modem sales were up 29% year-over-year and sales of its Snapdragon chips, built into leading Google (GOOG) Android phones from Samsung, HTC and others, increased by 70%.
Overall, unit volume growth came not just from ramping sales of the iPad, but from demand for its latest Snapdragon chip, the MSM8960, which found its way into products from HTC and rumored products from Samsung, LG, Nokia (NOK) and even Motorola (MMI). All in, rising demand from slot wins helped sales increase 6% from the prior quarter and 28% from last year.
Yet, investor's digesting Qualcomm's report found more worth selling than buying, knocking Qualcomm's market value down by over $7 billion in the wake of its earnings.
Given the drop, now may be the time to increase your exposure to the stock.
Investors should pay attention to the sell-off and consider it an opportunity to pick up shares. Smart phone sales aren't stalling and mobile device sales remain in their infancy. Despite mid double digit global growth in smart phone sales in 2011 from 2010, more than half of mobile users still don't own one. And emerging market migration from 2G to 3G offers considerable growth, especially in China where 3G accounts less than a third of connections.
Qualcomm benefits from those trends, citing both domestic and emerging markets strength for multi-mode enabled devices driving sales in its earnings release. The company also trotted out a study from Wireless Intelligence to back up the premise, saying emerging market 3G connections rose 45% year-over-year to 850 million last quarter.
They also noted a doubling of emerging region smart phone sales in 2011 and an expectation of 15% growth in total worldwide 3G/4G device shipments this year.
Importantly, all those smart phones and tablets are increasingly packed with next generation - read as higher margin - chips designed to seamlessly cross over from existing bands to LTE and 4G and back again. Carriers are making sure OEM's are building in multi mode functionality given billions in capex spent building those networks.
The 28 nanometer question mark.
On the company's call, analysts focused attention on Qualcomm seeing "very strong demand" for its 28 nanometer chips. So strong was the demand, the company warned it didn't have enough capacity. In its words "at this stage, we cannot secure enough supply to meet the increasing demand we're experiencing. We're working closely with our partners to bring additional capacity online. However, the constraints on 28-nanometer supply are limiting our potential revenue upside this fiscal year."
In one way, it's a good long term problem to have - given supply shortages support average selling prices. Those prices are being guided to $212 this year, which is above the company's prior $210 midpoint.
But Qualcomm needs to walk a fine line in insuring Goldilocks supply - not too much and not too little. And, in the short term getting capacity just right means spending more taping out chips for new foundry suppliers beyond its current relationship with Taiwan Semiconductor (TSM). Such spending will weigh on margins short term, but should start to really pay off at year end and into Q1 2013.
The company's guidance is strong and its financials got more bullet proof.
Qualcomm's guidance for 2012 reflects a 28% year-over-year lift at its midpoint, giving it the confidence to up its fiscal 2012 non-GAAP earnings per share forecast to $3.61-$3.76, which would be 15% higher. At the $3.68 mid-point, Qualcomm's PE comes in at a respectable 17.
The company didn't back away from showing optimism for the back end of the year either. William Keitel, the company's CFO, put it this way, "There's going to be, I think, a lot a focus on product launches going into the September quarter and particularly into the December quarter." You can bet those launches will boost total MSM shipments in Q3 and Q4.
The sales strength in the quarter helped the balance sheet too, thanks to $1.6 billion in free cash flow and the $1.9 billion A T&T (T) paid for Qualcomm's spectrum. This allowed the company to boost its dividend by 16% and authorize $4 billion for buybacks while bringing cash and equivalents to $26.6 billion exiting the quarter.
Given the demand backdrop, guidance, balance sheet and the fact every time stochastics have gotten to these levels on the daily chart shares have rallied, there is a lot to like about buying shares in the low $60s.