Coal companies are very much unloved right now due to regulatory attack and exceptional price competition from natural gas as an alternative electric power generation fuel. They are down, but we do not believe they are out.
The U.S. Dept. of Energy, Energy Information Agency says this:
... coal remains the leading fuel for U.S. electricity generation ... its [projected] share of total generation is lower in the 2012 [estimate]... than was projected [a year ago]. ... [but] still growing in most projection years after 2015 ...

[EIA projects] domestic coal production increases at an average rate of 0.3 percent per year, from ... 2010 to ... 2035. ... natural gas prices and the retirement of a sizable amount of coal-fired generating capacity leads to a decline in overall coal consumption in the electricity sector.

Electricity generation currently accounts for 93 percent of total U.S. coal consumption. ... For the most part, the reduced outlook for coal consumption in the electricity sector is the result of lower natural gas prices and higher coal prices that, taken together, support increased generation from natural gas ... With a more robust outlook for coal imports by Asian countries, [projections made in] 2012 shows higher coal exports than [projections made in] 2011.

U.S. coal exports, chiefly Central Appalachian bituminous, make up a significant percentage of the world export market and are a relevant factor in world coal prices.
In addition, we believe that science, engineering and technology will find, develop and improve ways to utilize coal as a fuel source in ways of less concern with respect to the environment.
The U.S. is rich in coal in a world hungry for coal, and energy companies are also working actively to develop "clean coal" alternatives.
We believe the current bear market in coal companies represents more of an opportunity for long-term investment, than a reason to abandon the category.
The coal companies discussed in this article are:
| | |
| --- | --- |
| BTU | Peabody Energy |
| CNX | Consolidated Energy |
| ARLP | Alliance Resource Partners |
| PVR | Penn Virginia Resource Ptnrs |
| ACI | Arch Coal |
| ANR | Alpha Natural Resources |
We own ARLP, and are sticking with it, even though it's really tough to watch the price drop so much. We also own coal through a large international diversified mining company, well positioned to serve China with its expanding coal requirements.
The analyst community is down on coal about as hard as it can be.
This table shows the Thompson Reuters StarMine rating for the coal companies in our list. The rating system goes from 0 to 10 (with 10 the best, and 7.1 or greater as Bullish). All of the coal companies are rated Strong Sell.

At the same time, the mean Street Consensus 12-month target prices are well above the current prices. With the exception of PVR, the target prices are 30% to 80% higher than the current prices.
The analyst community sees flat dividends for the group, with the exception of ARLP and PVR, as shown in this table with data from Thompson Reuters through 2014.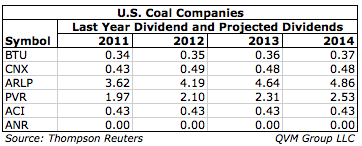 Let's look at some additional DOE-EIA data and projections, then look at some detail about the changing price targets from the Street.
Coal Consumption in the U.S. for Power Generation is seen falling in 2012 and rising in 2013 -- net negative, but a directional change to positive.
click to enlarge images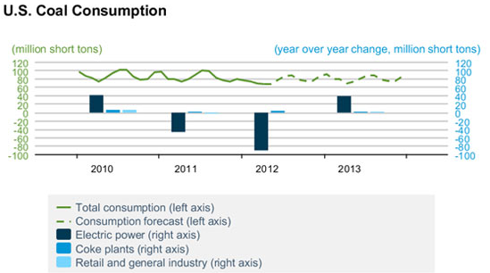 Coal use for power production is seen as higher in 2035 than in 2010, but with a dip in the near-term.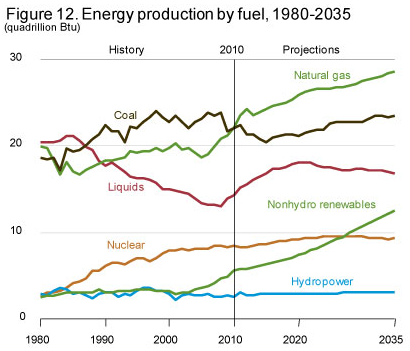 Asia currently uses five times as much coal as the United States or Europe.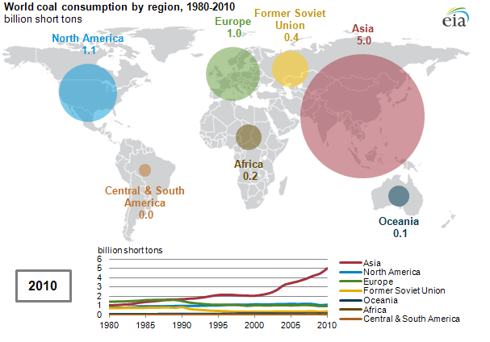 China uses 75% of the coal that Asia consumes.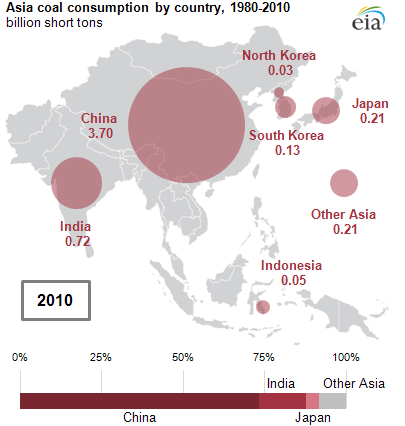 Asia's demand is in a strong growth phase, and the world overall nearly doubled consumption in the past 30 years. That kind of momentum will continue for some time.

These charts show the mean price target, and the high and low price targets as they have changed over the past 18 months; and also show the mix of analysts upgrading, downgrading and holding their estimates.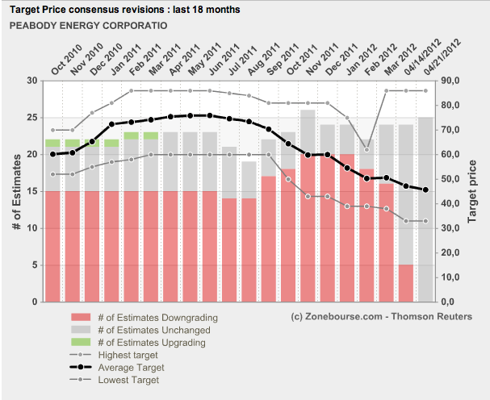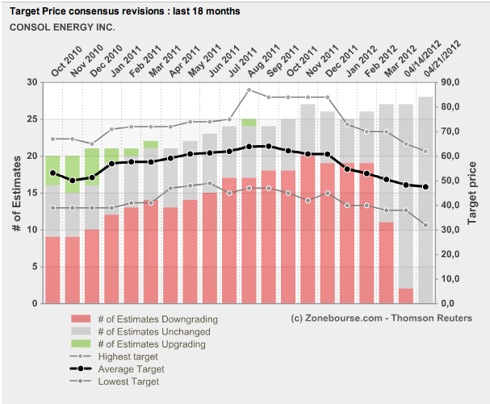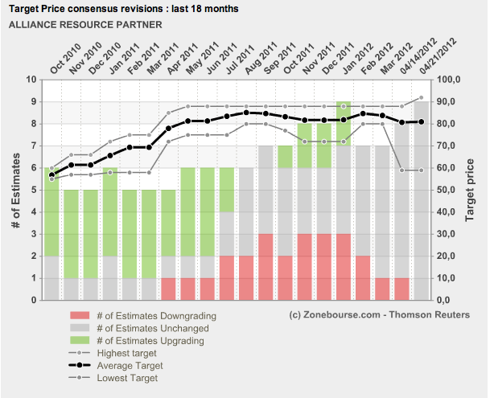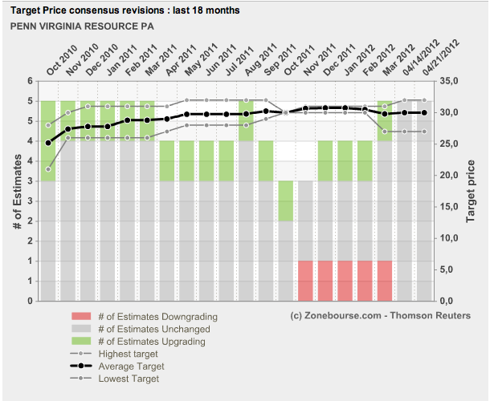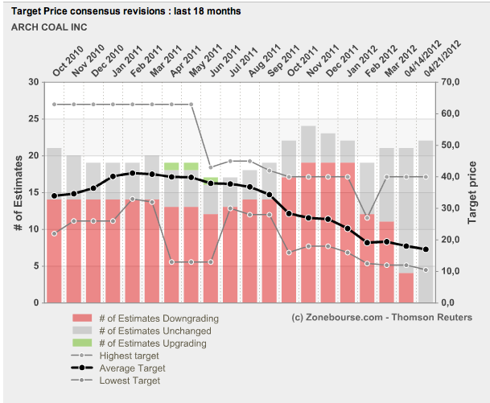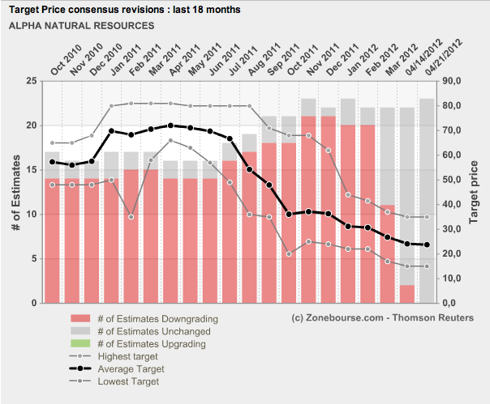 Disclosure: QVM has positions in ARLP as of the creation date of this article (April 21, 2012).
General Disclaimer: This article provides opinions and information, but does not contain recommendations or personal investment advice to any specific person for any particular purpose. Do your own research or obtain suitable personal advice. You are responsible for your own investment decisions. This article is presented subject to our full disclaimer found on the QVM site available here.