Actionable Items:
Highest Positive Spread: Western Asset Investment Grade Fund (NYSE:IGI)
Lowest Negative Spread: Aberdeen Chile Fund (NYSEMKT:CH)
Focus Stock(s) of the Week: Aberdeen Chile Fund
Last Week's Focus Stock: MFS Investment Grade Muni Fund (NYSE:CXH)
CEF Weekly Review: On average, the 13 closed-end fund (CEF) types registered a share price increase of 0.4% for the week ending 4/20/12. The PowerShares CEF Income Composite (NYSEARCA:PCEF), an ETF that invests in taxable income CEFs, increased 0.3% for the week. PCEF is up 4.8% YTD on price appreciation. Currently, PCEF's trailing twelve months' yield is 8.2%. The S&P 500 increased 0.6% during the week on a continuation of tepid share volume (see below). The S&P 500 has gained 9.6% YTD.
CEF Weekly Fund Type Performance: Twelve out of the 13 fund types registered share price appreciation for the week. The lone standout was ConvtSecFnds which registered an average share price decline of 0.5%. This is the third week in a row in which ConvtSecFnds declined. Putnam High Income Securities Fund (NYSE:PCF) dragged down this sparsely populated fund type with a weekly share price decline of 2.7%.
There wasn't much dispersion among the fund types registering appreciation. There was only a 0.7% difference between the top, WrldEqFnds (0.8%) and the lowest, WrldIncFnds (0.1%). Equity and fixed-income fund types were interspersed. SpecEqFnds, GenEqFnds and ConvtSecFnds saw their average share price advance less than the related average NAV.
click to enlarge image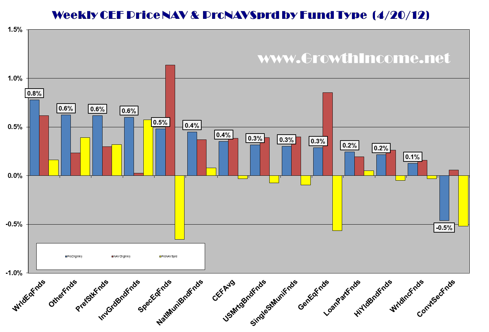 Weekly CEF Winners and Losers: One of the CEFs with the greatest positive PrcNAVSprd* for the week was Western Asset Investment Grade Fund . IGI's share price advanced 3.5% while it's NAV per share declined 0.3% generating a positive PrcNAVSprd of 3.8%. IGI is selling at a 4.0% premium and at an annualized monthly distribution yield of 5.6%.
IGI reported its financial position for the quarter ending February. While its net investment income (NII) was down from its previous quarter $0.28 versus $0.31 per share, its total net realized/unrealized gains jumped to $1.29 per share. Its UNII was $0.19 per share at the end of the quarter. Its quarterly distribution rate is $0.314 per share.
The CEF(s) with the greatest negative PrcNAVSprd for the week was the Aberdeen Chile Fund. (See "CEF Focus Stock(s) for the Week" below.)
CEF Focus Stock(s) for the Week: The focus stock this week is the Aberdeen Chile Fund . CH stock price declined 3.7% while its NAV increased 1.1% generating a 4.8% negative PrcNAVSprd.
Chile is usually associated with copper production as it is the largest exporter of this critical manufacturing material. While CH's investment portfolio is exposed to copper through some of the holdings in Chilean conglomerates, the bulk of its portfolio is investment in consumer staples, financial and communication enterprises.
So, if you're playing CH as a copper play, the Copper ETF (NYSEARCA:JJC) was up 1.9% for the week. If you're playing CH as a country play, the iShares MSCI Chile Index Fund ETF (NYSEARCA:ECH) was up 1.2% for the week.
CH trades at a 4.1% premium and its most recent annualized quarterly managed distribution yield is currently at 10%. Since distributions are from capital gains, the amount of the quarterly distribution can vary quarter to quarter.
Last Week's Focus Stock(s): The focus stock last week was MFS Investment Grade Muni Fund. CXH, as its name implies, invests in investment grade muni bonds. CXH is small at $158 million and employs leverage of 32.5% when derivative positions are included. The stock trades at an annualized monthly yield of 6.4% and a taxable yield equivalent of 9.8%.
Despite the improved general performance of the muni CEFs over the past two weeks, CXH experienced a weekly price decline of 2.2% last week while its NAV advanced 0.7% generating a negative PrcNAVSprd of 2.9%.
Including a capture of the $0.055 per share monthly distribution this week, the shares are up a modest 0.4%.
---
[*] All things being equal, price and NAV should move in tandem. A price movement greater than the NAV generates a positive PrcNAVSprd and may be interpreted as negative on a near-term basis and indicate that the stock is overvalued relative to its NAV which in theory is the stock's intrinsic value. The opposite would be true for a negative PrcNAVSprd.
Disclosure: I am long PCEF, CH. I own a diversified portfolio of CEFs and ETFs and am long stocks in the CEFBig10™ and CEFMuni10™.) The first is a balanced equity-income portfolio (CEFBig10™) and the second a tax-exempt income portfolio (CEFMuni10™).