The U.S. economy does not appear to be as healthy and robust as government reports suggest. The Treasury and equities market(s) reaction has been to keep alive the possibility for additional stimulus. Traders and investors in Precious Metals markets are seeking protection and bracing for the negative effects of monetary policies that just don't seem to work or worse, fail.
The latest Fed meeting minutes suggest that the Fed governors are still willing to accommodate the economy via another stimulus should GDP slow down, or if the inflation rate moves above 2%, or if unemployment begins to rise again. Reading further, the continued "talking down" regarding the advances in precious metals by Fed governors should be taken as nothing more than an attempt to shift blame for "delegitimizing" the dollar to higher gold and silver prices instead of failed policies.
GDP has been reported as growing, but so are government deficits, with 21% of them being attributable to government spending (not including Social Security or Medicare).
The inflation/deflation argument continues, with the "crowd" appearing to lean in favor of inflation. As I discussed previously in Gold, Silver, & Platinum Update - Show Me the Money!, there remains a solid case for another round of deflation to occur before any serious inflation takes over.
Included in the discussion is that several global economies are already experiencing higher inflation. China and Argentina both have been reporting higher inflation. Europe is likely to follow, although I believe the EU remains the wild card in dropping the deflation bomb, dragging the U.S. and other countries down with it.
The main culprit in either case remains the continued policies of solving deficit problems by flooding the monetary systems with an unending supply of cheap cash. The Fed will make its best effort in not allowing the economy to stall. Firmly believing it can stop that from happening by keeping the money faucet open full force.
So, if the economy takes off via inflation, precious metals will also take off. If people begin to worry that it isn't going to happen, the precious metals markets will also take off as investors seek "safe haven" and protection. Seems like a win-win situation for the precious metals and mining companies, right?
Using Revere Data's hierarchy I created a portfolio of 11 companies which earn 50% or more of revenue within the silver mining sector, and included market cap, 3 month, YTD, 2 and 3 year returns as well as dividend yield, if applicable.
(Click to enlarge)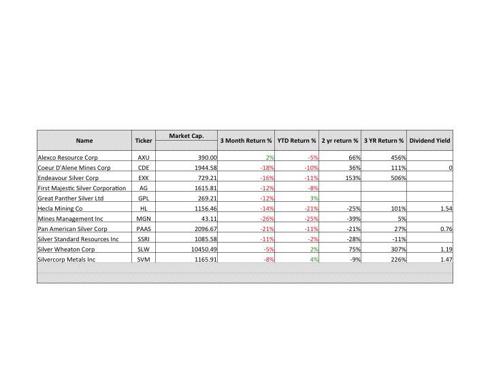 Click to enlarge
Silver mining stocks have been beaten down over the last six months across the board with several miners producing negative returns for the last few years. Consequently most remain on "sell" lists. With the strong potential for a trend change coming within this sector. Investors may elect to begin adding silver mining companies to their holdings.
Miners
Hecla Mining (HL)
Hecla Mining Company is engaged in discovering, acquiring, developing, producing, and marketing silver, gold, lead and zinc. The Company is organized into two segments: the Greens Creek and Lucky Friday units. Its wholly-owned subsidiary is Hecla Alaska LLC. It produces zinc, lead and bulk concentrates at its Greens Creek unit, and lead and zinc concentrates at its Lucky Friday unit, which it sells to custom smelters on contract, and unrefined gold and silver bullion bars (dore) at Greens Creek, which are sold directly to customers or further refined before sale to precious metals traders. The concentrates produced at its Greens Creek and Lucky Friday units contain payable silver, zinc and lead, and the concentrates produced at Greens Creek also contain payable gold.
(Click to enlarge)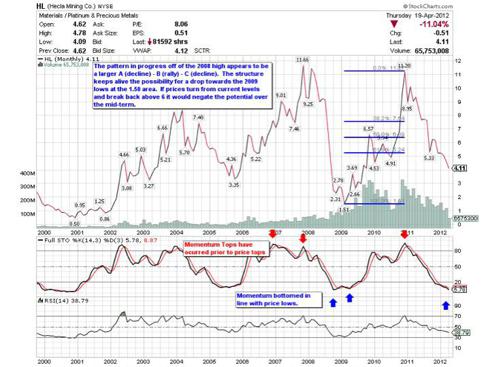 Click to enlarge
MAG Silver Corp (MVG)
MAG Silver Corp. (NYSE:MAG) is an exploration-stage company. The Company is engaged in the acquisition, exploration and development of district scale projects located in the Mexican Silver Belt. The Company's two material properties are its 44% joint venture interest in the Juanicipio property and the 100% owned Cinco de Mayo property. The Company also owns 100% of the less advanced Lagartos (NW and SE) property. Its Other properties consist of the Zacatecas claims, the Lorena claims, the Nuevo Mundo claims, the Guigui claim options, the San Ramone claims, the Salemex claims and the Camino Duro claim options, all in Mexico. On March 30, 2010, the Company entered into an option agreement to earn a 100% interest in the Mojina Property, subject to a 2.5% net smelter returns royalty. During the year ended December 31, 2010, the Company entered into an option agreement with Canasil Resources Inc. (Canasil) to earn a 60% interest in certain mineral claims constituting the Esperanza Property.
(Click to enlarge)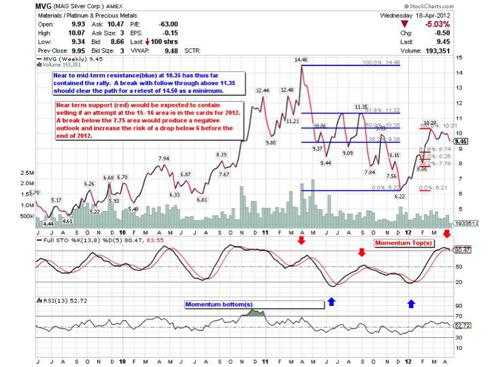 Click to enlarge
Silvercorp Metals (SVM)
Silvercorp Metals describes its business as per the March 31, 2011 (40F) filing with the SEC :
Silvercorp is presently engaged in the operation and development of, and in the acquisition and exploration for, silver mineral properties in China and Canada. Silvercorp is China's largest primary silver producer. Currently, the Company is operating and developing four silver, lead and zinc mines in an area encompassing the Ying Project, the HPG Project, the TLP Project and the LM Project (collectively, the " Ying Mining District "). The Company's other material property, the GC Project (defined herein) in Guangdong Province, has not reached commercial production and is in the exploration stage. In February, 2010, Silvercorp acquired the advanced exploration-stage Silvertip silver, lead and zinc project in northern British Columbia, Canada. In January, 2011 Silvercorp acquired the BYP gold -lead zinc mine in Hunan Province, China.
(Click to enlarge)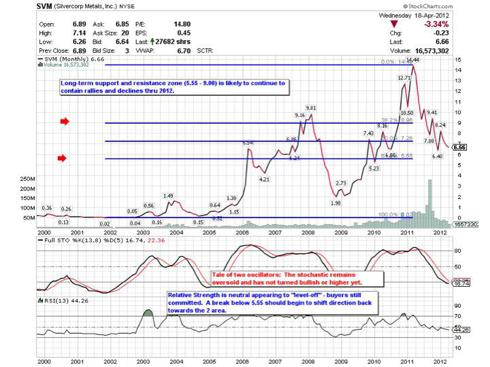 Click to enlarge
As tempting as it appears, and with the investment mood continuing to favor a buying versus selling zone - a break below support of basically this stock's entire price cycle ($14.44 - $0.02) at $5.55 would suggest a loss of investor confidence and point towards a closer look at the company over and above what is found in earnings reports. Trading SVM would be, in my opinion, for traders who are nimble, have strong trading discipline (exit strategies) and trade on a frequent basis.
Silver Wheaton (SLW)
Silver Wheaton is a mining company, which generates its revenue primarily from the sale of silver. As of December 2010, SLW had entered into fourteen long-term silver purchase agreements and two long-term precious metals purchase agreements. Its wholly owned subsidiaries include Silver Wheaton (Caymans) Ltd. and Silverstone Resources (Barbados) Corp. Most of the companies long term agreements are for acquisition of 100% of silver produced by such mining companies as Goldcorp and Lundin Mining Company (Sweden) over the next 25 years.
If you are a believer that inflation is on the way, Silver Wheaton would be worth your attention. Slightly undervalued at current levels, it hasn't attracted new buyers nor has it created an out of control slide lower.
Silver Wheaton's strength is clear when evaluated on a mid- to long-term basis. Projected EPS growth for 2012, and 2013 are reported at 19% and 21%, respectively.
As the case is with Silver Wheaton, timing is very important. When looking at the long-term, trend momentum does not swing in perfect accordance to price highs or lows. If the parameters outlined within the chart below remain valid, expectations would be for the support zone between $27.90 and $23.50 to contain downside before the next rally phase gets underway.
(Click to enlarge)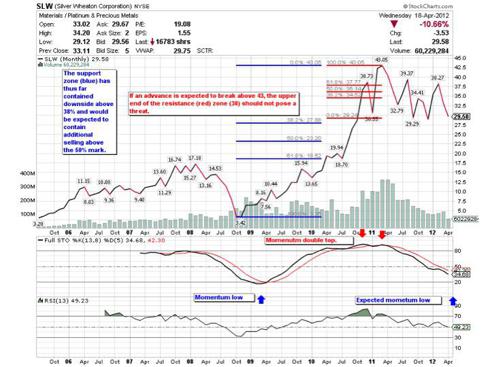 Click to enlarge
Conclusion
Silver still appear poised to lead the charge higher within the precious metals. Most chart patterns have followed the direction set by spot prices. As previously discussed, silver's chart reveals strong areas of what I'm calling "congestion and resistance". I don't foresee an easy rally taking hold and quickly whisking prices to new highs. I would expect volatility to get kicked up a few notches, which may add an adrenaline rush to trading. But once resistance is successfully conquered, look for upward acceleration to kick in.
With the silver mining sector taking a royal thrashing lately, I am leaning more towards this sector for trades. Near-term there may be additional downside across the board so working out entry strategies and stop levels remain important. Silver Wheaton remains the strongest prospect but I encourage performing due diligence before making any trade decisions.
Disclosure: I am long SLV.