Microsoft (MSFT) announced fiscal year third-quarter revenue of $17.41 billion for the quarter ended March 31, 2012, a 5% increase from the same period of the prior year and exceeding analysts' estimates of $17.18 billion. Operating income, net income and diluted earnings per share for Q3 were $6.37 billion, $5.11 billion and $0.60 per share. Analysts were forecasting EPS of $0.57. EPS was a penny shy of last year's results but it is important to note prior year results included a $0.05 tax benefit primarily related to an agreement with the U.S. Internal Revenue Service to settle a portion of their audit of tax years 2004 to 2006.
QUARTERLY NUMBERS BY BUSINESS SEGMENT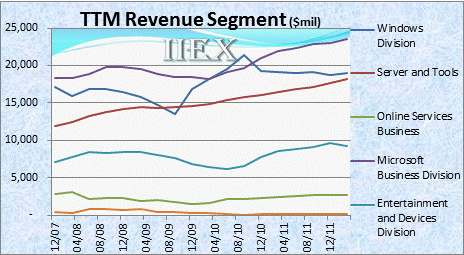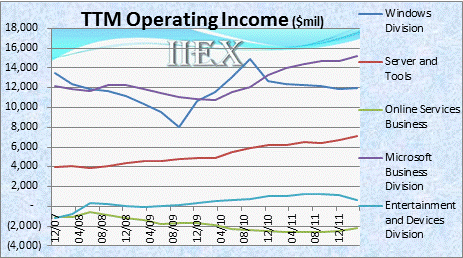 The steep increase in Windows revenue and operating income from September 2009 was a result of the Windows 7 launch. The following decline is a normal pattern after a launch starts to mature so it was a surprise when Windows turned in a 4% revenue increase over the same period last year. Analysts were expecting a decline. CFO Peter Klein offered the following on the conference call.
This quarter, businesses continued to refresh their hardware. And as a result, we saw healthy growth in business PCs around the world. As they purchase new PCs, businesses are also deploying Windows 7 and Office 2010 to increase productivity and manageability while reducing their total cost of ownership. Today, approximately 40% of enterprise desktops worldwide are on Windows 7, and we see continued momentum as the remaining desktops upgrade from Windows XP over the next 2 years.…Windows revenues slightly outgrew the underlying PC market due to the strength of the business refresh….
Momentum is expected over the next two years due to the expiration of the extended support end date of April 8, 2014 for XP.
Expect another spike in the Windows division's performance following the launch of Windows 8 in the second half of 2012. We expect longer term Windows operating income in the range of $10-13 billion and may exceed the high end in the short term after the launch of Windows 8; following the same pattern as the Windows 7 launch in 2009 depicted in the graph above. Windows will continue producing large amounts of cash for the foreseeable future.
In our last article we said the intense focus on one division (Windows) misses the bigger picture. What do we mean by this? The operating income from the Windows division was approximately 62% of the total in 2007. The operating income from Windows dropped to about 43% of the total over the last twelve months, down from 44% last quarter. We expect this trend to continue. The highlight was strong sales in the "Business" and "Server and Tools" divisions growing their operating income 18% over the prior year period. The overall financial performance continues to perform extremely well.
The strength of MSFT's consolidated financial performance is shown below: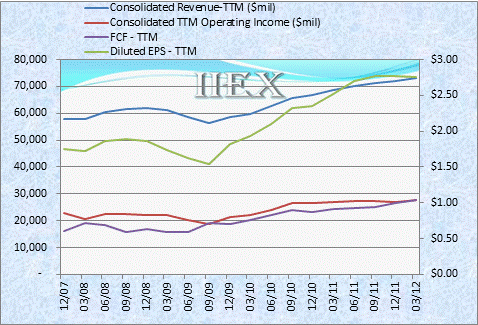 FCF (free cash flow) generation is approaching $28 billion annually. They have $59.5 billion on the balance sheet despite $2.7 billion in share buybacks and dividends. As of March 31, 2012, approximately $9.2 billion remained of the $40.0 billion approved share repurchase amount. The repurchase program expires September 30, 2013.
The dividend FCF payout ratio is 24% leaving MSFT plenty of room for future increases. The only constraint is approximately $50 billion was held by foreign subsidiaries and is subject to material repatriation tax effects.
Detailed quarterly data used above can be found here.
We'll examine trends based on management's financial track record using GAAP results to highlight longer term trends. The annual data used in this article can be found here.
EPS TRENDS
The following graph for EPS and cash trends are arrived at by calculating the statistics for a trend line using the "least squares" method. This determines the line that best fits the historical data and consensus estimates.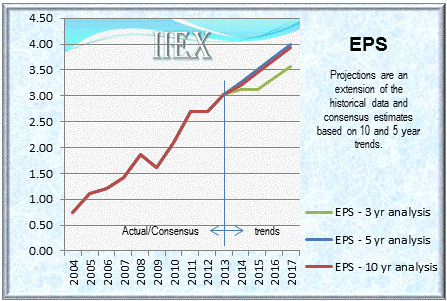 The above represents the following trends:
| | |
| --- | --- |
| Analysis Period | EPS Growth Trend |
| 3 year | 5.8% |
| 5 year | 8.3% |
| 10 year | 8.0% |
OPERATING CASH TRENDS
The old saying "Cash is King" especially applies in the case of MSFT. Why? MSFT has an abundance of cash to:
Increase the dividend
Aggressively buy back shares
Fund acquisitions
Invest in existing and new products/initiatives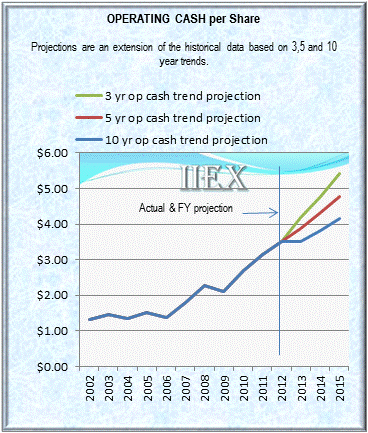 The above chart represents the following trends:
| | |
| --- | --- |
| Analysis Period | Operating Cash per share Growth Trend |
| 3 year | 15.5% |
| 5 year | 12.1% |
| 10 year | 9.0% |
VALUATION
This fair value analysis is based on management's longer term financial performance as measured by the previous data. Fair values are based, in part, on the following: Discounted cash flow, a modified Graham's intrinsic value formula and a P/E analysis. The valuation model consists of two parts.
The discounted cash flow and the modified Graham's intrinsic value are blended to arrive at a fair value.
A P/E analysis based on historical adjusted values.
Fair value used is the minimum value of the two parts.
Part 1: Discounted cash flow and the modified Graham's intrinsic value.
An estimated long-term EPS growth rate of 7.3% and a long-term cash per share growth rate of 12.3% were calculated from the data described above. Analysts are projecting a five-year EPS growth rate of 8.83% as of this writing. (Source: Nasdaq.com)
Running these projections through our pricing model, excluding the PE analysis, produces a fair value of $53. Needless to say, the result is sensitive to changes in the growth rates as illustrated below.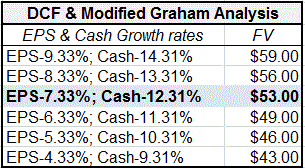 Part 2: P/E Analysis
The model looks at current and past periods to calculate a limiting PE value. The result is a maximum allowable PE of 13 yielding a fair value of $35. The result is sensitive to any earnings revision as illustrated below.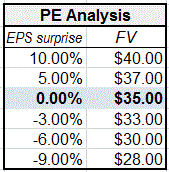 The PE is the controlling factor in this case. Final fair value is the minimum of the two methods or $35.
RECENT TARGET CHANGES
Below is a sampling of recent analyst price targets, giving a wider view of market sentiment.
| | |
| --- | --- |
| Source | Target |
| | $38 |
| | $36 |
| | $37 |
| | $35 |
| | $32 |
| | $35.43 |
COMPETITION
The following graph shows the prior year operating income growth along with current PE ratios: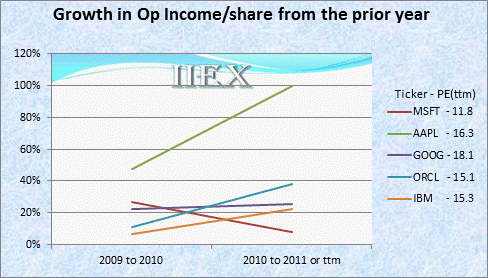 No doubt who is the king of the hill. Apple (AAPL) is by far the most impressive when it comes to growing operating income over prior years. It's surprising AAPL does not command a higher PE.
Although all the companies show growth over prior years it's easy to see why MSFT commands the lowest PE; its recent growth over last year is single digits while Google (GOOG), Oracle (ORCL), International Business Machines (IBM), and Apple are showing double digit increases.
CONCLUSION
We started writing about MSFT on SA back in September 2010. The stock is up about 36% and we believe it is still slightly undervalued. Our DCF & Modified Graham analyses show the operating trends would support a higher PE; however based on the previous graph we think our PE calculation of 13 is reasonable.
Is MSFT an opportunity or overvalued? Probably neither depending how one defines opportunity but MSFT represents a solid company with a pristine balance sheet, an attractive yield and potential for appreciation.