On April 20th, journalist John Kemp at Reuters published a very interesting piece entitled: Schlumberger Outlines Future Roadmap for Fracking. The article discussed the vision of Schlumberger's (NYSE:SLB) Chief Executive Paal Kibsgaard for the future of fracking. As I finished reading the article, I was struck by how similar Mr. Kibsgaard vision is to Gasfrac Energy's own vision for the industry.
Right at the start of the article Mr. John Kemp writes the following:
In a speech last month, Schlumberger Chief Executive Paal Kibsgaard previewed a smarter approach in the future that will cut costs, improve recovery rates and reduce negative effects associated with high water consumption and large numbers of truck movements.
If you were familiar with Gasfrac's (OTC:GSFVF) waterless LPG fracturing technology, you would think that Mr. Kibsgaard was referring to LPG fracking - since each element in that sentence fits with what Gasfrac offers:
Lower per unit production cost

Improved recovery (and increased EUR)

Eliminated water use

Reduced CO2 emissions

Vastly reduced truck movement (on average 30 trips for LPG vs 1000 for water)
LPG Fracturing Addresses Mr. Kibsgaard concerns
Further down in the article, Mr. Kibsgaard highlights three problems with current fracturing practices (one of those problems is something Gasfrac has been highlighting since it undertook its first commercial frac in January 2008):
Excessive amounts of horsepower and water are applied in "massive frack" jobs, creating fracture networks much deeper than can be propped open and where the unpropped part of the network makes little or no contribution to production.

This exact point has been argued by Gasfrac's engineers and management multiple times. Gasfrac often talks of effective frac length and it shows how ineffective some of those water fracs are in comparison to Gasfrac's own LPG fractured wells. From Gasfrac's website:
Our LPG gel properties include: Low surface tension, low viscosity, low density, along with solubility within naturally occurring resevoir hydrocarbons-all of which when added together, create more effective fracture lengths, enabling higher initial and long term production of the well. Another added advantage facilitated through our LPG process, is the ability to evenly distribute proppant with our gelled slurry during pumping, thereby decreasing the chance of proppant settling in the formations. Our gel can generate a higher pay zone height throughout pumping and subsequent long-term production.
(Click to enlarge)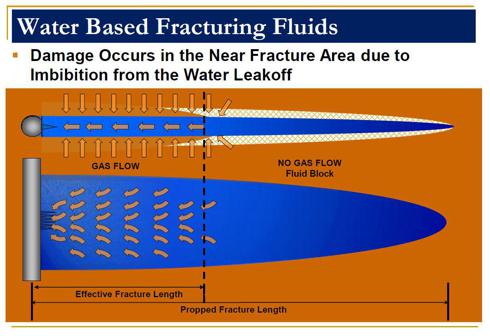 Click to enlarge
Source: Gasfrac
(Click to enlarge)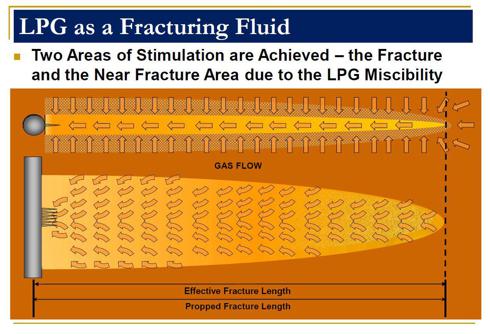 Click to enlarge
Source : Gasfrac
Throughout his speech, Mr. Kibsgaard talked about the advantages of using less proppants, fewer stages, smaller and targeted fracs. Those advantages have all been demonstrated with LPG fracturing technology. Gasfrac waterless LPG technology uses 30% to 50% less proppants and requires fewer stages to achieve better results. Note the number of stages and proppants used in an LPG frac vs. a CO2-Oil Fracs in the following table:
(Click to enlarge)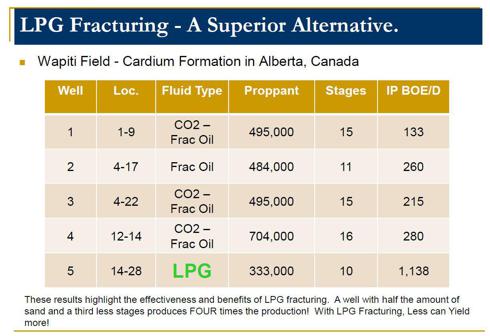 Click to enlarge
Source: Gasfrac
The improvement in production is not just at the initial IP, but cumulative one year results are 2.5 to 3 times higher:
(Click to enlarge)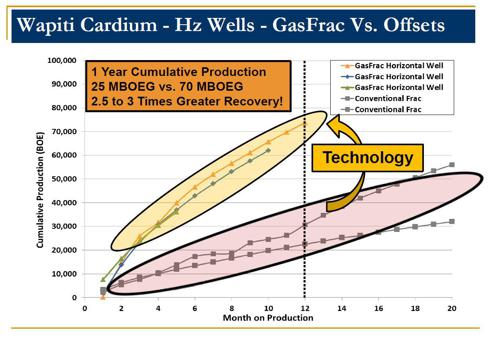 Click to enlarge
Source: Gasfrac
Leveraging Intellectual Property
At the bottom of the article we see a fascinating similarity regarding Schlumberger's (SLB) vision of installing its fluid delivery capacity on third party horsepower and Gasfrac's own vision. Mr. Kibsgaard states:
Although it is still early, we see the coupling of our unique Schlumberger fracturing fluid systems with non-Schlumberger hydraulic horsepower as an innovative approach that extends the reach of our technology without the investment in additional pumping capacity.
Now compare the above statement with Gasfrac's own vision for the future issued in the company's annual report on March 30th (which I discussed in a previous article):
As a longer term objective, we are also seeking ways that we might accelerate our pace of growth beyond 2012. The capital required to build new equipment presents a limitation to how quickly we can expand our operations. More specifically, building pumping horsepower to inject our LPG mix into the wells is costly. We are therefore investigating ways that we might be able to deploy our unique gelled LPG mix through other pumping units, such as those operated by our customers.
The above two approaches are one and the same. However, only companies with unique intellectual property can opt to proceed with such a model; which is the case for both Schlumberger and Gasfrac Energy. Meanwhile standard water fracking operations by the likes of Trican Well Services (OTCPK:TOLWF), Calfrac Well Services (OTCPK:CFWFF) and C&J Energy Services (NYSE:CJES) will become increasingly commoditized.
On a separate occasion, Mr. Kibsgaard expanded further on the merits of this model during his company Q1/2012 conference call Q&A session:
I think the main view I have or we have is that the pump itself is not a significant part of the pressure pumping operation. It's going to be much more the fluid or the engineered fluid system that is going to create -- that basically creates the conductivity downhole that drives the value proposition going forward .... So I think there is a chance to get a lot more sustainable pricing and performance in the pressure pumping business, if your business is more centered around what really generates the value, and that is as far as we see it. That is much more the fluid system than the actual pump.
Conclusion
John Kemp concludes his article with the following paragraphs:
By reducing the volume of materials used, smart fracking can reduce the impact on local communities from shale gas and oil development, which will become increasingly important if the industry is to win acceptance and expand into more sensitive areas outside traditional oil and gas producing heartlands.

Fracking has already taken many outside observers of the oil and gas industries by surprise. But Kibsgaard's speech suggests the technology is still in its infancy, with plenty more potential to slash costs and improve efficiency as the industry replaces brute-force with a more sophisticated approach.
I couldn't agree more with the above conclusion: the fracking industry will not be a 'one size fits all' solution. Over time, as the industry's knowledge of the various reservoirs and their properties becomes better defined, more refined approaches will be utilized to apply the right technology to the proper formation.
This is why I believe LPG fracturing will have its role in this key industry. As majors such as Schlumberger, Halliburton (NYSE:HAL) and Baker Hughes (NYSE:BHI) look for ways to differentiate and refine their product offering by focusing less on brute force and exploring ways to have a technological edge to better unlock shale oil and gas reserves, LPG differentiated fracking technology and its environmental advantages will be an arrow in any of those companies' quiver.
Disclosure: I am long OTC:GSFVF.