by Michael McHugh
McDonald's (NYSE:MCD) investors reacted favorably to its first-quarter results, bidding up the stock after the burger chain reported profits gained 5% and same-store sales - a key measure of growth - gained 7.3% in the quarter.
Net income hit $1.27 billion, or $1.23 per share, for the quarter ended March 31. Revenue gained 7.1% to $6.55.
The stock movement is in some contrast to last month. The stock came under a little pressure when a gain of 7.5% in comparable sales in February was viewed as a disappointment. The what-have-you-done-for-us-lately crowd should keep in mind McDonald's amazing, long-term performance: per-store sales leaped 50% from 2004 to 2010, from $1.6 million to $2.4 million, as part of the turnaround overseen by soon-to-retire CEO Jim Skinner. And they've kept growing since.
Jim Skinner turned McDonald's into one of the great grind-it-out companies, and a culture of incremental improvement - see Wells Fargo (NYSE:WFC) and Southwest Airlines (NYSE:LUV) - should be among the most comforting attributes for shareholders.
Despite Friday's showing, McDonald's stock continues to trail rivals YUM (NYSE:YUM), Starbucks (NASDAQ:SBUX), Chipotle Mexican Grill (NYSE:CMG) and the broader market so far this year. But that gap may not last for long.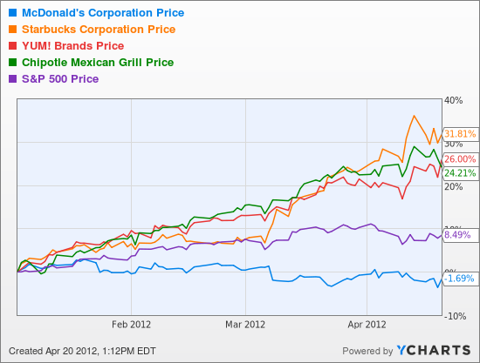 Click to enlarge
YUM!'s same-store sales for the first quarter, which ended March 24, shot up 14% in China, where its KFC unit is dominant. China is key to YUM's growth, given its U.S. operations have languished and comparable sales gained only 5% in the first quarter.
In contrast, same-store sales at McDonald's U.S. operations gained 8.9% in the first quarter.
Starbucks will let us know how it's doing next Thursday, but it too has been looking to China to boost growth. And China's economy is slowing. The most recent numbers from Starbucks, which are for its first quarter which ended Jan. 1, show global comparable sales up 9%.
Chipotle said its same-store sales gained 12.7% in the first quarter as it continues to be a restaurant juggernaut. Sales rose 26% in the quarter while net income rose 35%.
McDonald's revenue growth has been lagging these rivals for the past several years.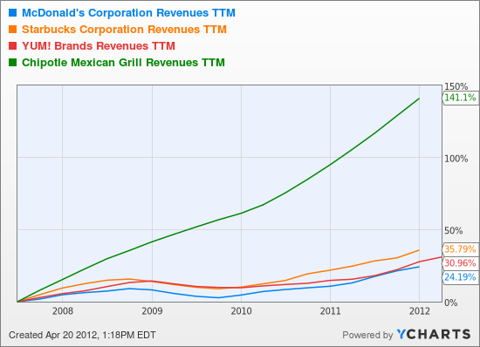 Click to enlarge
But new McDonald's CEO-elect Don Thompson is inheriting a well run company when he takes the reins from Skinner this summer. It maintains superior profit margins.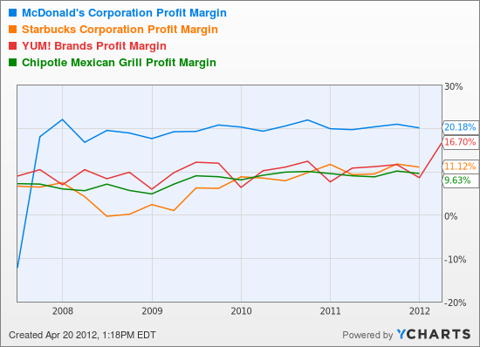 Click to enlarge
It's still the cheapest of the group, as shown by PE ratio.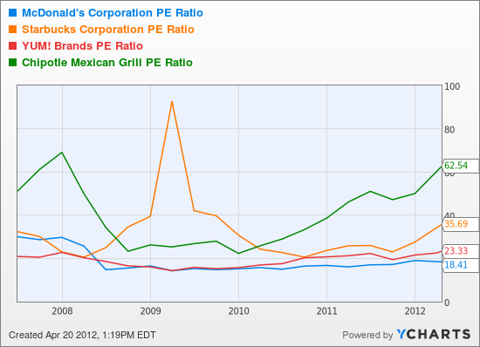 Click to enlarge
McDonald's dividend yield of about 3% is very respectable, and it pays out more of its earnings to shareholders than Starbucks or YUM.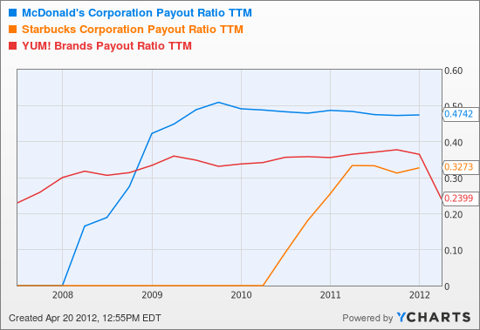 Click to enlarge
Disclosure: none