Canada's three leading telecoms are BCE, Inc. (NYSE:BCE), TELUS Corp. (NYSE:TU), and Rogers Communications (NYSE:RCI). Along with Shaw Communications (NYSE:SJR), a smaller company, the firms are listed on the NYSE and each pays a dividend of 4% or higher. There are compelling reasons to consider investment in these companies.
They have the large and growing dividends, which range between 4% and 5.5%.
Unlike your typical "widows and orphans" utility and telephone stocks, each firm has a very respectable dividend growth rate (DGR).
The balance sheets are strong and the cash flows of the companies healthy.
Canadian stocks have a unique attribute, which makes them especially suitable for your IRA or 401k. Canadian corporate dividends and interest income are exempt from Canada's 15% withholding tax if they are held in a US IRA or 401(k). This is unlike dividends from many countries, which are taxed in retirement accounts with a tax that you cannot recoup by filing for a foreign tax credit on your yearly tax return.
The Canadian Dollar is a strong and stable currency. Canadian holdings are a hedge against the U.S. dollar.
Regulation
The Canadian Radio-television and Telecommunications Commission (CRTC) is an independent public organization that regulates and supervises the Canadian broadcasting and telecommunications systems; its scope of responsibility encompasses the interrelated technologies. The CRTC works to serve the needs and interests of citizens, industries, interest groups and the government. It reports to Parliament through the Minister of Canadian Heritage. It has a clear mission statement and vision for the future, quoted below.
"Mission The CRTC's mission is to ensure that Canadians have access to a variety of Canadian programming and to high-quality telecommunications services, while protecting Canadians from unsolicited communications and contributing to a more secure online environment for consumers and businesses.
Vision The CRTC's vision is to promote competition, innovation, consumer choice and Canadian reflection in order to foster a world-class communications system benefiting all Canadians."
The Commission serves its various stakeholders well, and is less of an encumbrance than regulators of many other countries, as is evidenced by the success of those that it regulates. This is what the performance of the telecoms looks like over the past 2 years-- the period which, I believe, best illustrates their recent performance and is most indicative of their futures.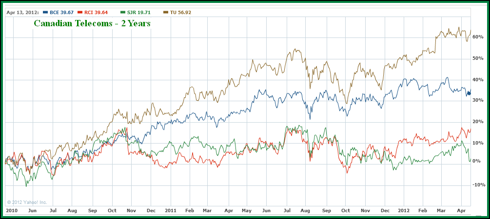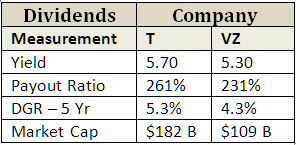 Before we turn to the individual firms with a description of their businesses and notes on their statistics, let us post some key dividend measures of the two giant U.S. telecoms-- Verizon (VZ) and AT&T (NYSE:T). The Canadian companies' businesses are quite different from these American stalwarts. AT&T, and to a lesser degree Verizon, are giants of companies. BCE, Inc. the largest of the Canadian companies has a market capitalization of $31 B. All the Canadian firms have higher Dividend Growth Rates and have been able to pay their dividends out of current earnings.
BCE, Inc.______________________________________________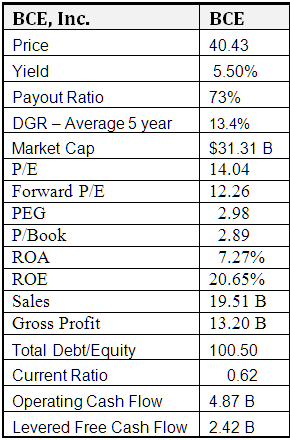 Bell Canada, Bell Mobility, Television and a Hockey Team
BCE, Inc. is the holding company for Bell Canada, and a number of other enterprises. It is the incumbent local exchange carrier for Eastern Canada and it competes for customers in the remainder of Canada. Its subsidiaries include Bell Mobility, Solo Mobil and Virgin Mobile Canada. In addition, BCE, Inc. provides satellite direct-to-home television and owns Bell Media, a television content provider and the holder of the CTV Television Network.
BCE is a large shareholder in a professional hockey team, the Montreal Canadiens (NHL). In addition, between its company's 28% share and the 9% share of its retirement trust fund, BCE owns 37% of Maple Leaf Sports and Entertainment. This is a holding company, which owns the Toronto Maple Leafs (NHL) hockey team, a minor league hockey team, a professional basketball team, the Raptors (NBA), and soccer teams all based in Toronto. The company owns and manages the Air Canada Centre, the stadium used by the Maple Leafs and the Raptors.
BCE is by far the largest of the Canadian telecoms, with a market cap of $31 B USD. It also has the highest yield at 5.50% and pays out 73% of its earnings. The Five Year Dividend Growth Rate is a respectable 13.4%, and it boasts a ROE of 20.65%.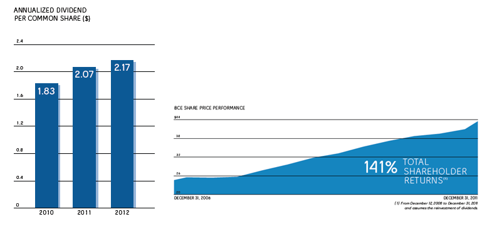 Rogers Communications_________________________________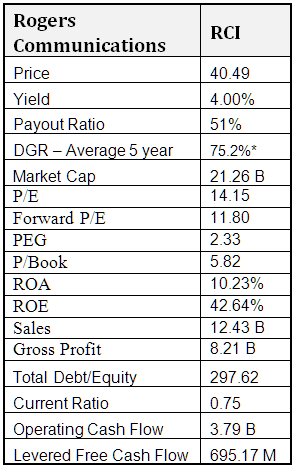 Wireless, Cable, Media and a Baseball Team
Rogers Communications is another large Canadian company with a market cap of $21 B. Headquartered in Toronto, this company is the largest competitor of Bell Canada. It competes for land-line services and for television distribution in Eastern Canada. It competes nationally for wireless services and media content.
Like BCE, Rogers Communications owns 37% of Maple Leaf Sports and Entertainment. Rogers also owns the Toronto Blue Jays (MLB) and the Skydome where they play.
The company had its roots in radio broadcasting and expanded into television stations, then cable in the 1970s. In 1985, the company entered the wireless phone business and soon expanded nationally. Rogers acquired a significant share of Unitel and the rights to compete in the long distance business. In 1994 Rogers made the acquisition of the media company Maclean-Hunter and greatly expanded its radio and TV operations. The internet has led to further opportunity, as has digital TV. Rogers has continued to expand organically, by partnering and by acquisition.
The founder, Edward S. Rogers died in 2008. A trust-- through the ownership of super-voting shares formerly owned by the founder-- controls the company for the benefit of the Rogers family, which is actively involved in the operations of the company.
The 2011 Annual Report is named Connections Come Alive. Nadir Mohamed, FCA, is the President and CEO and through his leadership, the cash flow from wireless and broadband services continues to grow, as do the dividends. RCI initiated a meaningful dividend policy in 2007, and dividends went from 0.07 a share in 2006 to 0.40 in 2007 to 0.93 in 2008, and so on. Earnings growth has been 45% the last 5 years.

TELUS, Corporation___________________________________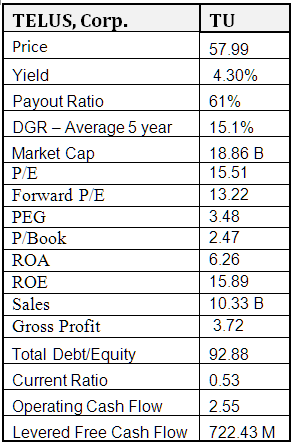 A Passion for Growth
TELUS Corporation (TU), with a market cap of $18 B, along with BCE and RCI, make up the "Big Three" Canadian Telecoms. Headquartered in Vancouver, BC, TELUS is the incumbent land-line operator for Western Canada. It competes in wireless, internet and Television, as do the others. However, it is unique that it also has a focus on healthcare and the management and transmission of medical records.
Unlike its major competitors, TELUS does not have a team that is going to win an NHL Hockey championship or a baseball World Series. However, the management team led the company to awards in several other categories as reported in the 2011 Annual Report, "A Passion for Growth".
Awards
The 2010 TELUS annual report placed eighth in the world in the Annual Report on Annual Reports, making TELUS the only company ranked in the top 10 for eight straight years.
TELUS received three awards from the Canadian Institute of Chartered Accountants (CICA) for 2010 corporate reporting
TELUS, for the second consecutive year, was named one of Canada's Top 100 Employers for 2011 by Mediacorp Canada.
TELUS was honored with the 2010 Freeman Philanthropic Services Award
TELUS recognized by Mediacorp Canada as one of Canada's Best Diversity Employers
TELUS was included on the Global 100 Most Sustainable Corporations list by Corporate Knights.
TELUS ranks #1 in total return of all world incumbent telecoms with a 152% ROR from 2000 to 2011.
Investment Strong points
The firm lists several very good reasons to be an investor in TELUS:
Targeting 2012 growth in revenue (3 to 6%) and earnings per share (0 to 10%)
Generating strong cash flow growth, driven by higher operating earnings, to fund investments in infrastructure and spectrum and increases in shareholder dividends
Having a clear dividend growth model targeting two dividend increases per year to 2013 of circa 10% annually subject to the TELUS Board's assessment and determination
Adhering to financial policies to maintain strong investment grade credit ratings and ready access to capital markets
Providing transparent and award-winning financial, corporate governance and sustainable development disclosure
It is notable that the senior executives and the Board members are heavily invested in TELUS stock. A quick glance at the Board of Directors profiles reveals that each owns tens of thousands of shares. The Senior Officers own stock and options in the range of 100,000+ shares. This helps align the interests of the people running the company with the interests of other investors. President and CEO Darren Entwistle will take his entire salary in TELUS stock in 2012, as he did last year.

Shaw Communications__________________________________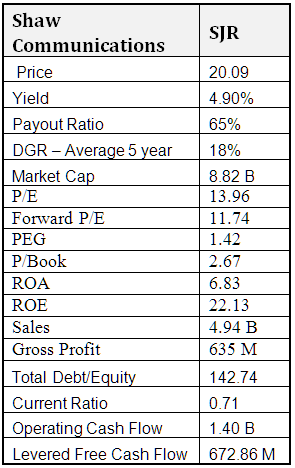 Television, Internet and Phone
Founded in 1965 in Calgary, Alberta, Shaw is like Rogers in that it is a family company, albeit half the size of Rogers. The Shaw family controls over 80% of the voting stock. Initially a cable TV company, Shaw is now a diversified communications company, and provides broadband cable television, Internet, digital phone, telecommunications, and satellite direct-to-home TV.
The company provides high-speed Internet access services to residential and small business subscribers, as well as various Internet services for small and medium sized business customers.
Its digital phone services include local and long distance calling. The company also manages a fiber network that serves as the primary Internet backbone for its broadband Internet customers, and provides Internet, data, and voice connectivity services to large and medium businesses, and other organizations. A subsidiary, Shaw Media, is a television content provider.
In addition, Shaw distributes digital video and audio signals to residences and businesses and redistributes television and radio via satellite to cable and other operators. It provides uplink and network management services for other broadcasters.
Shaw has 3.4 million customers. The company has done a good job in moving 75% of its cable customers to the more profitable digital format. However, it has not been an effective competitor in the wireless space, and moved away from that venture.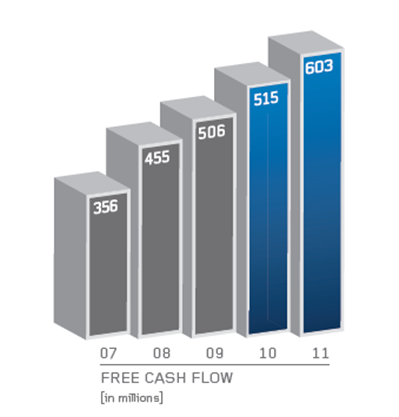 The Company uses free cash flow as a measure of its ability to repay debt and return cash to shareholders. This has risen steadily since 2007 when it was $356 M to $603 M in 2011. The dividends are also increasing.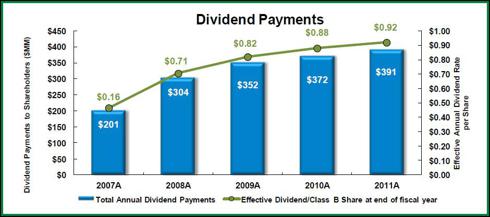 Concluding Notes
There are good reasons to own any, or all of these firms. Conversely, there are probably some reasons not to own them-- or at least not buy them now. There are strong similarities among the firms. TELUS has a P/E, at its current market price, of about 15.5, each of the others has a P/E of about 13.5. Each of these firms has a beta between 0.55 and 0.65, that consistency is not uncommon in an industry. Each has a significant amount of institutional ownership: BCE 46%, RCI 69%, TU 68% and SJR 53%.
There is a significant difference in governance between the companies. SJR and RCI are largely under control of their founding families because they control the voting shares. Generally, this is a yellow flag, but it does not seem to be skewing performance at present. However, that topic is worth further investigation. BCE, Inc., historically Bell Canada, is widely held and there is a healthy 3% insider ownership. The directors and senior management of TU hold substantial amounts of stock, and employee ownership is about 2.5%, which is also a very good thing.
These stocks are near their 52-week highs, and close to analyst target prices. I suggest they are fully valued and I would hesitate to take a large position in any of them at this time. Of the four, Rogers Communication may be a slightly undervalued. Markets always change and with patience, you may be able to purchase shares of any of these "on sale" at a lower price. Another option would be to average in, in several smaller scheduled buys.
I hold BCE, in part because of the substantial and increasing dividend, and TU, which I find to be an exciting growth possibility as well as a solid dividend growth stock.
Disclosure: I am long BCE, TU, T.
Disclaimer: Please view this article is a starting point, from which you may go forward and do your due diligence if any of these companies have piqued your interest. May you have discernment and good judgment in doing that, and find prosperity in your investments.