Honeywell (HON) is an industrial conglomerate that makes airplane controls and engines, turbo chargers for car engines, industrial automation and controls systems and heating and air conditioning systems. It is one of the largest conglomerates in the world. It has had a nice run up since the beginning of the year but recently took a pause. We believe this is all it is; not a turn down but rather a pause and the stock will continue to move up. There are two main reasons for this: Honeywell's specialty materials and aerospace divisions.

Recently, Honeywell had better than expected first quarter earnings. This first quarter set the stage for the company to raise its expectations for the year. Earning estimates were lifted from ($4.25 - $4.50) to ($4.35 - $4.55) and sales projections were also lifted for the year. The better-than-expected earnings were fueled by the Aerospace and Specialty Materials sectors. These are the sectors that are going to keep Honeywell growing throughout 2012.
Specialty Materials Segment
While the segment is smaller than the others in terms of sales and amounts to about 13% of its revenue, the margins are relatively higher. One of the reasons for this was its strong volume sales in resins and chemicals. Remembering that this segment has a higher profit margin- Honeywell went out and helped lower costs while increasing profits with an acquisition from Sonoco, just under a year ago. It was a phenol and acetone manufacturing plant. The reason this was so strategic is because it brings into Honeywell a low-cost supply of phenol, a critical raw material for the resins and chemicals it makes. And phenol is in a tight supply range globally.
Aerospace Segment
Honeywell is the largest producer of cockpit electronics, and the company says its products are in virtually every type of aircraft in use. The segment's revenue is driven by global demand for air travel - as reflected in new aircraft production, and the demand for spare parts for aircraft currently in use. It accounts for 35% of the company's revenue.
It is easy to understand that as air travel goes, so goes orders for planes and parts. And so goes just over a third of Honeywell's revenue. In 2012, because of the slower economy, U.S. airlines probably will see a small dip in the number of passengers this year. But ultimately, the numbers are expected to start climbing and air travel should double in the next 20 years. The dip also isn't that bad. In the U.S., the number of revenue passenger miles -- a key yardstick for air travel -- will shrink 0.2% this year. As it recovers, travel is projected to grow at a rate of 2.8% a year.
Even though the U.S. is weakened slightly, the aircraft market will continue to be strong in 2012 as it is driven by demand from countries in the Middle East and Asia, particularly China. Boeing (BA), whom Honeywell has worked with for years supplying parts, plans to increase its production rate by 30% in the next three years to reduce its current backlog of orders. This shows how Honeywell will continue to expend through 2012.
(Click to enlarge)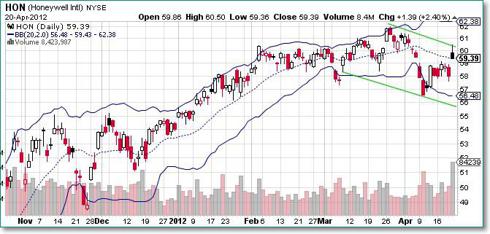 With this in mind, watch Honeywell to see if it is headed up or will continue down for a bit before it continues its climb. If it has defined a top and continues down, the options are priced well for a Bear Put Spread Trade.
The Options Trade
If we have identified the pattern, as bearish short term here is the play.
Buy a June 2012 '57.5' put (priced at $1.41)

Sell a June 2012 '55' put (priced at $0.76)

Net Debit to Start: $0.65

Maximum Profit: $1.85