Shares of Chinese travel service provider Ctrip.com International (NASDAQ:CTRP) are down nearly 14% so far in 2012. While CTRP has underperformed most other stocks so far in 2012, there are four reasons why investors should still avoid CTRP.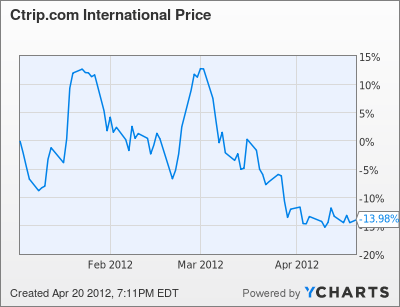 Options Activity
Option Monster reported on the high level of bearish options activity recently. In a three-way trade, 8,000 April 23 puts were sold while 8,000 May 23 puts were purchased and 4,000 May 23 calls were sold. This strategy will benefit from continued weakness in CTRP. The large three-way trade likely represents institutional money. Institutional money is usually smarter, thus worth following. In summary, the recent options activity points to more downside ahead for CTRP over the short-term.
China Slowdown
The Chinese economy as a whole appears to be slowing down. The slowdown has certainty impacted the travel business in China. The chart below shows the performance of two of China's largest airlines, China Southern Airlines (NYSE:ZNH) & China Eastern Airlines (NYSE:CEA).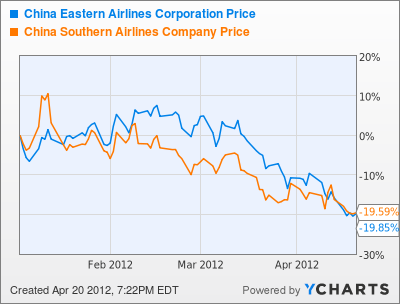 The weakness in the Chinese airline stocks is not a good thing for CTRP. With both ZNH and CEA continuing to make new lows, the outlook for CTRP is worrisome.
Analyst Downgrade
Brean Murry Carret & Co downgraded CTRP to sell with a price target of $19. From the note:
While CTRP reported largely in-line 4Q results and largely in-line 1Q revenue guidance, we continue to see mounting pressure on its margin outlook in the coming quarter and in FY2012. What concerns us most is the structural change that the company is going through; we believe factors that are pressing its margins are unlikely to go away anytime soon (labor cost pressure, profit giving-back to attract leisure segment and increasing investment upon competition). We expect the company's earnings growth will be muted in 2012 with limited upside over the next 12 months. Earnings growth thereafter will likely remain challenging.
CTRP is facing unique challenges that will likely make it difficult for the company to post strong numbers in the upcoming quarters.
Better Alternatives
Investors looking to speculate on a Chinese stock should, in my opinion, consider buying either E Commerce China DangDang (NYSE:DANG) (discussed here) or Renren Inc (NYSE:RENN) (discussed here).
Conclusion
While CTRP has had a rough start to 2012, it remains likely that the stock will continue to fall. The bearish options activity, Chinese slowdown, analyst concerns, and better alternatives are all reasons to avoid CTRP.
Disclosure: I have no positions in any stocks mentioned, and no plans to initiate any positions within the next 72 hours.