Shares of German bank Deutsche Bank (NYSE:DB) are up nearly 14% so far in 2012. While DB has performed well, there are three reasons to be cautious about DB going forward.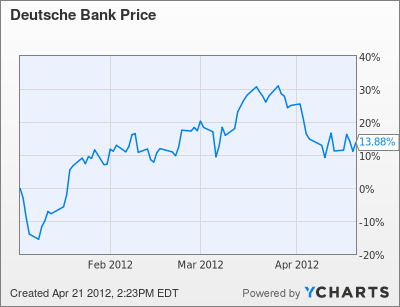 Options Activity
Option Monster reported on the high level of bearish options activity recently; 3,250 May 45 puts were purchased, while an equal number of May 40 puts were sold. This trade is a put spread, where the trader will make a maximum profit if DB is below 40 at the time of May expiration. Volume was more than 4 times previous open interest at both strikes. Overall, put volume outnumbered call volume by 43-1. The large put spread likely represents institutional money. Institutional money is usually smarter, thus worth following. In summary, the recent options activity points to downside ahead for DB over the short term.
Spanish Bond Yields
Recently, Spanish Bond yields have risen above the key level of 6%. This represents a sharp increase in yields since early March, when yields were below 5%. As we saw in 2011, the rise in sovereign bond yields can quickly become a self-fulfilling process. With the second round of LTRO loans finished, it is difficult to see where money will come from to buy Spanish bonds. In any event, the rise in Spanish bond yields points to difficulties ahead for Europe and DB.
Euro
As shown below, the Euro has failed to confirm the rally in DB. The Euro being down 5% so far in 2012 is certainly a worrisome sign for DB.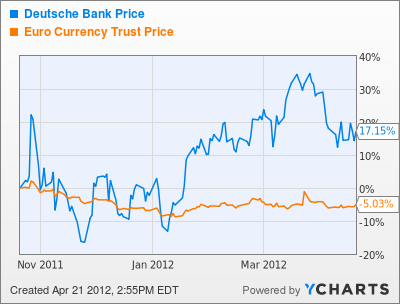 Alternatives
Instead of buying DB, investors looking to buy a large bank stock should consider U.S. banks such as JP Morgan Chase (NYSE:JPM) (discussed here)
Conclusion
While DB has been a strong stock so far in 2012, it is likely that gains will be given up later this year. The bearish options activity, rise in Spanish yields, and weak Euro point to a lower stock price.
Disclosure: I have no positions in any stocks mentioned, and no plans to initiate any positions within the next 72 hours.