Although Motorola beat Q3 forecasts and upped Q4 guidance, Barron's says last week's share spike doesn't account for Motorola's rising competition. Global cellphone sales rose 15% in Q3, but Motorola continued to lose market share (10 points this year alone) to rivals like Nokia and Samsung. Nokia sold 11% more phones in Q3 than in Q2, more than its competitors combined increases—Motorola included. Nokia's also reducing prices as sales increase, growing profits. Motorola's latest Razr2, successor to the popular Razr handset, is a ho-hum upgrade. Samsung keeps innovating while new Motorola designs aren't expected until Q2'08. Samsung devices also cost less because components like LCDs and memory cards are vertically integrated. That's what forced Motorola to cut prices and lose margins in the first place, and why Motorola's "blowout" Q3'07 at $0.06/share still pales next to Q3'06's $0.34/share. Barron's says Motorola is also behind in 3G technology for internet and email, and Apple's iPhone just adds more pressure. Research in Motion's coming rollout in China only underscores Motorola's Q3 market share loss in Asia.
Sources: Barron's Commentary: A Comparison of Wimax, 3G and Wi-Fi • Motorola Gaps Up on Earnings: A Historic Look At Earnings Day Performance • Motorola: Buying A Stake In UIQ • Goldman Sees Light At The End Of Motorola's Antenna Stocks/ETFs to watch: MOT Competitors: NOK, RIMM, AAPL, PALM Conference call transcripts: Motorola Q3 2007 Earnings Call Transcript
MOT 1-yr. chart: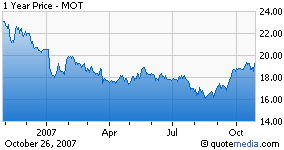 Seeking Alpha's news briefs are combined into a pre-market summary called Wall Street Breakfast. Get Wall Street Breakfast by email -- it's free and takes only seconds to sign up.