Accurate market timing is a critical component of successful trading. Fundamentals alone may get you into a good stock, but what if you get in at the start of a down trend? To increase the odds of winning, I look for stocks that not only have great fundamentals but have a positive 5 day expectancy.
The 5 day expectancy is calculated by matching the stock against hundreds of pre-defined patterns. Each pattern is carefully selected using a statistical data mining approach. Using these patterns, I calculate the expectancy based on how the stock has historically performed when matched against those patterns.
Today's scan has produced 3 stocks meeting this criteria.
1. Fastenal Company (FAST):
Sector: Industrial Goods
Market Cap: 14 Billion
Cash: 226 Million
Book Value: 5.2
Gross Profit (TTM): 1.43 Billion
Compared to competitors such as W.W. Grainger (NYSE:GWW) or Msc Industries Direct (NYSE:MSM), Fastenal has a high P/E. However, the 20% quarterly revenue growth is well ahead of the industry's 3.4% average. Combined with one of the highest gross margins (50%) in the industry, I believe they are positioned well for continued growth.
According to my scan results, Fastenal is primed to rebound and continue its uptrend. The 5 day expectancy is over +7%.
(click to enlarge charts)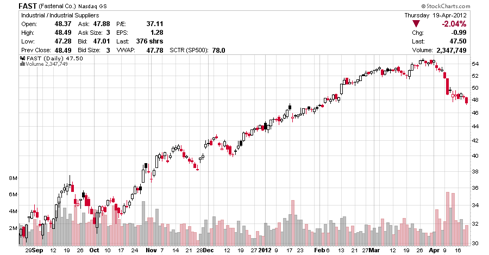 Click to enlarge
2. Whirlpool Corp. (WHR):
Sector: Consumer Goods
Market Cap: 4.94 Billion
Cash: 1.1 Billion
Book Value: 54.69
Gross Profit : 2.58 Billion
Whirlpool is currently trading around $65 which is only $10 away from its book value. While the quarterly revenue growth has been disappointing, WHR has significant revenue compared to the industry and plenty of cash on hand as indicated by the book value.
Long term WHR should be a strong stable stock to own. The 5 day expectancy is +1.7% which represents a good time consider entering.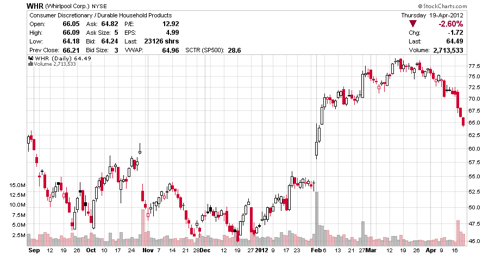 Click to enlarge
3. Apollo Group Inc. (APOL):
Sector: Services
Market Cap: 4.25 Billion
Cash: 800 million
Book Value: 9
Gross Profit : 2.54 Billion
Apollo's P/E is only 7.67 which is significantly below the industry average of 17.21. The company is overall very healthy with its book value nearly 1/3 of the stock price. Like WHR, the quarterly revenue growth is slowing this stock down. However, long term I expect them to get back on track.
APOL has a respectable +2.4% 5 day expectancy.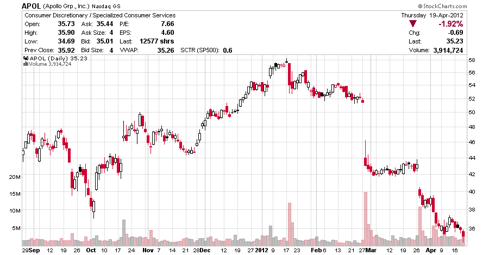 Click to enlarge
Disclosure: I am long APOL. I am considering taking positions in both WHR and FAST over the next 72 hours.