by Ron Higgins
The future is cloudy at Research In Motion (RIMM), maker of the Blackberry. The company barely treads water and is hanging on for dear life. Will Research In Motion survive, go bankrupt, or be bought out by someone like Facebook (NASDAQ:FB), which may be looking to get into the hardware game? No one knows the answer to these questions, especially Research In Motion.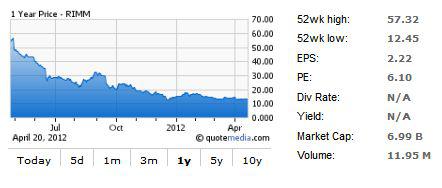 The company delivered fourth quarter results that missed already low expectations, and I don't see a lot to be optimistic about going forward. I don't believe the company can overcome its uncompetitive position with a flagship product that is becoming more obsolete each day. Research In Motion trades around $13, and the share price has fallen 74% over the last year. The company trades below book value of $19 and market capitalization has fallen from $27.54 billion to $6.53 billion during the last twelve months.
During the fourth quarter, revenues and sales were down significantly from the prior year. Research In Motion posted sales of $4.2 billion, a 25% decrease from 2010. Slower sales resulted in a $142 million loss for the quarter. The company shipped 11.1 million smartphones, falling 21% year over year. Even with half of the company's sales coming from emerging markets in Asia and Africa, the handsets sold in these markets were low end entry level phones with little or no margin.
Another troubling sign for Research In Motion is that the company sold less smartphones in its home country Canada, than Apple (AAPL). The company took a $267 million inventory charge off during the quarter, and inventory increased 60% from the prior year. These are indications that Research In Motion has difficulty moving product. Management sent up another red flag when CEO Thorsten Heins stated the company would no longer be issuing forward guidance, due to "limited visibility." This type of news spooks investors and they expect the worst from a company when they hear a CEO make a statement like that. Product delays and eroding sales are troubling enough, but lack of information is an even more troubling sign of the company's future.
Smartphone sales currently increase 50% annually. However, Research In Motion still lacks competitive product in the market place. The company is losing a valuable opportunity to attract first time smarphone buyers. Every sale lost to Apple, Microsoft or Google (GOOG) is a customer who will most likely never buy a Blackberry device. The consensus is Research In Motion's operating systems are inferior to the platforms used by Microsoft (MSFT), Apple and the Android devices. And if the company made the switch to an Android or Windows platform, Research In Motion would have difficulty differentiating itself from the competition.
Previous management at Research In Motion believed the company could dictate the market and tell customers what they want and need in a handset. The arrogance of the former management team was unbelievable. Research In Motion was unwilling to change and missed opportunities to attract new customers who were demanding productivity and entertainment apps for hand held devices. Apple and Android manufactures were more than happy to supply a platform that allows for the creation of apps, and as a result these companies were able to take market share from Research In Motion and make the Blackberry a second tier product. This is one of the mistakes that led to Research In Motion's current predicament.
I believe the company's fate is tied to the launch of the Blackberry 10, designed to compete with iPhone and Android. CEO Heins stated that the launch date is still set for late 2012. I think this is too little too late. I just don't see how the company can capture market share with a product that is so late coming to the market. It's simply too late for Research In Motion. Blackberry's email and IM capabilities offer no competitive edge, and the company's R&D operations are much weaker than Microsoft, Google, and Apple. Research In Motion will eventually start bleeding money - and the burn rate will be extremely fast. At the end of 2011, Research In Motion's balance sheet reflected $1.79 billion in cash, which represents about 14 months of operating expenses.
The individual investor should stay away from Research In Motion. If I owned the stock I would lick my wounds and move on to a new game. While I do believe that Facebook will eventually move into the hardware market to compete with Google and Microsoft, I do not see Facebook buying Research In Motion. The Blackberry operating system is not a good fit for Facebook, and Zuckerburg and company would have to spend money to build a more competitive operating system that would allow the Blackberry to compete with iPhone, Android and Windows phones. I don't believe this is something Facebook wants to do. The company would likely buy an existing technology that can compete with other smartphone platforms as is, or develop one in-house. The only takeover play that makes sense to me is for a hedge fund type of firm to buy Research In Motion, and take the $24 a share the company has in cash. I believe the company's $1.79 billion in cash is the only attractive thing about Research In Motion.
Disclosure: I have no positions in any stocks mentioned, and no plans to initiate any positions within the next 72 hours.