In addressing some comments in my previous post on Apple option volatility, I took a look at the open interest for the Apple (NASDAQ:AAPL) option series that expired last Friday. I was surprised to see that there were more than 1 million contracts outstanding as the day began.
That's just for April. The total open interest for all expirations totaled more than 3.7 million contracts.
Is that a lot? It sure is. Here's a look at the open interest going back more than two years.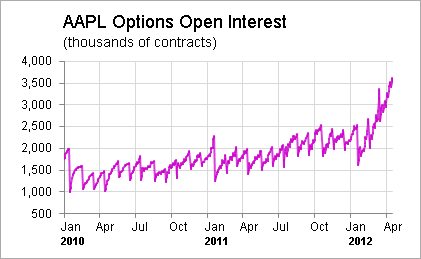 I smoothed the data by 5 days to make it more readable. The zig-zags in the line represent expirations, when open interest disappears in the expiring contracts. You can see, however, that open interest has basically doubled since the beginning of the year.
As for options volume, that's also up sharply. Last Friday, more than 1.5 million contracts were traded, but the peak was March 14 when volume hit 1.75 million contracts.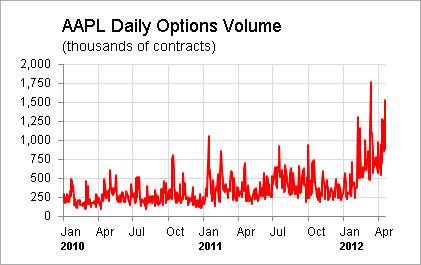 Back in October of 2007 open interest in Apple options was almost as high, peaking at about 3.6 million contracts. I'm not sure why open interest was so high back then, but I think it surrounded the first earnings release after the iPhone was launched (with the stock in the 180s back then).
Apple's options chain: $9.8 billion in intrinsic value …
Looking at this data, I decided to see how much these options were worth. This obviously changes minute by minute during the trading day, but as of Friday's close, the total intrinsic value of all Apple options was about $9.8 billion.
To be clear, intrinsic value is the exercise value of the option. For example, with Apple at $572.98, a July 570 call would have $2.98 in intrinsic value, even though it was trading for more than $46. The July 575 call had no intrinsic value, even priced at around $44.
… and $5.3 billion in time value
With volatility high, there was lots of premium embedded in many of these options. How much? About $5.3 billion worth.
Time value is the difference between intrinsic value and the price of the option for calls and puts that are in the money, and represents the full price of the option for those that are out of the money (I used the bid value for both).
Here's a pie chart showing both intrinsic value and time value as of April 20. This obviously has changed as of Monday since the April options have now expired.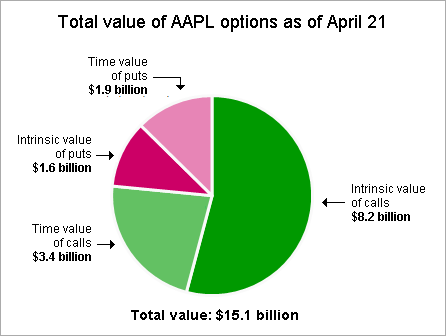 And here's a similar chart for April 13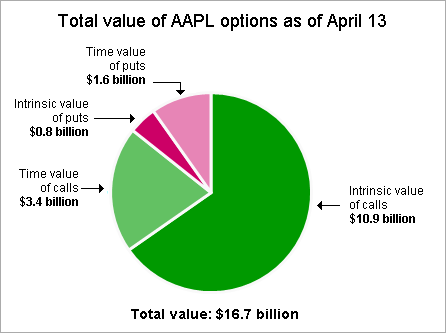 You can see that the intrinsic value for the calls was a lot higher on April 13. That's because the stock price was higher then, closing at $605.23. And even though the stock was lower as of last Friday, the time value of the calls remained relatively constant because implied volatility has soared in anticipation of Apple's earnings release Tuesday afternoon.
What does this all mean?
I don't think this has any long-term impact on the price of the stock at all. But you have to recognize that options trading does tend to make the stock more volatile, especially around a monthly options expiration. It may even make other stocks with significant options activity more volatile as well, but I think higher priced stocks are more subject to options-related volatility.
For example, I took a look at Bank of America's (NYSE:BAC) options chain and saw that there were nearly 11 million contracts outstanding on Friday. That's way more than Apple, but BAC is an $8.36 stock. The total value of the options chain was less than $1 billion (with more of a bias toward puts).
And with a stock like BAC, there's a much wider range between strike prices. The stock needs to move up 7.6% to reach the 9 strike or down about 4.3% to reach the 8 strike. With Apple, there's less than a 1% difference in strike prices.
So I suspect far more investors are using Apple options as a substitute for owning (or shorting) shares, and that option traders have been using the high implied volatility in Apple's options to capture a lot of premium by selling nearer term expirations, both calls and puts, when volatility spikes.
That an entire chain of options would be worth several billion dollars shouldn't be surprising for a stock with a market cap of over $500 billion. But it still surprised me to see just how much is riding in the options market on Apple's near-term and long-term performance.
One thing's for sure. On Wednesday, a lot of that time value will be coming out of those options because implied volatility will most certainly collapse.
As for intrinsic value, I think it will come out of the puts and move into the calls. But that's just another way of saying I'm bullish on Apple.