Commodity stocks have generally underperformed the stock market in 2012. I still cannot decide whether this weakness represents a leading indicator of broader weakness to come or a fortuitous relief to inflation pressures that keeps economic growth just barely strong enough to stay out of recession. Regardless, this post describes the few opportunities I have found this year to refresh some commodity trades.
As I have stated in earlier pieces, I am no longer anticipating a crash in commodity prices to open a floodgate of buying opportunities. The commodity crash playbook assumed that China would sink into an economic funk by now that would (temporarily) suppress their rapacious demand for commodities. I remain wary of the prospects for such an event, but I no longer think it is as likely as Jeremy Grantham implied last year in the work that inspired my commodity crash playbook (for more, see "Profiting from Physical Assets in a Resource-Constrained World - Rules and Picks"). For some background on my revised thinking see "From Destocking to Restocking, Joy Global Weakens Case for a Commodities Crash."
I list below the trades I have executed year-to-date excluding gold and silver. I place the precious metals in their own category distinct from the rest of commodities given their monetary use (click the links for archive of articles on gold or silver). I believe I tweeted most of these with the #120trade hashtag. The most important concept for the commodity crash playbook is to start purchasing commodity stocks once they have erased all their gains since the U.S. Federal Reserve telegraphed the coming of a second round of quantitative easing at the end of August, 2010. I have tended to sell most of these on subsequent rallies expecting additional opportunities to re-establish positions at lower prices as the global economy worked its way closer to a China-related slowdown. At this late stage in the game, I am much more likely to hold for a longer period since the next rally could be the start of the next major move upward.
iPath DJ-UBS Coffee TR Sub-Index ETN (JO) (March 7, 2012)
JO is the one equity on this list where I added to existing holdings. The weakness in coffee has been very notable since a lofty peak in early 2011. JO has lost almost 50% since then. I was hoping to get commentary from Dean Cyon of Dean's Beans, a 100% organic and fair trade provider of coffee, before writing this piece. When I do hear from him, I will dedicate a post to his latest insights on the coffee market. He provided valuable insights in his newsletter in February, 2011 when speculation in coffee was reaching a frenzied peak (for more, see "Coping with Destabilizing Coffee Prices".
I added to my JO holdings just as it cracked through its QE2 reference price for the first time. It has since continued to slowly drip lower (see the weekly chart below). Note that going into 2012, I targeted several agricultural stocks, particularly fertilizer stocks, for adding to the commodity crash portfolio, but I have yet to pull the trigger (again) on these.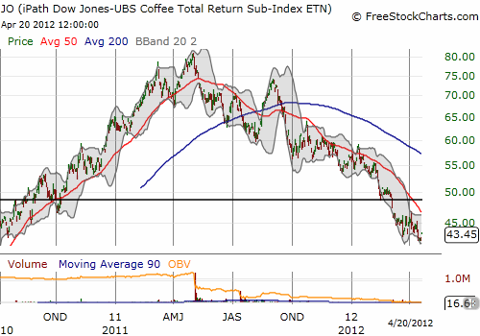 JO continues to sell-off as coffee prices continue their descent from lofty heights
Market Vectors Rare Earth/Strategic Metals ETF (REMX) (March 19, 2012)
I am a long-standing fan of Molycorp (MCP) in the rare earth elements (REEs) space. REEs are a special case for the commodity-crash playbook since Grantham did not include them in his work. However, I believe they will be extremely critical in the coming years of global economic growth. Most of the REE stocks I follow are well off highs and, as a group, offer up great bargains. The REMX ETF includes the stock of companies with "strategic metals" but no owned assets in the ground, so REMX is a special case of a special case. While I continue to configure various trades in MCP, I decided it was finally time to plant a more stable holding in rare earths with this diversified ETF. I missed the golden opportunity when REMX hit all-time lows with the stock market swoon in early October. REMX is now 19% off those lows.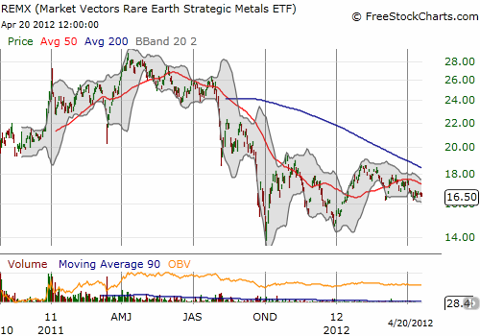 REMX remains below its price from the first day of trading
Vale S.A. (VALE) (March 23, 2012)
VALE has been particularly weak. This stock has traded below its QE2 reference price for most of the time since it first cracked those levels last August. The Brazilian central bank cut interest rates last week for a sixth straight time close to record lows. So, it is no surprise VALE is struggling. With the Brazilian government maintaining a dovish stance, VALE should at least maintain its current range. Obviously, if Brazil's economy takes another turn downward, VALE will likely follow.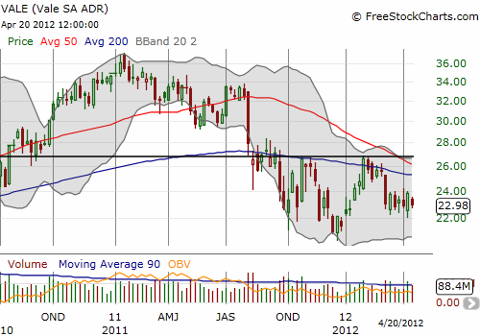 VALE has traded under its QE2 reference price for 8 months
BHP Billiton Ltd. (BHP) (April 4, 2012)
This purchase has been a long time coming. It is my first ever investment in BHP even though I consider this one of the highest quality names in the commodity space given the diversity and size of the company's portfolio. Earlier this month, BHP got "close enough" to its QE2 reference price for me to finally take the plunge. I had earlier kicked myself for not taking advantage of last year's sell-off and consider myself fortunate to get this "second chance." The weekly chart below demonstrates that the QE2 reference price has provided consistent support since last year's lows.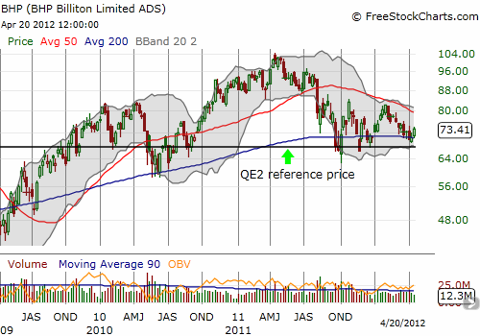 BHP bounces along support
Freeport-McMoRan Copper & Gold Inc. (FCX) (April 16, 2012)
Copper prices are about 18% off their post-recession highs in 2011. FCX printed its post-recession high in early 2011 and has lost over a third of its value since then. Currently, prices are partially depressed by labor troubles in Indonesia. Now, murmurs of acquisition are spreading given FCX's incredibly cheap valuation, especially relative to copper prices (see Bloomberg article "Freeport Deal Talk Intensifies on Cheap Copper: Real M&A"). It just so happens that FCX hit its QE2 reference price right before earnings on April 19th, and I did not wait. I consider FCX a core holding.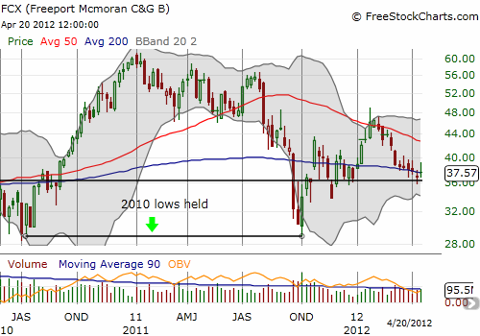 FCX hits its QE2 reference price again
Source for charts: FreeStockCharts.com
iShares MSCI Brazil Index (EWZ) (April 17, 2012)
EWZ hit a long-standing rule I have in place to buy EWZ anytime it drops to 20% below its 52-week high. I last bought in November and sold into 2012′s rally. I am back in again with shares dropping below the $64 trigger point. See commentary above on VALE for some perspective on the opportunity and risk in Brazil.
Hedges: Caterpillar (NYSE:CAT) and ProShares UltraShort FTSE China 25 (FXP)
The commodity crash playbook comes with hedges as well. I currently only have very small hedges with puts in Caterpillar and the new addition of FXP, the inverse of the iShares FTSE China 25 Index Fund (NYSEARCA:FXI). I purchased FXP as a quick trade as FXI broke below its 200-day moving average (DMA) for the second time in March. I decided to hold FXP even as FXI recovered back above its 200DMA given its expected usefulness as a partial hedge against a China-related drag on the rest of the commodity-related portfolio. Finally, in a small twist, I bought a few shares of CAT as a shorter-term trade that has not quite paid off yet.
Overall, I see commodities at an important crossroads. Sluggish economic growth and sovereign debt issues have kept major central banks in accomodative monetary policies. Easy money is always an important catalyst for improving the risk/reward of owning commodities. If these policies fail to maintain a floor on economic activity, then commodities will certainly weaken further from here. However, a response with further monetary easing will make lower commodity prices even more attractive. For now, I am not as actively fretting about the downside risks as I am eagerly anticipating the upside opportunities from an eventually more robust global recovery.
Be careful out there!
Disclosure: I am long JO, REMX, VALE, FCX, BHP, EWZ, CAT, FXP, MCP.
Additional disclosure: I am also long puts in CAT