Apple (NASDAQ:AAPL) has started off 2012 with a bang as it rapidly surged from $400 to $640 in mere weeks. After surpassing a $600B market capitalization Apple had a correction and fell below $575. I have recommended option strategies for Apple since 2010 with tremendous results (remember past results do not guarantee future results).
For reference, please view the first and other articles in the series to fully understand the strategy and its strong potential returns. I perform a weekly analysis of Apple's stock, options, recent news, and competitive analysis. In essence the investment objective is to capitalize on Apple's volatility by selling out-of-the-money options to generate weekly income without sacrificing long-term returns.

click to enlarge
(Source: Yahoo Finance)
A brief recap of this week in Apple [Down $37.08 (-6.1%)]:
New iPad U.S. Traffic as Percent of Total iPad Traffic: 11.11% (Up 1.12%)
Apple has fallen nearly sixty points in the last two weeks and has depreciated nearly 11% since setting all-time high earlier this month. I asked the question "will Apple stall before hitting $720" and the answer was a resounding yes. Analysts, including myself, have been speculating as to why Apple has pulled back so violently the past two weeks and everyone is still left scratching their heads. The consensus is that Apple is still an extremely healthy company and is a long-term buy.
There was a lot of noise the past week and I tried my best to address why the stock was down and there was only one additional major rumor to break this week. There have been stories that both Verizon (NYSE:VZ) and AT&T (NYSE:T) are going to be pushing rival phones running operating systems backed by Microsoft (NASDAQ:MSFT) and Google (NASDAQ:GOOG). It is only natural that the major telecom companies will seek to diversify their interests and promote rival smartphones but the iPhone simply remains in a class of its own. The iPhone 4S, 4 and 3GS continue to remain the most popular smartphones despite significant competition.
Nokia is banking its future on the new Lumia smartphone that is quickly going down the flop path. To quote an executive in charge of mobile devices at a European operator, "no one comes into the store and asks for a Windows phone". I am not going to discount Microsoft's new operating system just yet but it is clear that there is no phone on the market that is even threatening to dethrone the iPhone in terms of popularity.
Samsung (OTC:SSNLF) continues to try and has released some compelling phones recently but at best these rival phones will compete against other non-iPhones. With Research in Motion considering strategic options and having no clear strategy, there is no clear challenger to the iPhone 4S.
Remember that the iPhone 4S is now six months old and soon the iPhone 5 will be on the scene to put competitors further behind. I spend so much time discussing the competitive landscape every week because this is the primary threat to Apple's future growth. If Apple continues to out-innovate its rivals the company will continue to grow earnings and drive the stock higher.
The P/E has returned to 16 before removing the "cash+" and there is now a healthy margin of safety built in ahead of earnings. I am long the May 700 Calls as a "lotto ticket" type play in addition to being long the stock. After the ten percent decline in the stock I believe Apple is a very attractive opportunity.
Below I present three possible scenarios and the potential returns for the Apple options. The first scenario represents a negative outlook for Apple while the final two scenarios are more reasonable. These scenarios are just projections and there is no guarantee that they will come to fruition.
Even if you are optimistic it is important to generate both positive and negative circumstances in order to stress your assumptions. As a general rule, selling calls with higher strike prices has greater potential return but additional risk of loss due to the lower (or lack of) downside protection. For more information on the fundamentals of covered calls, consult Investopedia.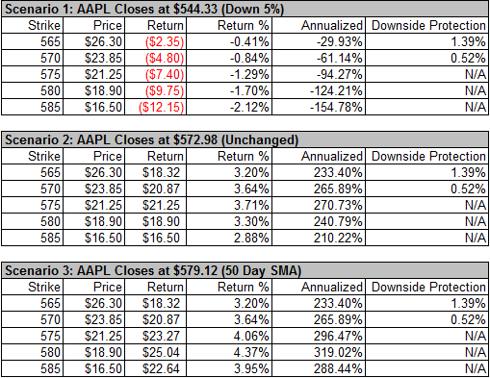 Additionally, if you would like even more information, I have prepared a sensitivity analysis for absolute return and percent returns, respectively. After studying the information above, these two charts make it easy to pick a strike price based on where you believe Apple will close at the end of the week. Estimate where you believe Apple will close and select the strike price with the highest return.

I ordinarily recommend writing covered calls against Apple to generate additional income but this week is very different. Apple has declined significantly and will report earnings on Tuesday. If you are going to take your chances with Apple I think this is an optimal time to do so. With this information, executing a buy-write on AAPL April 27 (Weekly) 580s is the optimal risk-return strategy. This makes for an excellent trade if you are currently not long Apple; however, if you are a long-term Apple investor I would exercise restraint. If you would like to book some profits the options are attractive with 3.7% time value ratio on the Weekly 575s. For reference, the previous high ratio of the year was 3.0% in January.
Please consult with your accountant or personal financial planner. If you are uncomfortable with this strategy I suggest a buy-write in the range of 670-610s. Even if you are extremely bullish you can still profitably sell covered calls; Apple is volatile enough that you will have opportunities to repurchase on dips. An alternative approach is to sell out-of-the-money 570 puts and collect the premium without having to purchase the stock outright. Note that if the stock declines to the strike price, you are obligated to buy the stock (or closeout the position).
Disclosure: Author is long AAPL, GOOG, T, VZ, and AAPL May 700 Calls.