Since the end of the Great Recession, the REIT sector returns have begun to form a clear pattern of improvement and many of the REITs are starting to "claw back" their occupancy and dividend yields. Among the top performers this year are industrial REITs (YTD returns of 20.02 percent), mall REITs (YTD returns of 17.65 percent), and shopping center REITs (13.72 percent).
The retail (REIT) sector has outperformed and although fuel prices and concerns about inflation are prevalent among many consumers, demand remains strong as many national and regional retailers are reporting improved sales growth and profits.
Monthly retail same-store sales have beaten Wall Street's views in 13 of the last 15 months. In March, retailers posted a 3.9 percent rise in same-store sales vs. the prior year. Excluding a big sales decline from drugstore giant Walgreen (WAG), they would have been up a hefty 6.5 percent.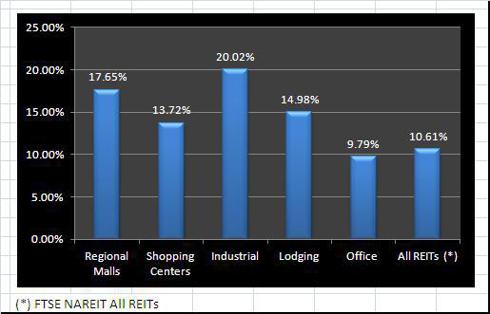 One encouraging sign for retailers has been a recent strengthening in confidence on the part of high-end consumers with a household income of $100,000 or more. Earnings growth at luxury retailers - led by Tiffany (NYSE:TIF) and Signet (NYSE:SIG) - outpaced retailers overall from the first quarter of 2010 to the 2011 fourth quarter. As explained by Ken Perkins, president of Retail Metrics:
I see continued outperformance by retailers that cater to the more upscale consumer. As the economy has been improving, they've been deriving more outsized income gains relative to the more moderate consumer.
Let's Go Shopping at the Mall
The growing strength of the retail sector - especially the upscale sector - bodes well for Regional Malls. This retail sub-sector has begun to rebound in part due to strong balance sheet management and inventory controls by the large retailers. Also with very limited new development, the demand for space has increased and that has provided mall owners with enhanced occupancy margins.
In a recent interview on The Commercial Real Estate Show, Suzanne Mulvee, Senior Real Estate Strategist at Property and Portfolio Research, explained that the retail sector absorbed around 9 million square feet in the first quarter (of 2011) and that,
Malls have been doing better...the recession flushed out the weaker retail centers...and core malls are doing well today.
Today there are around 1,400 malls in the United States and as the cost of building a new mall can easily reach $100 million or more, overbuilding within a geographic area is rare and provides for a risk-aligned demand. This, along with excellent locations and moderate but steady growth in retail sales, reduces risk and provides for predictable and growing cash flows.
The FTSE NAREIT regional mall sub-sector is comprised of eight REITs with a combined market capitalization of $76.5 billion with an average dividend yield of 2.8 percent (as of March 31, 2012). Seven of these mall REITs include CBL & Associates Properties, Inc. (NYSE:CBL), Simon Property Group (NYSE:SPG), General Growth Properties (NYSE:GGP), Taubman Centers (NYSE:TCO), Macerich Company (NYSE:MAC), Pennsylvania Real Estate Investment Trust (NYSE:PEI), Glimcher Realty Trust (GRT), and Rouse Properties Inc. (RSE).
Most all of the mall REITs cut dividends during the Great Recession and finding a well-balanced REIT with durable dividends and sound capital appreciation can be challenging. Conversely, shopping for a value-oriented REIT that offers the best "total return" package is kind of like finding a needle in the haystack.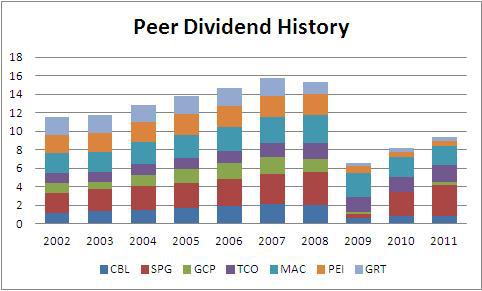 CBL & Associates Properties, Inc.
CBL & Associates Properties, Inc. is one of the largest mall REITs in the United States and owns, holds interests in or manages 157 properties including 89 market dominant enclosed malls and open-air centers from coast to coast. CBL is an active developer of new regional malls, open-air centers, lifestyle and community centers.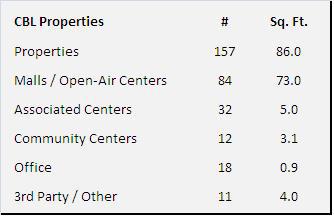 Since going public in 1993, CBL has generated tremendous growth as a company measured both by portfolio size and increases in cash flows and dividends. The company has a portfolio of around 86 million square feet and the diverse tenant portfolio provides for a sustainable revenue model. Over 70 percent of CBL's total revenues are derived from tenants that individually contribute less than one percent of revenues.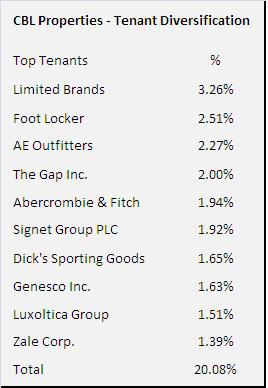 Like most mall REITs, average occupancy fell from 92.8 percent at the end of 2007 to 90.8 percent at the end of 2009. However, CBL has increased its occupancy rate by 120 bps (year over year) to 93.6 percent today (Q4-11).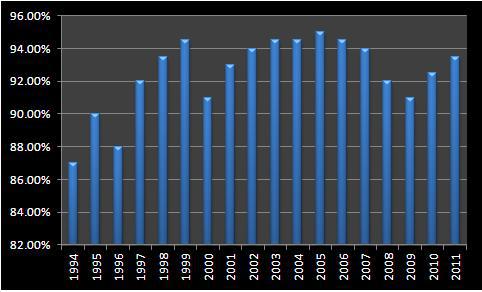 As a result of skilled risk management practices, CBL has reported exceptional results. Full-year FFO increased (in 2011) by 6.7 percent to $2.22 per share. In addition, as a result of modest new supply and improved leasing efforts, CBL increased its full year (2011) leasing spreads by 6.3 percent. CBL has also maintained 90 percent or higher occupancies since 1997 and the REIT has leased around 7.15 million square feet in 2011 - a 23 percent increase over 2010.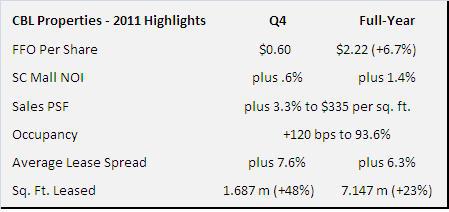 With a market capitalization of around $8.825 billion, CBL has a composition of common stock (and OP units) of $2.99 billion, preferred series stock of $569 million [Series C (CBL-C) and Series D (CBL-D)], non-recourse debt of $4.47 billion, lines of credit of $437 million, and recourse (construction loans) of $357 million. The debt/total-market cap is 57.7 percent and the EBITDA / Interest Expense is 2.5x.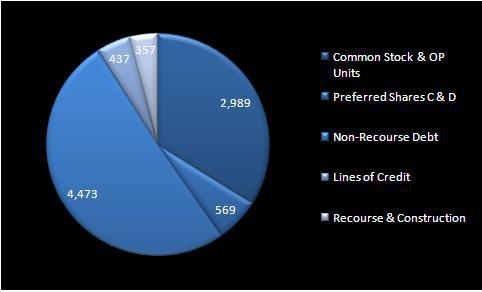 CBL risk-management practices are not limited to leasing, the Chattanooga-based REIT has also reduced its debt balance by $1.366 billion (compared with December 31, 2008) and the REIT has also completed $2.3 billion if financing activity in 2011. CBL's debt/EBITDA of 7.4x is below the peer (mall REIT) average of 7.9x.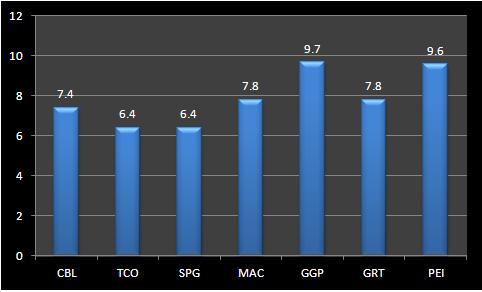 Now Let's Go Bargain Shopping
It's always nice to go bargain shopping with the ones who know where to find bargains and it is also nice to invest with folks that have "skin in the game". CBL has around ten percent inside ownership (according to Yahoo Finance) and the founder, Charles B. Lebovitz, and his family (three others listed as insiders) are also actively engaged in operations. In addition, CFO (John Foy) has over 44 years of experience in the shopping center industry and he joined the Lebovitz family's shopping center business where he helped establish CBL's predecessor.
So finding a bargain is easiest to uncover when you consider the FFO multiples. The peer (mall REIT) average FFO multiple is 14.4x and CBL is trading at around 8.4x. Assuming that CBL moves to 10 times FFO (30 percent discount to peer average) the corresponding result in yields gain is over 18 percent.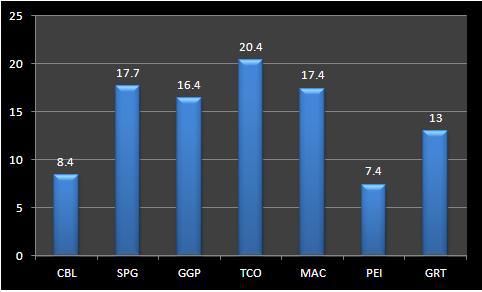 In addition, CBL is currently paying an above average dividend yield of 4.8 percent - over 70 percent higher than the average FTSE NAREIT Mall REIT dividend yield of 2.8 percent. This combination of above yield (4.8 percent) and severe FFO discount (8.4x) makes CBL a true bargain worth considering.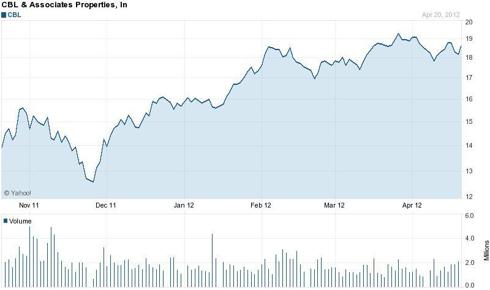 It is not clear whether mall owners' high rates of growth in net operating income enjoyed in the years leading up to the Great Recession will be reestablished within the next few years. However, fundamentals are improving and most mall REITs should continue to enjoy reasonable good profit growth. CBL & Associates Properties is one such REIT and the improved fundamentals make a compelling case for inclusion as a sound SWAN (sleep well at night) alternative.

Disclosure: I have no positions in any stocks mentioned, and no plans to initiate any positions within the next 72 hours.