Netflix (NASDAQ:NFLX) is dying. Netflix has gigantic content liabilities due in 2012 and 2013; they will lose multi-millions on international expansion, and Netflix is having difficulties keeping subscribers.
Rehash of Q4-11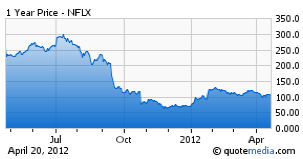 Last quarter, I prepared an article prior to earnings highlighting weaknesses, and when NFLX appeared to beat expectations, I issued an immediate rebuttal that called out Hastings for his expert use of a "spin zone."
I highlighted the importance of the buyback blunders, the hopelessness of international expansion (especially in Latin America), the enormous content liabilities, and most importantly: the true shift in subscribers.
To summarize the largest spin piece - if analysts would have checked the actual numbers (paid vs. trial, etc) behind the NFLX press release, they would have witnessed that NFLX lost 360k paid streamers vs. the 220k gain that was reported. NFLX also lost a colossal 2.77M paid DVD subscribers. How did NFLX get around this? They boasted total subs including domestic free trials and global free trials at a time when free trials were at an all-time high.
NFLX bragged about adding 458k international subs while ignoring the fact that they lost $60M or roughly $131 per new subscriber. This is obviously an unsustainable business.
Growing Competition
Amazon (NASDAQ:AMZN) and Lovefilm (in the UK) have been NFLX's strongest competitors to date; however, big news hit the market last week involving Hulu and Wal-Mart (NYSE:WMT).
Netflix has two expansion stories left: original programming and international expansion.
Hulu is planning to work deals with advertisers and launch four series of original programming.
While the Hulu news in itself isn't horrible for NFLX, it's a clear warning sign. Netflix is not going to be the only player in online original programming. After a blundered attempt last year to sell itself, Hulu is now gearing up for war.
Meanwhile, Wal-Mart is pushing international expansion through its recently acquired Vudu service.
Wal-Mart does not have a strong track record in digital service; however, they have massive resources and could easily out-compete with NFLX in an international sector. This might be the ultimate death knell to NFLX.
What Will Be the Upcoming Spin?
Netflix's current tagline boasts "more than 23 million streaming members in the United States, Canada, Latin America, the United Kingdom, and Ireland." Netflix has the same tagline from last quarter, so at least we know that they will have 23+ million streamers. I do not expect massive streaming losses. What I do expect is large international losses, a huge drop in DVD subscribers, and stagnant US streaming growth. It would not surprise me to see a tiny drop in paid US streamers as well, but even a slight increase is bad news.
Look for the headlines to involve "huge gains" of a million-plus international streamers, and maybe a few new content deals in the making. I expect Hastings to gloss over the international losses and largely ignore all domestic numbers.
It will not surprise me if another round of stock offering to "fund further international expansion" is announced in the next few weeks to a month.
Trading Approach
I'm glad that NFLX releases on Monday afternoon. I will be buying a large amount of (1w) puts, likely either $100 or $95 strikes. The four days between results and contract closure will allow for more time for the market to truly analyze NFLX's press release.
My approach is a huge gamble - it paid off once last fall, and it cost me big last quarter. A more stable approach might be to look at $90-$80 puts in the fall 2012 timeframe. If you plan to take a long-term approach, I believe that you can read the release later today and make your trading decision on Tuesday morning. If it's as bad as I believe it could be, there will be plenty of downside left to capture. Just look at how far Groupon (NASDAQ:GRPN) kept falling even after initial fraud reports.
I firmly believe that NFLX will require massive restructuring to avoid bankruptcy by 2013. Please read my full analysis on that point from my February 2012 article.
Disclosure: I have no positions in any stocks mentioned, but may initiate a short position in NFLX over the next 72 hours.
Additional disclosure: As mentioned, I will be shopping for options on Monday, Apr 23.