The headline "Gold and Silver Wait Patiently for More Easing" from this story at Commodity Online last week about sums up the current situation for precious metals investors and, whether it's good or bad, some news should come on that front in the days ahead as the Federal Reserve's policy committee again gathers to deliberate over whether another round of money printing might be necessary amid growing signs of a weakening U.S. economy.
As never before, precious metals are taking their cues from the Fed and, simply put, should the policy committee strongly hint at another round of quantitative easing this week and then follow through with action next month, gold and silver prices are likely to go much higher in relatively short order. But if the U.S. economy is seen as needing no help from the central bank over the near-term and with the Fed less likely to take action in the lead up to the fall elections (so as not to be seen as being politically motivated), it could be a long, difficult summer for gold and silver.
Last week, the gold price fell 1.0 percent, from $1,658.50 an ounce to $1,642.40, while silver rose 0.6 percent, from $31.50 an ounce to $31.70. Gold is up 4.9 percent so far this year, down 14.6 percent from its high last fall, and silver is up 13.8 percent in 2012, now down 36.0 percent from its peak last spring.
Of course, any talk that the secular bull market in gold and silver is now over, as some are now claiming in the financial media, is, in my view, pure nonsense and another bit of evidence in support of that view appears in the chart below.
(click to enlarge)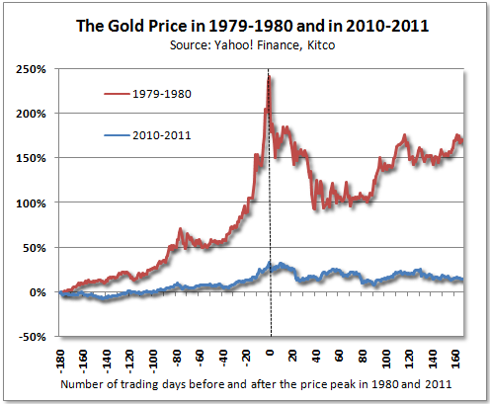 If September's gold price peak at just over $1,920 an ounce was the top, it was the most unspectacular end to any long-term bull market that I've ever heard of, paling in comparison to that seen in 1980.
The fact remains that elected officials in the U.S., Europe, and Asia are all just "kicking the can down the road" by printing money to paper over their financial woes and, when combined with the expectation that "financial repression" will go on for years, this virtually guarantees higher gold and silver prices.
But, the road ahead is likely to be increasingly volatile, the steady three-year rise in the gold price from $750 an ounce in late-2008 to over $1,900 an ounce last fall having set unrealistic expectations in the minds of many new gold investors as we move further into a period where larger, longer corrections will likely be the norm.
The Wall Street Journal provided this assessment of the gold market in a report on Monday that I thought was spot on:
Gold still is benefiting from concerns that the global economy remains fragile and a belief that governments will launch new rounds of stimulus, undercutting paper currencies. But that belief has been shaken with signs that the U.S. economy is stabilizing, giving investors fresh cause to wonder if there might soon be better returns elsewhere.

Since late February, hedge funds, pension funds and other money managers have slashed by 39% their futures-market wagers that gold will rise. In the same period, they increased by 87% their bets that prices will fall.
While there continues to be strong support from Asia at lower prices, it's worth remembering that futures prices - and hence the gold price - are set by the groups above and, until more Fed money printing is on the horizon or some other catalyst emerges, their interest will continue to wane.
As for silver, margin requirements were lowered again last week as stockpiles at Comex warehouses were reportedly at a 10-year high and, while gold ETF holdings have been remarkably stable, silver ETFs have seen steady outflows in recent weeks, the popular iShares Silver Trust ETF (SLV) shedding nearly 200 tonnes of the metal over the last three weeks as shown below per data at the iShares website.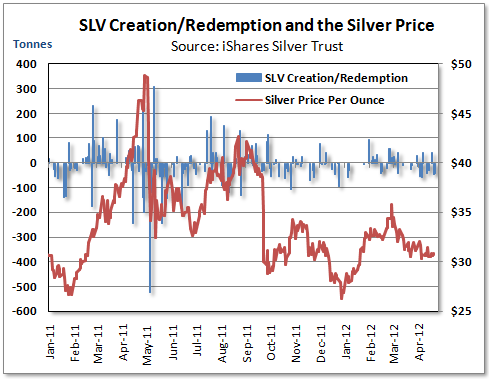 A good indication that a bottom in the silver price may be near is the remarkable decline in the premiums paid for the Sprott Physical Silver Trust (PSLV) that tumbled to 4.27 percent on Friday, per data at the Sprott website.
After rising to nearly 30 percent a year ago when the silver price peaked near $50 an ounce, this is the lowest I recall ever seeing this premium and, while it could surely go even lower in the period ahead, it could also be signaling that a bottom is near.
The Silver Institute's World Silver Survey 2012 indicated the silver market will remain in a "substantial surplus" making investor demand the key price driver. The group said a move higher in the second half of the year is "probable", forecasting a high of just over $40 an ounce for the metal this year.
Short-term weakness and more volatile markets were also forecast for gold as the top five precious-metals analysts in a Bloomberg survey said the gold price will average $1,900 an ounce in the fourth quarter, citing investor demand and central bank buying as the key drivers.
This week, at the Fed's Wednesday meeting, the U.S. central bank could be a key driver for both gold and silver prices.
Additional disclosure: I also own gold and silver coins and bars.