General Electric (NYSE:GE) suffered a serious loss of prestige as a result of its near death experience during the financial crisis. Heroic efforts by both Uncle Sam and Uncle Warren were required to ensure survival of a company that at the time enjoyed the coveted triple A rating. GE has since repaid its benefactors, and has been making fine progress in restoring its reputation and stature.
At a recent price of $19.36, and sporting a dividend yield of 3.51%, patient investors are likely to be rewarded with share price appreciation, provided the company continues to perform and the market eventually grants it some measure of its former respect.
Valuation
Using actual earnings for 2008-2011, and estimating 2012 at $1.57, five year average EPS works out to $1.37. Applying a multiple of 20 to that metric, a target price of $27 emerges. If GE reaches that goal in 3 years, the investor will receive a 15% annualized return, including dividends at today's rate.
Restoring Industrial Growth, Rightsizing Financial
The Q1 2012 earnings call presentation, and the accompanying supplemental information, provide a quick snapshot of the company's progress on the issues of achieving growth in its industrial segments, and stability and profitability in its financial segment. Two slides: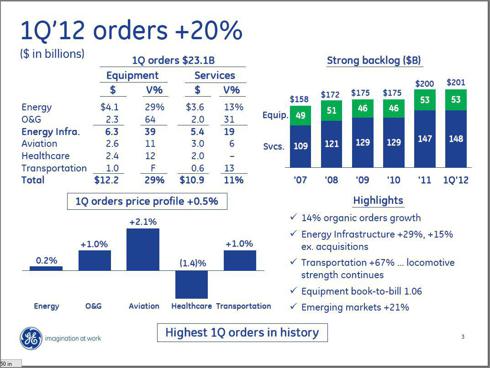 Click to enlarge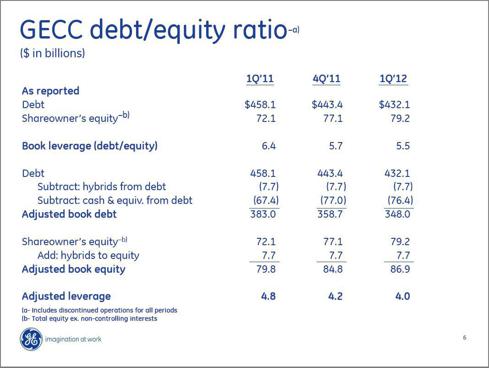 Click to enlarge
R&D
In January 2011 I raised questions about whether GE had been investing appropriately in R&D. I felt that R&D, when considered as a percentage of industrial revenue, might not be sufficient to support the innovation required for long-term growth. Here's an update of my spreadsheet on the topic:

Click to enlarge
2009 was a turning point. Although it was a difficult year, the company stepped up R&D, which has been increasing to a level that is more supportive of innovation.
Public Image
Fortune lists GE as #15 on a list of the 50 most admired US companies. The company has been #1 in electronics (as classified by Fortune) for 15 years running.
Last year CEO Jeff Immelt accepted an invitation to lead the President's Council on Jobs and Competitiveness. That, together with the company's well publicized 2010 tax credit, may have offended or annoyed some investors on political or ideological grounds.
The company's ads focus on themes of education, green technology, and American competitiveness. Again, politics and/or ideology may affect perceptions. GE is investing $1 billion in an effort to make refrigerators here in the US, profitably and with high quality. To me, this demonstrates a willingness to put their money where their mouth is.
CEO Jeff Immelt envisions the company as an innovative industrial, focused on infrastructure and emerging markets, and as a good corporate citizen. In point of fact, that is the strategy and it is well-conceived. Time will provide clarity on the effectiveness of implementation.
Dividend Growth
Although the company cut its dividend during the financial crisis, many investors look past that and see long term potential. The dividend was increased twice during 2011.
Immelt uses the word "dividend" 10 times in his 2011 letter to shareholders. From the letter:
Our business model generates a lot of cash. Over the next few years, thanks to NBCU monetization, dividends from GE Capital and solid growth, we expect to have about $30 billion in available cash. This will provide us with an opportunity to reward investors while protecting us against a volatile economy.
Dividends from GE Capital to its parent require approval from the Fed, which Immelt anticipates will be forthcoming during 2012.
Checking the assertion about cash flow, I find support, as shown by the following snip from my workbook:

Click to enlarge
As a general rule, I find that situations where EPS is a relatively low percentage of Cash Flow are more profitable investments.
Strategy and Tactics
GE is suitable for long term investors, including dividend growth investors who can look past the dividend reduction to the recent increases, and the future potential. Buying at today's prices provides a realistic expectation of receiving an increasing flow of dividend income, with eventual share price appreciation.
Shares are optionable, to include LEAPS. Beta checks in at 1.6, which I perceive as high considering the firms AA- rating and stable operations. Implied volatility is 21.4%, in the area of a 52 week low. Bid/ask spreads are narrow, there is ample open interest, and the options trade in penny increments.
I wrote GE up favorably in May 2010, when the stock stood at $16.35. At the time I discussed an options strategy, long Jan 2012 10.0 calls and short Dec 2010 19.0 calls. That trade, as adjusted, is ongoing, and carries an IRR to date of 7.57%. Simply buying and holding the shares would have achieved an IRR of 13.32%, including dividends, with less volatility and risk.
When a trade doesn't perform as expected, the first step is to check expected performance going forward - play it from where it lies. The current position, a Jan 2013 15/20 vertical call spread, will return 66.5% annualized if the stock is above $20 at expiration. I believe that is the most likely outcome, and plan to hold the position to expiration.
By way of diagnosis, the pick was good, and the strategy was appropriate. The leveraged strategy as implemented did not outperform straight buy and hold because I got greedy and chased gains during the early part of 2011, as the stock made new highs. I did a short Instablog post on the underlying issue - Investments Too Slow - for readers who are interested.
Disclosure: I am long GE.