Stocks often trade out of sync with their fundamentals. Sometime they are overvalued, and sometimes they are undervalued. We believe that at this moment in time, Freeport-McMoRan Copper & Gold's (NYSE:FCX) stock price greatly undervalues the company and is discounting its long-term fundamentals and takeover appeal.
Freeport is the world's largest public copper and molybdenum producer, as well as a major gold producer, with operations in many countries. The stock has declined over the past year due to worries about the state of the global economy, falling in tandem with copper prices.

Over the past year, Freeport has lost nearly a third of its value, compared to an almost 19% drop in copper (NYSEARCA:JJC) and an almost 9% rise in gold (NYSEARCA:IAU). We believe that after such a decline, Freeport is a buy, given its sound fundamentals, financials, and valuation, which we delve into below.
Fundamentals: Long-Term Trends Intact
On April 19, Freeport reported its results for the first quarter of 2012, reporting a profit of 80 cents per share on revenues of $4.605 billion. Part of the decline over 2011 results was the strike at the company's Indonesian Grasberg mine, which led the company to cut first quarter production guidance in March. In addition, the company posted a charge of 16 cents per share due to the early retirement of debt, a positive for Freeport in the long-term. While the company did report lower earnings than in 2011, we think that in the long run, this quarter does not reflect the fundamental upside contained in Freeport shares.
The company's stock price has been battered by worries over the Grasberg mine, from strikes to the relationship with the Indonesian government. Headline risk surrounding the situation in Indonesia may persist until the 2014 presidential election. In essence, the drama surrounding the Grasberg mine is occurring due to proposed changes in Indonesia's mining law. As Freeport currently owns 90.64% of the Grasberg mine (the remainder is owned by the Indonesian government), the company has been thrown into the center of the political controversy. The Grasberg mine is the world's largest copper mine and the third largest gold mine in the world.
Ahead of the 2014 presidential elections and due to the 2009 mining law, the Indonesian government has made a number of "inflammatory" statements regarding the government's relationship with miners, including Freeport. Proposed changes include a forced sell-down of ownership stakes to 49%, a 25% export tax on coal and base metals (copper, etc...). We believe that these statements are designed to gain leverage in negotiations with Freeport. Currently, the Grasberg mine is governed by a contract of work (COW) agreement that was signed in 1991. It is in effect until 2021. We do not view a forced divestiture of the Grasberg mine as a likely event, and believe that any increases in taxes have already been priced into the stock.
On the conference call, Freeport executives stated that the company is in negotiations with the Indonesian government. We believe that the likely outcome of these negotiations will be an increase in the royalty rates Freeport pays (currently at 3.5% for copper and 1% for gold) to 4% for copper and 3.75% for gold, as per the 2009 mining law, in exchange for an extension of the contract of work agreement past 2012.
Freeport has had a long track record of resolving issues with the Indonesian government to the benefit of all parties involved, and we see no reason why this round of issues should be any different. Political risk is always a factor that resource companies face, and we do not think that Freeport has more risk on this front than the average company operating in this sector.
Shares of Freeport have been battered over the past year by worries of a slowdown in China, the world's largest copper market. And yet, Freeport does not see large issues in China. Though the country has taken steps to rein in growth, CEO Richard Adkerson sees China as an important demand driver, and notes that the country is still spending aggressively on infrastructure projects, creating continued demand for copper.
In addition, despite a weak European economy, the company sees American copper demand as positive, and sees 2012 demand outstripping supply. Gold prices are higher this year than at this point in 2011, and Freeport is forecasting steady molybdenum prices, and we do not see meaningful volatility in that business segment.
Valuations: Metals Have Never Been Cheaper
Freeport is solidly profitable, yet it trades at just 3.3 times EBITDA, earning it the distinction of being the world's cheapest base metals producer larger than $10 billion. Though the company is expected to post its first earnings decline since 1986, the long-term future of this company should not be judged based on 2012 performance alone. We believe that the company is capable of boosting performance as the situation in Indonesia is resolved, and output returns to normalized levels.
Freeport trades at $652 per metric ton of copper equivalent reserves, less than half of $1,232 per metric ton of similar-sized copper companies. There is no reason for this discount. Freeport's copper is no more or less expensive than other copper. Furthermore, Freeport is the lowest-cost copper producer in the world, and therefore its reserves can be extracted at a higher rate of profitability than that of its competitors.
Copper prices are expected to rebound in 2012, as demand continues to outstrip supply for the third straight year. Credit Suisse analyst Stefan Garber predicts that copper prices may reach $9,500 per metric ton over the next 12 months, on the back of continued Chinese demand and the supply/demand imbalance. He correctly predicted in July 2011 that gold would reach $1,600 an ounce.
Freeport's valuation is unstretched by almost any measure, including traditional price-to-earnings. As of this writing, the company trades at a P/E ratio of 9.38, and a forward P/E ratio of 9.01 (per figures from Charles Schwab). We turn now to the company's financials.
Financials: The Proof is in the Numbers
On February 7, Freeport boosted its dividend by 25% to an annual rate $1.25 per share. A company that is not confident in its future does not undertake such a move. Although Freeport suspended its dividend during the financial crisis, due to the collapse in copper prices, we think that the current state of copper demand will not allow for such a decline. Freeport's dividend cut was praised by analysts at the time, who congratulated CEO Richard Adkerson for making "tough decisions." Freeport has atoned for that sin, however, as the company's current dividend is the largest it has ever been.
Freeport took on billions in debt when it acquired Phelps-Dodge. However, in the years since that deal, the company has dramatically strengthened its balance sheet.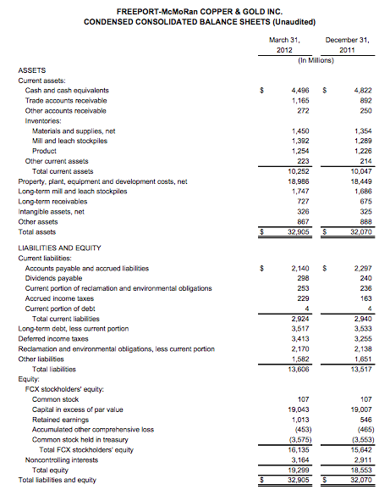 Click to enlarge
The company now has $975 million in net cash on the balance sheet, and recently refinanced $3 billion of debt due in 2017, a move that will save Freeport about $160 million in annual interest expenses. Since the Phelps-Dodge acquisition, the company has greatly reduced debt, and we believe that it will continue to do so in the years to come.
On its conference call, CEO Richard Adkerson announced an increase in capital expenditures to $4.3 billion in 2012 and $4.2 billion in 2013, based on the company's expectations for continued growth in its end markets. The company is forecasting strong operating cash flow in 2012.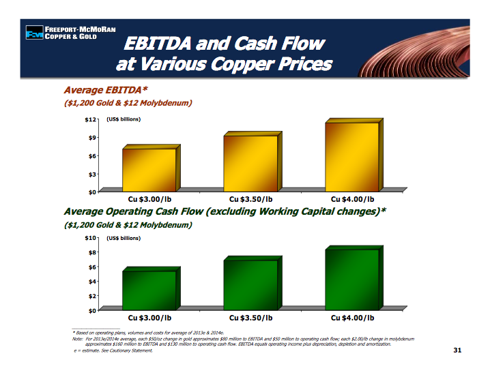 Click to enlarge
FreeportClick to enlarge has greatly improved its financial position since the Phelps-Dodge deal, and we believe that as metals prices continue to hold steady or increase, the company will be able to improve its financial profile even more.
Takeover Target: Too Tempting to Pass Up?
As Freeport's stock price continues to sag and diverge from its fundamentals, talk has stirred that the company will become a takeover target for one of the larger mining companies in the space, primarily Rio Tinto (NYSE:RIO) or BHP Billiton (NYSE:BHP). As mentioned above, Freeport is the world's cheapest large-cap copper company at 3.3x EBITDA, and trades at a huge discount to its peers based on its copper reserves. Such valuations may be too tempting to pass up for a large miner looking to expand their copper production.
As Bloomberg noted, Rio Tinto could quadruple its copper output buy buying Freeport, and BHP Billiton could more than double its output. Building a new copper mine takes at least 7-8 years, and as such Freeport presents a relatively easy way to expand a company's copper production, to say nothing of its gold or molybdenum business. Buying Freeport would allow a company to gain 10% of the world's copper production in one transaction.
A deal for Freeport is not without issues, however. Even at its current depressed share price, Freeport still has a market capitalization of over $35 billion, and the premium needed to gain control would likely push the cost to at least $45 billion, based on a 30% premium. Few companies have the ability to take on such an acquisition, and at that price a deal for Freeport would be twice as large as the largest copper takeover in history: Freeport's own $23 billion takeover of Phelps-Dodge in 2007.
In addition, potential acquirers may shy away until the situation in Indonesia is resolved. However, copper is rarely mined in countries considered to be ideal models of political stability, and that is something that is simply a part of doing business in this industry. While our bullish thesis for Freeport is not based on a takeover, it is a possibility that should be taken into account when considering an investment in this company.
Conclusions
Freeport-McMoRan Copper & Gold is a company that is not trading in sync with its fundamentals. On a price-to-EBITDA basis, it is the world's cheapest large-cap copper company. It has steadily improved its balance sheet, and end-market demand will most likely continue to remain strong. In addition, Freeport-McMoRan Copper & Gold may become a takeover target. We do not think that the disconnect between the stock price and the company's fundamentals will continue for long.
And analysts agree. The Reuters average price target currently stands at $53.15, representing upside of over 41% from current levels. When a company's stock price slides even as fundamentals remain strong, it is usually a good time to invest. We believe that investors who add to or initiate positions in Freeport-McMoRan Copper & Gold at this point in time will be rewarded for their convictions.
Disclosure: I have no positions in any stocks mentioned, but may initiate a long position in FCX over the next 72 hours.