When Intel (NASDAQ:INTC) and IBM (NYSE:IBM) beat analysts' sales expectations earlier this month, many took it as a sign that the usually volatile technology industry — with its stocks on the rise for the better part of three years — remains insulated from the issues that have hurt financial stocks and the economy.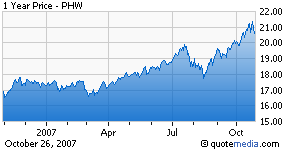 The NASDAQ Composite Index stood near seven-year highs, and PowerShares Dynamic Hardware & Consumer Electronics (PHW) continued its run. The fund's NAV is up 36.5% since its December 2005 inception, about 16 percentage points better than the S&P 500 over that span.
At the end of May, PHW sat in the 30th spot on the Sector Momentum Table. It's been largely rising since, jumping two spots last week to No. 6. Since we added PHW to the PowerShares Momentum Tracker portfolio on Sept. 6, the fund has been in the top eight, while its NAV has jumped 9.5% (through Oct. 22).
On Oct. 19, though, the NASDAQ Composite fell 2.7% (and 2.9% last week), with The Wall Street Journal citing worries about oil prices, the subprime crisis, and the weak dollar. Prior dips in tech stocks tended to be termed as profit-taking, so the distinction could raise eyebrows.
But the fact is, neither IBM nor Intel are part of PHW's portfolio, and the NASDAQ encompasses a much broader swath of the stock market than does the fund, which focuses on the stocks of hardware, computer storage and peripherals, and consumer electronics — with PowerShares' usual emphasis on quantitative factors as opposed to market share.
That's been advantageous over the fund's lifetime, a point emphasized Monday (Oct. 22), when top holding Apple (NASDAQ:AAPL) reported a 67% jump in quarterly earnings. Skyrocketing sales figures for iPhones, iPods, and Macintosh computers, with many being purchased by consumers lured to Apple by the smaller gadgets, have lifted Apple shares by 105.5% year to date and just shy of 21% in the last month (through Oct. 22).
In fact, the Intellidex model has worked well enough that PHW's top 10 holdings included five stocks with double-digit one-month returns: Apple (AAPL); storage system providers EMC (EMC) (+18.7%) and Network Appliance (NASDAQ:NTAP) (+11.6%); tape-drive maker Quantum (NYSE:QTM) (+17.1%, steady revenue growth); and Brocade Communications Systems (NASDAQ:BRCD) (+12.3%, battling its way out of legal troubles).
Four posted a year-to-date return of 71.1% or better: EMC (EMC) shares are up 71.1% in 2007, while shares of No. 3 Garmin (NASDAQ:GRMN) are up 106.9% on increased adoption of its GPS products by automakers and, more recently, takeover speculation, especially a buyout by Microsoft. Quantum (QTM) was the other, up 74.6%.
Global trends have helped PHW, especially increasing demand in growing economies of Asia, Eastern Europe, and Latin America. Gartner and IDC reported last week that third-quarter global sales of personal computers were up 14.4% to 15.5% over 2006 figures, with PHW No. 5 holding Hewlett-Packard (NYSE:HPQ) topping the list again, with a better-than-average sales growth rate.
Meanwhile, the appetite for advanced mobile phones and other devices is worldwide now, helping PHW's chipmakers, suppliers, and manufacturers. The same is true for storage software, with IDC forecasting compound annual market growth in that space at 11.2% through 2011. It's also been true of consumer electronics, as we head into another holiday season for flat-screen TVs, digital cameras, and the like.
New products have also helped, from Microsoft's (NASDAQ:MSFT) Vista and Apple's (AAPL) new operating system (due out Oct. 26) to less expensive laptops and the iPhone.
Corporate America boosted hardware stocks recently, as tech spending rose, albeit modestly, in 2005 and 2006 after four down years. That trend appears to be continuing, as Merrill Lynch expects IT spending growth to be in line with that of the last two years. Globally, the quest to increase productivity through technology has been a boon to the broad tech industry and PHW.
S&P has a positive fundamental outlook for hardware, storage and peripherals, and consumer electronics, based on the global appetite—from both consumers and corporations.
Despite all that, PHW should not be viewed as being immune to the threats facing the U.S. economy. A slowdown at home would likely have a negative impact on results, though worldwide trends and new products might mitigate that to some extent. But investors here should also keep an eye on the jittery market.
Tech stocks retain an air of risk, and when investors flee risky areas, they tend to exit tech. The fund fell hard last summer, after the May 2006 global pullback, dropping 19.4% by late July. While PHW's NAV is up 51.6% since hitting an all-time low on July 21, 2006, last summer is worth remembering.
That said, the fund's gains and its outlook as a tie-in to global growth in technology make it a potentially strong fit as a niche part of a diversified portfolio.