"Action speaks louder than words but not nearly as often." - Mark Twain
I've noted in several interviews earlier this year that as elections sweep through Europe, incumbent officials likely would have an uphill battle as contenders turn populist anger towards the Eurozone crisis into votes. Austerity does not get one elected the way growth initiatives (or at least the rhetoric of growth initiatives) do. President Nicolas Sarkozy is learning that fast as his political future remains a question mark given strong gains by Francois Hollande for the presidential seat. Mr. Hollande's campaign has been emphasizing the idea that France must lead Europe back onto a growth path and lessen austerity pressures.
Of course whether this happens or not is a huge question mark, but investors price assets on expectations. We know those expectations can be right or wrong. Having said that, the elections may result in money flowing back into France's equity markets at a faster pace than other European countries as clarity on the presidential election occurs. Take a look below at the price ratio of the iShares France ETF (EWQ) relative to the Vanguard Europe Pacific ETF (VEA). As a reminder, a rising price ratio means the numerator/EWQ is outperforming (up more/down less) the denominator/VEA.
(click to enlarge)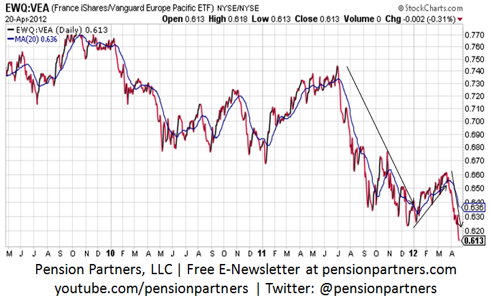 I've added a few trendlines to show how France has performed relative to an ETF that is primarily exposed to Europe. France did stage a decent comeback during the first quarter of 2012. However, as elections have taken place, there has been an utter collapse in the relative performance, with no end seemingly in sight. While it isn't worth trying to "catch a falling knife" given that the trend is still firmly lower, I suspect the ratio may be nearing a capitulation point as elections play out. France remains an important country to watch to see if the market will cheer a potential reversal of austerity measures, or if a broader breakdown in Europe is to come.
Disclosure: I have no positions in any stocks mentioned, and no plans to initiate any positions within the next 72 hours.
Additional disclosure: Pension Partners, LLC, and/or its clients may hold positions in securities mentioned in this article at time of writing.