Dividend investing is one of the safest ways to participate in the equity markets. For many of us, growing dividends provide a steady stream of inflation-protected cash flow. Dividends also provide a safety cushion against market downturns. A diversified portfolio of high dividend stocks can support superior returns for the long-term investors. Given the volatility of the markets and paltry bond yields, dividend investing is probably the best method to beat the market with significantly higher alpha.
Apparently, some investors do not agree with me. Several dividend stocks have been recently experiencing a significant amount of short interest. A short interest of above 10% implies a pretty volatile future for these stocks. I think, given the bullish market sentiment, the short-sellers will need a lot of patience. A positive catalyst might cause a panic among short-sellers, driving these stocks to significantly higher levels in remarkably short periods. Here is a brief analysis of 5 high dividend stocks with double-digit short interest rates:
Arch Coal Inc (ACI)
Market Cap: $2 Billion
Dividend Yield: 4.68%
Shares in Float: 210.95 Million
Short Float: 13.33%
Arch Coal is one of the largest coal producers in the U.S. The company produces and retails both steam and metallurgical coal from several mines spread across U.S. As of last quarter, it has interests in more than 5 billion tons of proven recoverable reserves. St. Louis, Missouri-headquartered Arch Coal was established in 1969. The company operates more than 46 active mines in the U.S alone. The coal industry has been going through tough periods due to lower coal and natural gas prices.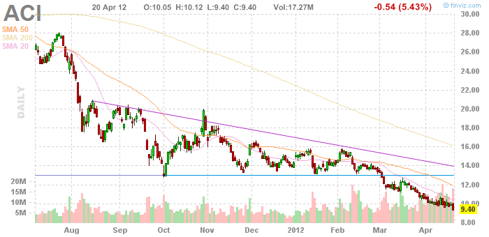 (Source:Finviz)
The threat of dirt-cheap natural gas prices and the switch of energy producers to cleaner input sources caused a massive panic among investors. Arch Coal's market cap is slashed by 70% in the last year alone. The year-to-date return of -35% also suggests that dark clouds still hover over the stock.
What investors do not realize is that Arch Coal is a pretty profitable company, with a forward P/E ratio of 11.60. Its P/B ratio of 0.5 is one of the cheapest among its peers. Surely, debt is a significant issue, but the company's cash flow from operations is sufficient enough to handle the debt load. Watch out for big moves over the next few weeks.
Frontier Communications (NYSE:FTR)
Market Cap: $4.12 Billion
Dividend Yield: 9.7%
Shares in Float: 995.24 Million
Short Float: 18.48%
Frontier is one of the largest integrated telecommunication service providers in the U.S. Formerly known as Citizens Communications Company, the Stamford, Connecticut-headquartered Frontier was founded in 1927. The company has a well-established moat in the traditional wired phone, high-speed internet, wireless data, and fiber optic services. Frontier was negatively affected by the secular transformation in the communication industry. The company lost almost 42% of its market cap in the last year alone.
(click to enlarge)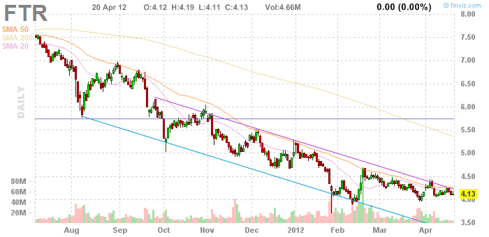 (Source: Finviz)
At the beginning of this year, Frontier announced the already-expected dividend cut. The company slashed its dividends by 50% to 10 cents per share, which is the lowest dividend offered in the last 5 years. However, the company still offers the best yield among the industry. I think Frontier is still trying to digest its large-scale asset acquisitions from Verizon (NYSE:VZ). Along with the assets, Frontier's debt has also expanded in size. As of December 31st, 2011, its assets amounted to $17.460 billion, whereas liabilities were as high as $13 billion. I believe the dividend cut was a timely move to pay its debt load.
At the current prices, Frontier is trading way below analysts' mean target price of $6.35. The stock has been trading at about $4 for the last 4 months. From a technical point, the stock found itself great support near $4-- therefore, it is very likely to rebound this year. The short-sellers already made significant profits in the past year. A minor catalyst can easily push the stock to much higher levels, as short-sellers will be quick to cover their positions.
iShares Barclays 20+ Year Treasury Bond ETF (NYSEARCA:TLT)
Market Cap: $3.5 Billion
Dividend Yield: 3.28%
Shares in Float: 26.04 Million
Short Float: 78.11%
TLT is an ETF which seeks to replicate the price and yield performance, before fees and expenses, of the Barclays 20+ Year Treasury Bond Index. Its holdings include publicly-issued U.S. Treasury securities that have a remaining maturity of at least 20 years. Treasuries yields are at their historical lows-- I do not think they have anywhere to go but up.
(click to enlarge)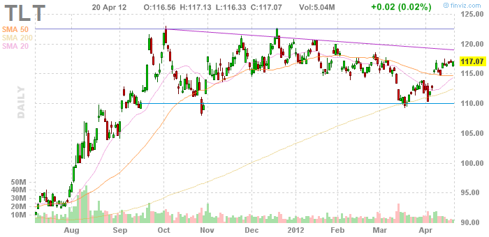 (Source:Finviz)
When it comes to bonds, the yield and price performance is negatively related. Thus, a higher yield implies a lower price, and a lower yield implies a higher price. A recent article on FED's 'Operation Twist' update suggests that operation twist did not have any significant affect on the bond yields. In this nicely written article, fellow SA contributor, Prof. Doug Short, suggests that the current yields on 10 year bonds is around 2%, whereas 30 year bonds offer 3.12%. Those are historical lows for the U.S. I do not think the low yield atmosphere can last any longer. Therefore, I am on the side of short-sellers when it comes to treasuries.
Frontline Limited (NYSE:FRO)
Market Cap: $474 million
Dividend Yield: 3.61%
Shares in Float: 51.53 Million
Short Float: 23.03%
Established in 1948, the Bermuda-headquartered Frontline is one of the oldest companies in the shipping business. The company engages in the ownership and operation of oil tankers as well as oil/bulk/ore carriers. Besides transportation of crude oil, and other natural resources, it also offers dry shipping services. Since the last financial crisis, dark clouds keep hovering over shipping companies, and Frontline is no exception. The stock lost more than 70% of its market cap last year alone.
(click to enlarge)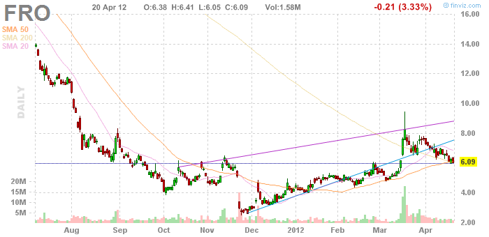 (Source:Finviz)
Frontline is on the move since January, when it returned 42%. While it reported a loss of $530 million in the last year, the company was able to generate positive cash flow from operations. It generated more than $100 million from its operating activities. That is more than enough to cover the dividend payments of $37 million. I would not count on the dividends as they are highly volatile, but it could be a good speculative play.
CYS Investments (NYSE:CYS)
Market Cap: $1.56 Billion
Dividend Yield: 14.85%
Shares in Float: 114.91 Million
Short Float: 10.75%
CYS Investment is a real estate investment trust that invests in mortgage-backed securities. The company operates as an investment fund that invests in only agency issued mortgage-backed securities. As an agency-only mREIT, its portfolio consists of securities and collateralized mortgage obligations for which both the principal and interest is backed by state agencies. Unlike most other mREITs, CYS Investments has been an outperformer, returning 30% in the last year.
(click to enlarge)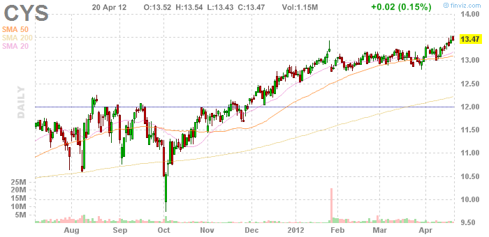 (Source:Finviz)
CYS is trading at an attractive trailing P/E ratio of 7.02, and forward ratio of 6.67. Its yield of 14.85% is slightly above earnings. According to most recent results, its interest rate spread net of hedge is only 1.88%. By utilizing a leverage of 7.7, the company generates a return of 14.5%, which is more or less inline with the dividends. However, rising interest rates with constant spread might reduce the company's book value, which is likely to result in a market cap loss. Therefore, investors might consider a short treasury - long mREIT trade. (Full analysis can be found here.)
Disclosure: I have no positions in any stocks mentioned, and no plans to initiate any positions within the next 72 hours.