Gold ETF products lost ground last week as physical gold ETFs like GLD and IAU were off exactly .81% for the week. The Swiss Gold ETF, SGOL, was just three basis points behind. Here's a snapshot of the physical gold ETF performance grid from GoldETFs.biz.
(click to enlarge)

GLD, a proxy for gold prices, finally broke out of a downward trend last week as mixed U.S. economic data began to renew hopes of further stimulus. Here's the performance chart of GLD over the last nine trading days from stockcharts.com. Note the bounce.
(click to enlarge)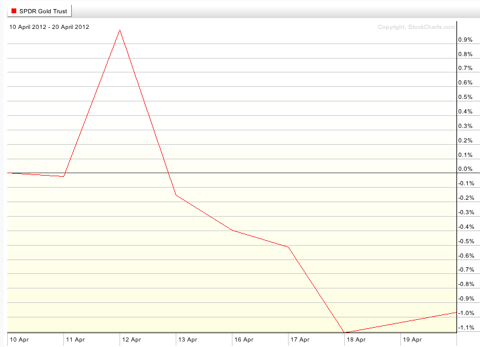 The bounce was a good sign as technically GLD has been very worrisome since the end of February. Taking a look at the GLD 150 day moving average chart over the last two years shows that 2012, of late, has been an unusually troubling period for GLD. Here's the annotated GLD chart with a blue bar representing the $150 low for GLD at the end of 2011.
(click to enlarge)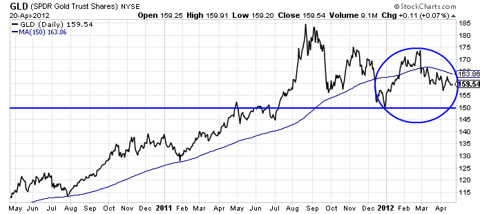 Taking a closer look at GLD's 150 day moving average over the last five months provides greater detail and support for the bounce on the 18th being meaningful.
(click to enlarge)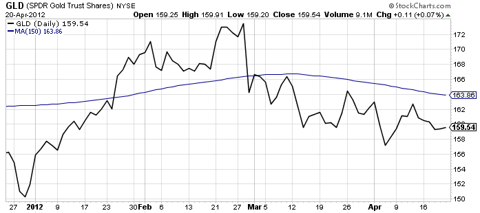 For now the bounce in GLD prevented the sixth new low for the gold ETF in 2012. Whether that rally is able to continue will likely be based off the factor that started GLD's 2012 troubles: Federal Reserve comments.
This Wednesday, the Federal Reserve will provide its updated economic forecast and Fed Chairman Ben Bernanke will hold a news conference. Gold markets will likely be on pins and needles until the presser is over. Outside of an implosion in Europe - and with a Spain debt auction on Tuesday and weekend election results in France pointing to a less cooperative EU administration gaining office in early May, there may be one - it looks like gold will go back to the future (late February of 2012 to be exact) and trade off the latest Fed speak. So now that QE3 hopes have been resurrected again, it seems likely that gold ETF products are poised for a material move - one way or the other - this coming week.
Disclosure: I have no positions in any stocks mentioned, and no plans to initiate any positions within the next 72 hours.
Additional disclosure: Christian Magoon publishes GoldETFs.biz.