Performing due diligence while trying to ascertain if and what kind of position to open in a biotech stock often requires a deal of time and effort. Trial data, market size for certain indications, propensity for dilution and insider buying/selling all give objective means by which to make informed decisions. However, biotech investors also rely on something deeper than the objective facts that the companies report to their shareholders or the scientific journals state about trial results. They often rely on the "what ifs" and the potential for a stock via "if this happens" or "if results confirm earlier efficacy" and so forth. Using a little methodical reasoning, connecting the dots and reading between the proverbial lines can increase one's chances of making a good decision as the famous quote "chance favors the prepared mind" indicates.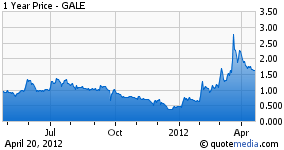 A March 2012 company update by Galena Biopharma (NASDAQ:GALE) provided shareholders with just such a opportunity to glimpse at the possibilities for it and its groundbreaking NeuVax immunotherapy drug for HER2 +1/+2 (low and medium HER2 expression) breast cancer. The company update was typical of what investors would expect with a summary of 2011 events and plans for the upcoming year. It mentioned progress on their lead product, NeuVax, now in an early Phase III trial (named the PRESENT trial) as an adjuvant to the standard of care radiotherapy, chemotherapy and/or resection. NeuVax will be administered via intradermal injections once a month, for six consecutive months. After that, booster injections will be given once every six months for the next five doses to keep the immune response strong as the Phase II trial indicated that the immune response began to wane with no booster injections given. They went on to mention the FBP phase 1/2 trial that initiated in February 2012. FBP contains the E39 peptide, an antigen that is strongly over expressed in more than 90% of ovarian and endometrial cancers. For a financial update, the company mentioned its total financings of about $18 million in 2011 and another $10 million in February 2012 along with its cash and cash equivalents of $11.4 million as of December 31, 2011. Lastly, it spoke of changes in the company's leadership team with key personnel added and then a little information about the company's split from RXi Pharmaceuticals and share distribution as pertaining to that.
Possibly over-looked by many viewing the company update is a key company update with potentially huge long-term ramifications as pertaining to the company's future. The excerpt stated:
"Phase II study to explore NeuVax in combination with Herceptin® (trastuzumab; Genentech/Roche). Based on a promising pilot program, a randomized, multi-center Phase II trial enrolling 300 patients is expected to initiate in 2012 and will be run by The Henry M. Jackson Foundation for the Advancement of Military Medicine (HJF) and co-funded by Genentech/Roche."
Roche's (OTCQX:RHHBY) Herceptin is a $5 billion per year breast cancer drug for patients with tumors having HER2+3 over expression, a condition in about 25% of breast cancer patients. NeuVax is intended for patients with HER2+1 and HER2+2 (low and moderate) expressions, comprising about 50% of breast cancer patients. Investors can surmise the potential of the current stock price run up over time as Phase III interim data starts coming to light if it confirms the Phase II results from the 53-patient subset that received booster injections. The Phase II study mentioned in the update partnered with Genentech/Roche covers HER2 +1+2 expressions and involves NeuVax (E75 plus GM-CSF) and Herceptin (trastuzumab) combined versus Herceptin plus GM-CSF as a control. The partnership involves each company supplying its own respective drug and the remaining trial costs being shared between the two companies. The cost savings for Galena is evident here, but is not the key to the equation. Although this trial will only be evaluating those with HER2+1+2 expressions, the data from this trial combined with the data for the already-approved HER2+3 trial gives evidence of the true marketing potential of the two drugs combined either working together in combination, or being owned and marketed by the same entity. These three levels of expression could target 75% of breast cancer patients. Based on Herceptin's earnings, that could add up to a $15 billion annually combination. Galena currently has a market capitalization of roughly $82.3 million dollars. Realized or perceived success in this trial with Herceptin or in the Phase III trial as a stand-alone adjuvant would be huge catalysts for the company's common stock.
Roche will be deeply involved the upcoming (sometime in 2012) Phase II trial and is very likely to have followed the previous Phase II trial closely as well. Will they or yet another Big Pharma company allow Galena to get very deep into its current Phase III trial? Would it be worth the risk for them to wait and preemptively have the Galena rug pulled out from underfoot? Big Pharma will likely be watching these two trials very closely due to the marketing potential for NeuVax. Roche will have first view of the upcoming Phase II data and could be standing by with their checkbook in hand. The questions for them and other suitors could likely be "when" and "how much". If Phase II or Phase III trials begin yielding results comparable to the initial Phase II NeuVax trial, the "when" should be as quickly as possible or the "how much" will only increase. Regardless, existing shareholders could be enjoying the fruits of their speculations due to their close evaluation of the aforementioned statement on the March 2012 business update. Paramount to their success possible was their decision to act on a hunch due to the partnership with Roche and its possible implications as well as the indication's possible market. Roche had and earlier relationship with Genentech in its partnership with them developing the blockbuster drug Avastin. As the trials progressed, Genentech's price tag only swelled as promising data was released with the company ultimately gaining FDA approval for Avastin in February 2008 for metastatic breast cancer. Late pulling the trigger, Roche finally announced in July 2008 that they were buying the remaining portion of Genentech they didn't already own for $89.00 per share, or $43.7 billion. The 60% portion they had originally bought in 1990 cost Roche $2.1 billion. Hesitation is indeed necessary to assure a decision is wise and merited. However, in this example it cost the company the difference between the 1990 remaining 40% of Genentech share price of $1.4 billion and the final $43.7 billion they ultimately paid for a difference of $42.3 billion. This was a huge price for the hesitation. Will that be a mistake that Roche will be much more cautious of committing again?
Remember, this is the biotech sector and the "what ifs" of the future often overshadow the current company fundamentals. In the corporate update, CEO Mark J. Ahn closed with "We are well-positioned to take advantage of our novel oncology assets and intellectual property with three clinical trials, two leading immunotherapy candidates, and one goal - to build value for patients and the shareholders we serve." Building value for patients and shareholders could manifest itself via upcoming clinical data giving shareholders and Big Pharma a glimpse at what they could have had in earlier times for a much cheaper price tag.
Disclosure: I am long GALE, OTCQX:RHHBY.