Gold stock ETF products suffered along with gold prices last week. With gold down about 1% for the week, the largest gold stock ETFs like GDX and GDXJ were off close to 3%. Here's the gold stock ETF performance grid from GoldETFs.biz.

Click to enlarge
Narrowing Of GDXJ & GDX
The performance gap between GDX and GDXJ, of which we have been following all year, continues to narrow. This began with Fed Chairman Bernanke's late February comments squashing hopes of QE3. The two ETFs are now trading in sync whereas the beginning of the year significantly disconnected GDXJ to the disadvantage of GDX. Here's the year to date chart from stockcharts.com illustrating this trend.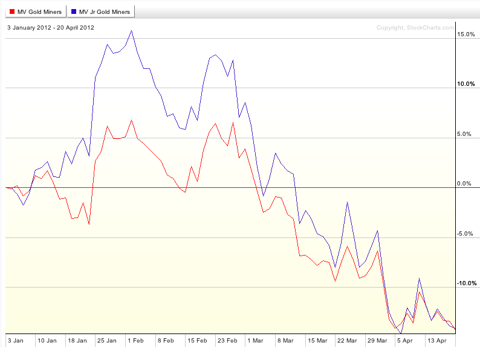 Click to enlarge
Global X: The Good & Bad News
Global X has the best gold stock ETF in year to date performance, GGGG, and the worst gold stock ETF, GLDX. The irony in this situation is that GGGG has less than $5 million in assets and trades around 4,000 shares a day over the last three months. Thus its performance and market interest is not material. Conversely, GLDX, has over $25 million in assets and trades over 50,000 shares a day on average but sits as the worst performing gold stock ETF by far. The next closest ETF, GDX, is almost 600bps points ahead of GLDX year to date. It appears Global X just can't get a break in the gold stock ETF space.
Fund Flows
Taking a quick look at gold stock ETF inflows from last week shows that the rotation from GDXJ to GDX continues and the other gold stock ETFs - including the iShares upstart RING - just didn't attract new interest. Here's the data from the Index Universe Fund Flow Tool.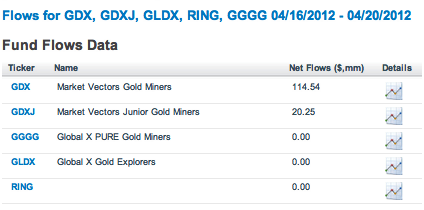 Outlook
Gold stock ETF products should be in for a big week - one way or the other - as updated Federal Reserve economic forecasts and a Bernanke press conference will happen on Wednesday. Unless Europe turns the heat up with serious problems stemming from Spain's debt auction on Tuesday, gold stocks stand to get Bernakified, in some form or fashion, this week.
Disclosure: I have no positions in any stocks mentioned, and no plans to initiate any positions within the next 72 hours.
Additional disclosure: Christian Magoon publishes GoldETFs.biz.