When investors receive a paid promotional piece for a stock, there is often a temptation to act on the advice given within. On first glance, the investment thesis may sound promising and the pieces always contain predictions of spectacular profits. However, investors should act with extreme caution when approaching the shares of such firms. Deeper diligence on these companies often reveals: marginal or complete lack of business activities; a web of questionable financial/related party transactions; and/or a management with a history of questionable corporate associations.
Legend Oil and Gas (OTCPK:LOGL), a company that I exposed here, here, here and here was the subject of such promotional pieces and serves as a good reference for the types of tactics employed by "Pump and Dump" schemes. Shares in LOGL have rapidly declined from a $2.05 open on November 21, 2011 when I first reported on the stock, recently touching $0.45 on April 18, 2012, a loss of 78% in a little less than 5 months.
Today's article will focus on Stevia First Corp. (OTCQB:STVF), another company with a market capitalization approaching $85 million which is also the subject of a major, paid stock promotion campaign. However, unlike Legend Oil which actually does generate nominal amounts of cash flow and whose shares are probably worth about $0.20 apiece based on the underlying assets of the company, Stevia First is little more than a shell company. Analysis of the company's assets, operating activities and recent insider sales suggest that STVF is probably not worth more than about $0.03/share, representing 98% downside from the current price of $1.60/share.
Company Introduction
In its press releases STVF describes itself as "an early-stage agribusiness based in California's Central Valley growing region and focused on the industrial scale production of Stevia." Stevia is plant whose leaves can be refined into a natural low-calorie sweetener. In 2011, the company went public via reverse merger into a defunct shell company, Legend Mining Inc.
STVF's most recent 10-Q filing reveals that despite the name change and a current market capitalization of almost $85 million, Stevia First basically remains a shell company. It does not generate any revenue from operations, owns no land and has no intellectual property it considers worthy to mention in its filings with the SEC or capitalize on its balance sheet. As of December 31, 2011, the company lists $16.6K in cash, $19.8K in total assets and $242.1K in total liabilities.
Subsequent to the filing of the recent 10-Q, the company has raised $500K of additional funds and has received commitment from an undisclosed investor for the purchase of another $1.0M through two private placements of shares and convertible debentures with conversion prices significantly below STVF's current market price per share of $1.60. These transactions are outlined in 8-K filings here and here.
According to a 13D filing by the company, as of February 24, 2012, there were 51.45M shares of Common Stock outstanding. The aforementioned private placements that have been placed to-date add approximately 817K shares to the diluted share count. This gives us a diluted share count as of today of approximately 52.27M shares or a market capitalization of approximately $83.6M.
The large discrepancy between the total value of STVF's assets (~$520K) vs. the market capitalization should be the first indicator to prospective investors that something may be amiss. To dig deeper, we should examine the corporate history of the company as this is instructive to see how the current incarnation of company began and what has transpired since.
Chairman Avtar Dhillon Buys a Majority Stake in Shell Company Legend Mining
The circumstances of the purchase of the Legend Mining shell are explained in a 13D filing found here:
Pursuant to a Share Purchase Agreement, dated July 28, 2011 among Mr. Avtar Dhillon and Mr. Tao Chen, which closed on August 17, 2011, Mr. Dhillon acquired 4,500,000 shares of common stock of the Issuer (the "Shares") from Mr. Chen for consideration of $67,500 constituting approximately 61.22% of the Issuer's outstanding capital stock.
Based on the purchase price, the implied valuation of the entire publicly traded shell company, was $110,258.
What has changed since Mr. Dhillon bought 61.22% of the company for $67.5K?
To arrive at a fair valuation today, let's look at the major business accomplishments of the company in the interim time period. We can see in this 8-K that the merger of Legend Mining with Stevia First was completed on October 10, 2011. We can see from the December 31, 2011 balance sheet listing $19.8K in total assets that the merged company did not gain any significant asset base from the acquisition of its Stevia First subsidiary. There are 2 additional transactions to which existing shareholders and any prospective investors should pay close attention.
Stock Split Creates Millions of Shares for the Chairman
The same 8-K outlines the circumstances of the merger and a concurrent stock split:
Effective October 10, 2011, we completed a merger with our wholly-owned subsidiary, Stevia First Corp. As a result, we have changed our name from "Legend Mining Inc." to "Stevia First Corp." We changed the name of our company to better reflect the direction and business of our company.

In addition, effective October 10, 2011, we effected a seven (7) for one (1) forward stock split of our authorized, issued and outstanding common stock. As a result, our authorized capital has increased from 75,000,000 shares of common stock with a par value of $0.001 to 525,000,000 shares of common stock with a par value of $0.001. Our issued and outstanding share capital has increased from 7,350,000 shares of common stock to 51,450,000 shares of common stock.
As this 13D confirms, post-split, Chairman Avtar Dhillon held 31.5M shares in the company. All else being equal, if a stock split occurs you would expect the per share value to decrease by an amount proportional to the stock split. It is therefore curious that when STVF first traded on OTCBB on March 5th, 2012, the shares opened at $0.98, implying a valuation of over $50 million. It is especially curious in light of a large series of insider sales executed by STVF Chairman Avtar Dhillon only 1 month earlier at just 0.2% of that valuation.
Chairman Disposes of 23,777,500 Shares for $0.0022/share in February 2012 to Undisclosed Individuals
A March 21, 2012 Schedule 4 filing and a concurrently filed 13D outline a major sale on February 14, 2012 of 23,777,500 shares from the Chairman Avtar Dhillon to a series of undisclosed investors and another on February 2, 2012, of 2,572,500 shares to STVF's newly appointed CEO Robert Brooke. Both sales took place at price per share of just $0.0022.
On March 21, 2012, the date of the filings, the price of STVF stock closed at $1.28 per share. One has to wonder why the Chairman of the company, someone who ought to intimately know the operations and value of the shares, would be willing to take a 99.8% discount on the shares he sold. It is certainly worthy to note that none of these "investors" has ever filed a Form 3 declaration of shareholding, and therefore their identities are unknown to the public at large. Also worthy of note is the fact that a major paid stock promotion campaign began several weeks after the sale of the 23,777,500 shares to the mysterious shareholders for a total of $52.3K.
Since March 2012, STVF Has Been the Subject of a Major Paid Stock Promotion Campaign
The primary reason for STVF's sky-high share price since it began trading on the OTCBB is most likely due to the powerful combination of an initially tightly-held share float and a major paid stock promotion campaign utilizing both email touts and physical snail-mailer promotional pieces.
Two examples of these pieces are available here and here. The pieces are typical high-pressure sales pitches filled with wildly optimistic predictions suggesting that the stock should rise to $12 within a year, an implied $627M valuation for a company with only $19.8K in assets listed in its latest 10-Q. Note the disclaimers contained at the bottom of the pieces:
Content of this message is published by Conmar Capital Inc. (CCI) and sent to select email lists through various marketing agencies to provide readers with information on selected publicly traded companies. CCI has paid $1,219,500.00 as of March 16, 2012 for this and other advertisements in an effort to build industry and investor awareness.
In addition to the online promotional campaign, there are testimonials about the existence of a physical mailer campaign here and here.
So who is Conmar Capital and why are they willing to pay so much money to promote STVF's stock? Additional promotional pieces here and here indicate that Conmar Capital is an offshore company based out of Belize and effectively out of reach of the SEC. There seems a reasonable chance that Conmar Capital represents one of the mysterious, undisclosed investors who bought millions of shares from Chairman Avtar Dhillon for just $0.0022 per share. This would certainly explain their interest in spending so much money on paying promoters to tout the stock.
Any prospective or existing investors should be aware, the use of paid stock promotion is a strong indication of a "Pump and Dump" scheme, as outlined by the SEC here. A look at STVF's stock chart shows major indications of a Pump and Dump scheme with a parabolic rise in price on the back of paid stock promotions followed by sharp, rapid declines on high volume.
click to enlarge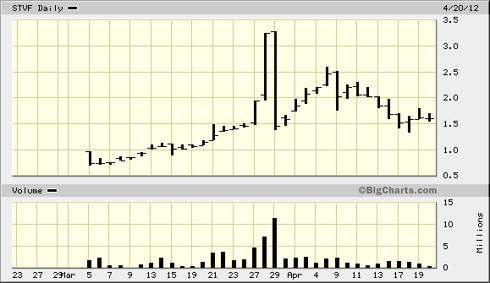 Prospective or existing investors should also take note that STVF isn't the first company chaired by Avtar Dhillon that was subject to a big-budget paid stock promotion.
Chairman Avtar Dhillon's Other Company Oncosec Has Also Been the Subject of a Major Paid Stock Promotion Campaign Which Has Resulted in Severe Losses for Investors
This 13D filing outlines Chairman Avtar Dhillon's past and present corporate associations. Of note, Avtar Dhillon currently also serves as a director and Chairman of Oncosec Medical, Inc. (NASDAQ:ONCS), which is described as a developer of ElectroOncology therapies to treat solid tumor cancers.
Deeper examination reveals that Oncosec shares a number of characteristics in common with STVF. One similarity is the almost total lack of assets held by both companies. ONCS's most recent 10-Q outlines a mere $777.7K in tangible assets. Additionally, the 10-Q explains that ONCS also went public via a reverse merger. The SEC recently issued a bulletin warning investors about the risks of investing in reverse merger companies like STVF and ONCS which can be accessed here.
As we can see outlined in Note 8 of ONCS' most recent 10-Q, another similarity is a 32-for-1 stock split that took place on March 1, 2011, concurrently with the reverse merger. Finally and perhaps most interesting is the fact that ONCS has also recently been subject to a major paid stock promotion campaign. Examples of the online promotional pieces can be viewed here and here, while there are also testimonials of a physical snail mail campaign which can be viewed here. Examination of the disclaimer of the online tout sheet reveals:
OncoSec Medical, Inc., the company featured in this issue, appears as paid advertising, paid by Mediacom Strategies to provide public awareness for ONCS…CFM has received and managed a total production budget of $750,000 for this online advertising effort and will retain any amounts over and above the cost of production, copywriting services, mailing and other distribution expenses, as a fee for its services. M3 Profit Accelerator is paid $5,000 as an editorial fee from CFM.
The disclaimer from the physical mailer discloses a $1.1M budget for that portion of the promotional campaign. In total it seems at least $1.85M has been spent promoting ONCS' stock during 2012.
A look at the stock chart of ONCS shows all the tell-tale signs of a pump and dump with the stock price spiking and then plummeting almost 90% over the course of the past year concurrent with the paid stock promotion activities.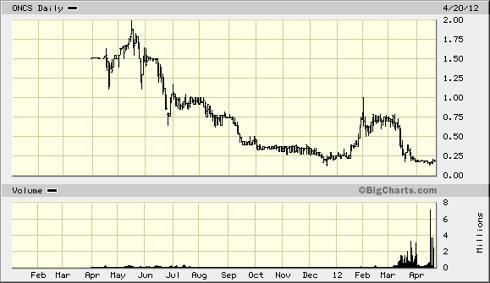 As can be seen in a recent 8-K, STVF's newly appointed director Anthony Maida also has links to Oncosec.
The corporate association of STVF's Chairman Avtar Dhillon and director Anthony Maida to ONCS should serve as a major red flag to investors in light of the major paid stock promotion campaign which has taken place at ONCS, the catastrophic declines in ONCS's share price that have occurred over the past 12 months and the general corporate similarities with STVF.
Current CEO Robert Brooke Also Has Dubious Past Corporate Associations
As outlined in a February 7, 2012 8-K
On January 31, 2012, Dr. Avtar Dhillon, the Chairman of the Company's Board of Directors, resigned as the Company's President, Chief Executive Officer, Chief Financial Officer, Secretary and Treasurer. Also on January 31, 2012, the Company's Board of Directors appointed Robert Brooke as Chief Executive Officer, Secretary, Treasurer, and as a director of the Company.

Robert Brooke, 31, has served as the Company's Vice President of Business Development since October 2011. Mr. Brooke is a founder of Genesis Biopharma, Inc. (GNBP.OB), a cancer drug development company, where he served as Director, President and Chief Executive Officer from March 2010 until February 2011. Mr. Brooke is also the founder of Percipio Biosciences, Inc., a privately held research diagnostics company that manufactures and distributes products related to oxidative stress research, and has served as its President since 2008. From 2004 to 2008, he was an analyst with Bristol Capital Advisors, LLC, investment manager to Bristol Investment Fund, Ltd.
Genesis Biopharma is another questionable penny stock whose lack of business activities and past stock promotions I have previously written about here. Bristol on the other hand may be a familiar name among followers of penny stocks, notable for a long history of toxic financing deals, one example of which is written about in an article on the Street Sweeper available here.
But the red flags for STVF extend even further beyond their lack of assets/business activities, questionable management associations and paid stock promotions…
An $83 million dollar company run out of… a couple of sheds?
The address of STVF's corporate headquarters listed on their SEC filings is 5225 Carlson Rd. Yuba City, CA, 95993. Plugging this address into Google maps and taking a look at the street view reveals that this address appears to be a parking lot with 2 primitive structures resembling sheds.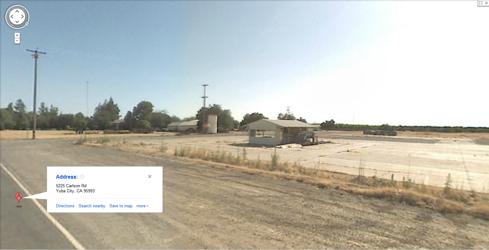 This is highly suspicious in light of its similarity to past pump and dump schemes such as the one highlighted here. Meanwhile, we can see from Note 7 of the December 31, 2011 10-Q that the premises is also the subject of a $76,500 related party lease with the wife of the Chairman, Ms. Dilgit Bains. Related party leases are one method that unscrupulous management can use in order to siphon money away from a public company and into the hands of insiders and their family.
I highlighted this questionable practice at China Agritech in an October 5, 2010 article here. That stock was trading on the Nasdaq for $12.60 per share at the time; it has since been delisted and now trades on the pink sheets for approximately $0.80 per share, a loss of approximately 94% since my articles exposing their corrupt dealings.
Arriving at a Fair Value of STVF
As highlighted earlier, STVF currently has negligible assets, no sources of revenue and no intellectual property significant enough to mention in their SEC filings. The company has subsequently raised $500K and has a commitment to raise another $1M. Assuming completion of these financings, the company will have approximately $1.5M in cash, less any expenses incurred to that point. Even assuming no expenses, the company will have assets of approximately $1.5M, no sources of revenue, and approximately 52.75M shares outstanding.
This translates to a value per share of approximately $0.03. It is worth noting that Stevia, unlike some artificial sweeteners, is grown naturally as with any other crop, therefore growers of Stevia are simply farmers essentially selling a commodity product. There are few conceivable reasons that would justify any sort of premium valuation for this type of business.
Conclusion
Stevia First is one of the most overvalued companies in the market today, having reached its current level based largely on hype from paid stock shills. There are a number of strong indications that STVF's stock is currently the subject of a Pump and Dump scheme. Management has a questionable history of association with promoted companies and examination of the company's business activities/assets coupled with the Chairman's recent stock sales indicate shares in the company are nearly worthless.
Finally, the company's headquarters appear to be nothing more than a couple of sheds being leased from the wife of the Chairman. All of this information is public, one simply needs to take the time to execute proper due diligence.
Based on the points explored in this article, existing or potential investors ought to exercise extreme caution with shares of this company. Despite the recent 50% decline in share price from a high of $3.28 to $1.60 currently, the stock has no fundamental basis for its current $83+ million market capitalization and I anticipate shares in STVF likely have over 90% downside from current levels.
Disclosure: I am short STVF.OB. I receive no compensation to write about any specific stock, sector or theme.