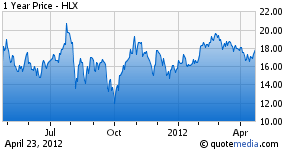 I continued to believe the energy sector offers some of the better bargains in this market. This is especially true for oil services firms as I think they have been oversold on concerns about low natural gas prices and their impact on future exploration plans. Both Halliburton (NYSE:HAL) and Schlumberger (NYSE:SLB) reported better than expected earnings last week. I believe others in the sector will follow suit and now is the time to snap up some good long term values. One stock that reported earnings today that looks undervalued is Helix Energy Solutions (NYSE:HLX).
7 reasons Helix has long term value at $17 a share:
The company just reported earnings and revenues that easily beat estimates. The company has crushed estimates four of the last five quarters as analysts continuing underestimate this company both on the earnings and revenues front.
The company now has raised gross margins for five straight quarters.
The median analysts' price target for the six analysts that cover the stock is $23. I would look for some upgrades in the near term based on today's earnings report.
Insiders have been net buyers over the prior 9 months.
Earnings estimates for FY2012 have significantly increased over the past two months (up 8%). I would look for those upward revisions to continue given recent earnings.
The stock is selling at 9 times forward earnings which is a 25% discount to its historical average.
HLX is selling at under 4 times operating cash flow and grew OCF approximately 40% from FY2009 to FY2011.
Disclosure: I am long HAL, SLB. May initiate a long position in HLX over next 72 hours.