SPDR Gold Trust (GLD) shares have been down quite a bit after peaking toward the end of February for the year at about $174. Since then it has dropped to round $159 and speculation abounds as to whether it will continue down or move up. But with signs of a changing market would gold become a safe haven again and continue up, at least for a short term?
Factors Questioning Gold's Bullish Movement
There are some early factors this year that have led some to believe gold is not moving anymore this year. Here are a few of the events that have caused concern:
Gold has shown little signs of being a safe haven this year.
Year-to-date, GLD is up about 5.3% as gold prices have NOT been bolstered by Europe's worsening sovereign debt crisis.
Italy, a major gold consumer, is officially in a recession and home to soaring sovereign bond yields.
And then there's India. The world's largest gold consumer put a lid on gold prices by proposing new taxes on gold imports and jewelry.
Demand in China, the world's second-largest gold consumer, has been seen as tepid this year.
But, there are two factors to consider that maybe gold is getting ready to turn around and move up soon.
Factor #1: Is a Market Change Coming?
The changing volume pattern is something interesting to note. Thursday (4/20), while the DOW turned down on lackluster economic reports, volume rose as volatility picked up. A total of about 4.14 billion shares changed hands, which is about 14% above the daily average for April. And this is the largest volume since the 10th of April when the market dropped 213 points.
Observations: Volume is picking up on sell-offs and doing nothing on rallies. Does the upturn on volume on sell-offs identify a bearish trend starting to take shape? Not necessarily. Still, the recent rise in volume on days when stocks have dropped should not be ignored. Caution is warranted until the trend reverses and stocks experience several rallies on heavy volume. If this is the case, it could signal that investors will flock toward gold again as a safe haven. And then just about the time these signs are developing, it also looks like GLD may be forming an inverse Head & Shoulders formation.
(click to enlarge)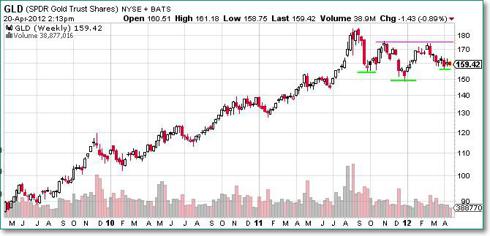 Factor #2: An Inverse head & Shoulder Formation?
The Head and Shoulders bottom is referred to sometimes as an Inverse Head and Shoulders. The pattern shares many common characteristics with its comparable partner, but relies more heavily on volume patterns for confirmation. On a weekly chart it could be possible that one is forming. It is not fully formed yet, so this is strictly an observation. The last shoulder would have to form in order to complete the pattern and then break out. It is rare also that a pattern would form like this when it not an elongated reversal. Never-the-less, the timing is interesting to say the least.
If one wished to speculate, buying the stock and placing a stop loss at about 53 would be safe. Or, a safer play might be to look to capture an income with options with minimal risk until the formation is confirmed.
The Options Play
Buy a June 2012 '160' call (priced at $3.70)
Sell a June 2012 '161' call (priced at $3.15)
Net debit to Start: $0.55
Maximum Profit: $0.45
Reasoning behind the Trade
Possible signs of a reversal for gold are showing up on the chart. At the same time a slow down in the market could be signaling a downward turn that could lift gold as a safe haven to run to. The signs are there, now we just need to see if they are going to play out.