Third quarter earnings reports are pouring in driving market volatility. Reports from retail companies give us an updated snapshot of the US consumer which has been a strong supporting pillar of the recent market expansion. Under Armour (NYSE:UA) reports Tuesday morning (10/30) before the open and is one that I will be keeping a close eye on. The company makes cutting edge sportswear and has been rapidly expanding its product offering to include performance apparel as well as cleated shoes and additional accessories.
When I last wrote about UA, I shared concerns about the lack of patent protection for the company's flagship synthetic material. The second concern revolved around the company's high price relative to earnings and growth rate. While the patent issue remains the same, Under Armour has continues to grow the value of its name brand with its aggressive marketing strategy. That has pushed the stock higher to the point it is now trading above 45 times the consensus estimates for 2008. My original short thesis was ill timed as investors became excited about the expansion into cleated footwear. More recently the stock has given up some of those gains and analysts are pointing to a warmer fall season which has not motivated consumers to stock up on warmer winter sportswear.
Last week there was a bevy of analysts that came out with reports supporting the stock. Analysts explained that the company would not be hurt by warmer weather because shipments to retailers had already been made in the third quarter before the weather became an issue. Furthermore, it was still too early for management to ratchet down expectations for Q4 because there could still be cold snaps that would drive traffic to purchase more merchandise. Weather is constantly used to explain poor performance in retail names and often has little to do with the underlying fundamentals. I believe the weakness in the stock this summer is due to a repricing of risk and the realization that while growth is strong, the company will not be able to continue to expand at the same rate it did when it was a much younger company.
Due primarily to the analysts reports, UA has appreciated 10% leading into the report on Tuesday. Anticipation is high and investors are probably expecting great things from management. The sentiment strikes me as being one that will be very hard to beat and very easy to disappoint. If management states on the conference call that things continue to go as planned and that the company is excited about new initiatives and the consumer's acceptance of its footwear, that will not be enough to propel the stock higher. Conversely, if management states that some of its wholesale customers have higher inventory due to warmer than expected weather, the stock will likely give up the ground it gained last week and possibly more. The risk seems to outweigh the potential gains as we approach the quarter report.
While I do not currently have a position in UA, I will be considering laying out a small short position to capitalize on this event. If my analysis is correct and the stock gets hit, there may be a period of several weeks that will offer short sellers opportunity. The market could quickly assign a new multiple on the stock that reprices the risk associated with the stellar past growth. For a reference point, a 35 multiple on 2008 expected earnings would equate to a $45 price. The potential for 2008 expectations to be decreased should also be considered. Please tread carefully in this name while the story unfolds.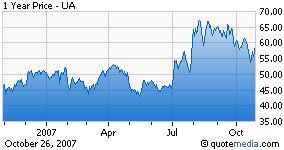 Disclosure: Author does not have a position in UA