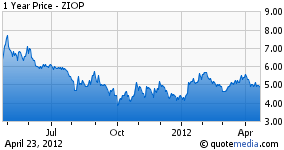 I have been covering the fortunes of Ziopharm Oncology (NASDAQ:ZIOP), an up and coming oncology drug developer for nearly 4 years. My last article was written after attending Ziopharm's annual analyst day.
In the above referenced piece, I expressed my hope that the combining of Ziopharm's small molecule oncology platform with Intrexon's cutting edge synthetic biology tools could finally yield meaningful progress in the oncology field. How investors have in the issue fared since that article was published? Since last June the S & P has seen a modest rise while ZIOP shares have fallen by approximately 20%. Let's take a moment to examine two of the potential causes for ZIOP's relative underperformance.
Funding Concerns -- While many at the meeting were impressed by the platforms potential others questioned how much capital would be needed to fund the nascent synthetic portfolio. These fears turned out to be justified. In January 2012, Ziopharm raised approximately $50MM in an underwriting led by J.P. Morgan. A good portion of this secondary was absorbed by R.J. Kirk, a well known biotech investor who co-founded Intrexon. Mr. Kirk will likely soon have a majority interest in Ziopharm based on the terms of the Ziopharm-Intrexon agreement. (Please see my prior articles or Ziopharm's website for details re: this agreement).
Short Interest -- Here is where the story gets interesting. Over the last year the short interest in Ziopharm has risen to approximately 9MM shares. The shorts are betting that there is much more dilution in store and at some point they will be able to comfortably cover their bearish bet. I believe the shorts to be mistaken based on the following potential short-term positive events.
Upcoming PICASSO III Trial Results (due Q4 2012) - ZIOP's only mature program (PICASSO III) is attempting to use Palifosfamide (an ifosfamide derivative) as a treatment in soft tissue sarcoma (STS). One of the shorts' arguments has always been that the trial was designed without the benefit of an Special Protocol Assessment and used progression free survival (PFS) as its primary endpoint. The shorts reasoned that even if the trial was successful, ZIOP would probably need to additional time/confirmatory trials to establish the overall survival benefit since that benchmark was the FDA standard to date. Recent FDA actions in the disease indicate that PFS is now a viable approval metric for STS treatments. See below excerpted from the recent Griffin Securities March, 2012 update (authored by Chrystyna Bedrij).
FAVORABLE FDA/ODAC RULING PRECEDENT PROVIDES A CLEAR PROGRESSION FREE SURVIVAL ENDPOINT-DRIVEN REGULATORY PATHWAY TO APPROVAL FOR PALIFOSFAMIDE IN SOFT TISSUE SARCOMA . The Oncology Drugs Advisory Committee of the FDA met on March 20, 2012, to review GlaxoSmithKline"s (NYSE:GSK) Votrient®, chemically known as pazopanib, for the proposed indication of treatment of patients with advanced soft-tissue sarcoma . The ODAC voted 11-2 in favor of approval of pazopanib. Importantly, Progression Free Survival was utilized as a primary endpoint, and the resulting improvement in median PFS of 3 months was considered a clinically-meaningful improvement by the panel. The overall impact on Overall Survival was not significant in the pazopanib trials, but the FDA's recommendation shows their consideration for the PFS endpoint in a disease such as soft tissue sarcoma with significant unmet need. We believe the findings of ODAC and this new regulatory precedent set in soft tissue sarcoma is monumental and provides a clear PFS endpoint-driven regulatory pathway to approval for palifosfamide in front-line metastic STS. ZIOPHARM previously reported a favorable Phase II PFS improvement of 3.5 months, which, combined with the ODAC decision, builds momentum for the Phase III PFS data expected to be reported in the 2H 2012. We believe that the current clinical and regulatory risk profiles of palifosfomide bode well for ZIOPHARM as palifosfamide's data, including impact on PFS, and safety profile to date both match closely with pazopanib.
Potential SCLC Partnering Opportunity -- With the exception of a small deal in Japan, Ziopharm has never really gotten much traction much on the partnering front. This may be a function of the fact that the company has pursued a strategy of going after orphan drug indications. As many biotech investors know, big pharma often pays lip service to these efforts in small diseases but is really more interested in blockbuster drugs to fill their depleted pipelines. Ziopharm's announcement that they will soon commence a pivotal Small Cell Lung Cancer (SCLC) trial under the direction of Dr. Larry Einhorn may have changed the odds on ZIOP landing a lucrative deal.
Dr. Einhorn (of the Hoosier Oncology Group) is very well respected in the field and is perhaps most well known for his work in testicular cancer. He had previously conducted a study in SCLC using ifosfamide, [Palifosfamide (ZIO-201)] is a proprietary stabilized metabolite of ifosfamide). While effective, the Ifosfamide treatment was impractical due to its toxicity profile. The hope is that Palifosfamide will prove to be a safer alternative since it lacks the toxic metabolites of ifosfamide, acrolein and chloroacetaldehyde.
What is the allure to big pharma of a viable SCLC treatment option?For those of you unfamiliar with this disease, SCLC has one of the largest potential patient populations with a global annual incidence of approximately 200,000 cases per year. The sales opportunity for an effective treatment is likely well in excess of $1 billion with several estimates being multiples of that number.
Will J.P. Morgan Initiate Coverage? - Another risk for the bears is the possibility of a coverage pick-up by J.P. Morgan. Surprisingly the firm did not initiate coverage post Ziopharms's recent secondary in which it acted as the lead underwriter. Logic says J.P. Morgan would doubtlessly like to stay in the good graces of R.J. Kirk who is rumored to be interested in taking Intrexon public later this year. Since Intrexon is comprised of several business units each of which has been active on the acquisition front, a long term relationship with this issuer would represent a potential gold mine of M & A activity for the N.Y. based investment bank.
News at ASCO -- Oncology firms tend to save significant news releases for ASCO, the largest oncology conference of the year. News candidates may include legacy programs such as one of Dr. Norton's numerous breast cancer treatments being worked on at Memorial Sloan Kettering or perhaps we'll see updates on emergent synthetic biology suite. The market has priced in the value of Palifosfamide in STS, but I believe significant news on other drugs or diseases at ASCO would cause the market to value this issue upwards.
Bull Bet Summary -- I am wagering that the bears have pushed their luck too far here. Ziopharm had approximately $150MM in the bank post the January offering so it should not be in need of any near term (dilutive) trips back to the capital markets. It is possible that a significant partnering transaction would result in a substantial non-dilutive cash infusion and could prove to be the catalyst for J.P. Morgan initiating coverage. This action would in all likelihood bring new longs into the stock. In this scenario the shorts may have a difficult time finding 9MM shares needed to cover since much of the issue is owned by Kirk and his ally, Fidelity Investments. Add to that the potential for some positive clinical data coming out of the PICASSO III trial and/or one of the synthetic programs and you have the potential for a sustained upward squeeze.
My Bet: Good news here creates an over-sized upward share price response based on the size of the short position compared to the tradeable float. A series of positive news releases may create a situation in which short sellers may be forced to cover at ever increasing prices as the maintenance calls kick in. In the shorts' Armageddon scenario R.J. Kirk may engage in a bit of financial engineering related to his potential Intrexon offering that would this all but impossible to cover. The shorts have won the early rounds of this battle by I am betting the Ziopharm Intrexon pairing ends up winning the war.
Disclosure: I am long ZIOP.