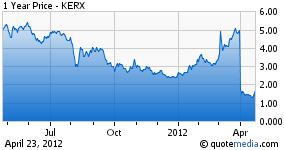 Keryx Biopharmaceuticals (NASDAQ:KERX) is typical of the volatile biotech sector. It recently lost almost two thirds of its value when it announced that its Perifosine (KRX-0401) X-PECT Phase III Clinical Trial did not meet the requirements necessary to be approved for marketing. However, it still has several drugs in development, some recent possible catalysts and a solid balance sheet. I believe it should be considered as a good high risk/high reward play for aggressive investors.
Key Recent Events
It announced positive news on its phase III drug, Zerenex on Monday.
5 insiders have bought new shares in April.
Last week's announcement that Human Genome Sciences (HGSI) spurning GlaxoSmithKline's (GSX) for almost twice its current market value, shows M&A is active in the biotech sector and how much Big Pharma will pay up to fill its dwindling organic pipeline.
4 additional reasons Keryx could provide a "home run" at $1.70 a share:
The news on Zerenex is especially welcome given the recent disappointment around Perifosine. Progress on this drug could also trigger additional milestones worth $72mm to Keryx. The company would also receive royalties from Japan Tobacco (OTCPK:JAPAF) and Torii Pharmaceutical (OTC:TRXPF), its partners in developing this drug if Zerenex was approved.
The company has over 30% of its market capitalization in net cash ($39mm), which is over 18 months of funding at its current burn rate.
The stock is way below analysts' price targets. The seven analysts that cover the stock is $4 a share. The stock was $5 a share only a month or so ago.
Given the company's small market capitalization (under $75mm after net cash is taken out), various drugs in different stages of development, and good news on Zerenex; the company would seem to make a logical takeout candidate by a larger player at a significant premium.
Disclosure: I may initiate a long position in KERX over the next 72 hours. I am also long GSX