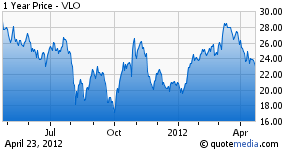 A successful step in any business is to begin doing what nobody else is doing or nobody wants to do. There is a recent trend in the energy sector as of late, of shedding refineries. For a variety of reasons, the process of refining has become one of the least popular tasks in the energy cycle. This is just fine for Valero (NYSE:VLO), which had a great year in 2011, and is expected to perform even better going forward. The company markets its refined products through a bulk and rack marketing network, selling refined products through a network of about 6,800 retail and wholesale outlets. For a 57 year-old company with a strong track record, this company seems to have taken a beating from some analysts without cause. A closer look reveals why this is one company that should not be overlooked and is in fact a great buy now.
Particularly on the U.S. East Coast and Europe, the shutting down of refineries trend is hard to overlook. In Europe, refineries are closing because of stiff government taxation, the high price of crude and aging facilities. Both Sunoco (NYSE:SUN) and ConocoPhillips (NYSE:COP) have both recently announced East Coast shutdowns.
One reason why Valero seems to not be just quite the dish that some investors hope for is because of a few hiccups recently. One major one is the closing of its Aruba refinery. In a first quarter 2012 interim update, the company said that it expects to report a loss in the range of $0.75 to $0.85 per share for the first quarter of 2012. The estimate includes an asset impairment loss of $605 million after taxes, or $1.10 per share, completely related to the shut-down in Aruba. Since it has been operating at reduced rates because of inadequate margins, the company had to announce the suspension of that refining operation, turning off the spigot of a 235,000-barrel-per-day refinery. Well of course there will be some sting felt with such a closing of an operation, but looking long term and what Valero has always succeeded in, investors should take a deep breath. It is now prime for purchasing.
Valero is an independent petroleum refining and marketing company, owns and operates 16 refineries in the United States, Canada, United Kingdom, and the Caribbean which produce distillates, conventional gasoline, jet fuel, asphalt, petrochemicals, lubricants, and other refined products. Basically, the company makes gasoline from crude oil and then sells it at its own gas stations. The company produces about 1.1 billion gallons per year and operates a 50-megawatt wind farm in the Texas Panhandle. A recent report found that supplies of gasoline decreased (by 3.67 million barrels) for the ninth consecutive week as domestic consumption went up and imports went down. In particular, because of the prospect of three refinery shutdowns this summer, stockpiles on the East Coast declined 2.30 million barrels. This took stockpiles down to 213.97 million barrels which is the lowest since November 2011. This upset in the market affects how Valero operates and provides yet another reason for a negative light to shine on the company.
But there are some positives regarding Valero. First, because of a lack of the piping infrastructure causing a bottleneck to be formed in Cushing, OK close to Valero's refineries, the company is able to buy oil at lower prices and then earn stronger earnings during refinement. However that may change with the planned reversal of flow of oil by Canada's Enbridge (NYSE:ENB). In a nutshell, the reversal means that oil that was flowing north to oil-soaked Cushing will cease, and beginning in late May, the pipeline will instead begin siphoning 150,000 barrels a day south to where refiners can make good use of it. Still, Valero will continue to profit relying on the rising demand for oil and gasoline.
Interesting how investors can be a moody bunch as represented by the positive looks Valero received when it announced recently that it will reopen at the Memphis, Tennessee refinery, its West crude unit. This was after a maintenance and overhaul of the unit that can process 80,000 barrels a day for the 195,000-barrel-a-day refinery. The short duration shutdown caused a blip on the company's performance radar, but as usual, the company is back in the ring.
Another good reason to like Valero is because the company's valuation is attractive and the company stands to benefit from lower crude prices, particularly at its Gulf Coast refineries, and continues to grow. In September of last year, Murphy Oil (NYSE:MUR) sold its Meraux, LA refinery for $325 million plus hydrocarbon inventory to Valero.
Valero's top competitors are Exxon Mobil (NYSE:XOM), Chevron (NYSE:CVX), ConocoPhillips , Royal Dutch Shell (NYSE:RDS.A), (NYSE:RDS.B), and BP (NYSE:BP). Though Phillips 66 (NYSE:PSX) owns 15 refineries, including 11 located in the United States and has 2.2 million barrels per day of refining capacity, it is the second largest independent global refiner behind Valero with 2.58 million barrels per day.
Valero has a market cap of $13.40 billion and will report its first quarter earnings results next month. The first quarter revenues are expected to be $28.81 billion when compared to $26.31 billion for the same quarter last year. Earnings per share for the first quarter are expected to be 20 cents a share from 18 cents a share in the year ago period. The company's current P/B ratio is 0.9 and it has averaged 1 over the past 5 years with a high of 2.2 and low of 0.5. Valero's current P/S ratio is 0.1 and it has averaged 0.2 over the past 5 years with a high of 0.5 and low of 0.1.
Valero made $3.38 in FY2011, and is projected to earn $3.59 in FY2012 and analysts have it making $4.15 a share in FY2013. In 2011, the company reported a dividend of 0.30 USD, which represents a 50.00% increase over last year, and it reported 4th quarter 2011 losses of -0.21 per share, and annual 2011 earnings of 3.38 per share
The company had 4th quarter 2011 revenues of $34.67 billion, 2.85% above the prior year's 4th quarter results, and had revenues for the full year 2011 of $125.99 billion, 53.21% above the prior year's results. Expected earnings for first quarter 2012 are $0.20 per share, a small increase on a year-over-year comparison with 2011. According to analysts on Yahoo! Finance, for fiscal year 2012, the average earnings estimate for Valero is $3.67 per share, compared with $3.38 per share in fiscal year 2011. With solid financials and a dividend yielding 2.50%, a $.60 per share payout annually, now is a great time to take a second look at Valero.
Disclosure: I have no positions in any stocks mentioned, and no plans to initiate any positions within the next 72 hours.