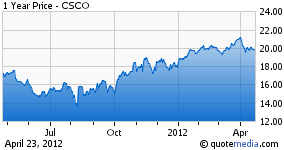 John Chambers was on Charlie Rose PBS TV show last Thursday. John Chambers is Chairman and CEO of Cisco (NASDAQ:CSCO). He has helped grow the company from $70 million when he joined Cisco in January 1991, to $1.2 billion when he assumed the role of CEO, to its current run rate of $40 billion.
Chambers has received numerous awards for his leadership over his past 16 years at the helm of Cisco, including Time Magazine's "100 Most Influential People," one of Barron's' "World's Best CEOs," the "Best Boss in America" by 20/20, one of BusinessWeek's "Top 25 Executives Worldwide," "CEO of the Year" by Chief Executive Magazine, the Business Council's "Award for Corporate Leadership," and "Best Investor Relations by a CEO" from Investor Relations Magazine three times.
He argues that firms must reinvent themselves each 5 to 6 years, or risk to be left behind:
Here are some highlights of the interview:
The world is much more visual (video), interconnected and virtual.
Social media is replacing gradually Search engines as the Internet center of gravity.
Cloud computing and video sectors will have huge growth.
87% of the companies in the Fortune 500 disappeared from the list in 17 years.
"Companies must reinvent themselves each 3 to 6 years to stay on top", said Chambers. Cisco's competitors from 15 -20 years ago all disappeared. A decade ago, main competitors such as Alcatel (ALU), Lucent, Siemens (SI), Ericsson (NASDAQ:ERIC) and Nortel are now just a shadow of what they were. "It is true of people and it is also true for countries: you have to constant innovate."
Cisco made over 150 acquisitions under Chambers' reign and shareholders obtained a 1000% stock return. Since 2000, Cisco increased revenue by 300% and profits by 400%. While the Price/ Earnings ratio was around 70X a decade ago, it is now at 12X.
"We were fat and we had to change faster … we did it in 120 days", according to Chambers.
"The key if how fast can you innovate…90% of acquisitions in high tech industry fail…if you define it by market share increase, launch of new products or retention of key human resources. 60-70% of Cisco acquisitions have been profitable."
"One of the things that make Silicon Valley so successful is the ability not to take the past to determine your future, but being willing to take some big risks … that is why you can't have a perfect acquisition record. We missed the transition from developing software for a device to software for the cloud computing with the Flip $600 million acquisition."
70% of Cisco growth will come from emerging markets.
Cisco's stock is up around 30% in 2012 while competitors are almost all negative.
Recent spin-in
Cisco is making an important investment in a new division which is run by three of its engineers. It is called a "spin-in". The networking company has invested $100 million in its own startup to build something called "software defined networking" products. The new company is called Insieme and if its products work well, Cisco will eventually buy it out for $750 million, says GigaOM. Since Cisco doesn't have a specific R&D lab, the "spin-in" is Cisco's typical method for building new products for new markets.
According to Business Insider, SDN is a major change in how networks are built. It is software that tricks servers into thinking they've got the network all to themselves when they are really sharing it with other servers. This solves a lot of network engineering problems, makes servers more mobile and is a big plus for cloud computing. It brings some issues for Cisco. Cisco has been putting more and more features into its routers and switches and the software that manages them. With SDN, all of those smarts can be moved out of Cisco's gear and enterprises can use cheaper networking products from Cisco's competitors.
Cisco boasts that nearly 70 percent of the Internet runs on its gear. Except that Google (NASDAQ:GOOG) and Facebook (NASDAQ:FB) don't use Cisco. For GigaOM, the recent spin-in sends the wrong message to Cisco's engineering corps: you are worth more outside than you are inside Cisco.
Finally, Cisco seems to be using an innovation strategy that continues to leverage a build, buy, and also partner approach. Under John Chambers reign, long-term Cisco shareholders have been greatly rewarded.
Disclosure: I have no positions in any stocks mentioned, and no plans to initiate any positions within the next 72 hours.