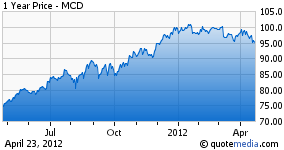 There are some odd things that can occur in the regular course of stock market trading that simply do not make much sense. One of these things are psychological barriers or roofs that are sometimes put on the price of a stock. One of the famous (or perhaps infamous) barriers is the $100 per share price tag. It seems that it can be quite difficult to break through that price for very long without being smacked down beneath it. Mcdonald's (NYSE:MCD) shares have been smacking against this roof time and time again since late 2011.
Why The Barrier?
There is some debate for why a barrier exists at the $100 price, but the answer seems pretty obvious to most market watchers. They realize that there are many shareholders who simply place their limit sell orders in at an even $100 a share. This is done because it makes the math or accounting of how much their share will sell for easier for the shareholders. When there are large numbers of shareholders all doing the same thing, the shared mentality creates an artificial barrier at $100 per share.
It should be readily apparent to most that the artificial barrier may actually be a great buying opportunity. After all, if there are many investors selling for no other reason except that there is a nice even number, then those investors are not trading on fundamentals. When investors deviate from trading on fundamentals, they are almost always making a mistake. However, we first have to determine if the McDonald's shares really are worth more than $100.
World Wide Brand
In times of uncertainty it is nice to have investments in companies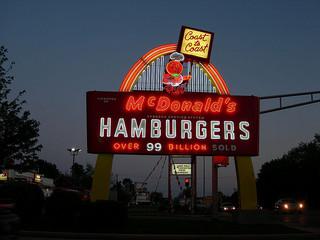 that operate in many different markets. Multinational companies likeMcDonald's are perfect candidates for stable long term investments. When money is placed in a company like this, it is certainly going to be more secure than companies that do all of their business domestically.
Juicy Dividend
There is nearly a 3% yield on the dividend of MCD shares. This is an incredible amount of money being offered to those loyal shareholders on top of the growth in value of the shares themselves. Shareholders who buy today will be locked in at that nearly 3% rate and that rate will much likely increase for shares purchased today over time. McDonald's has raised its dividend for 35 years in a row! That is a staggering amount of added shareholder value over time. It is also just another reason to ignore the temporary $100 barrier that seems to be in place.
Growing Earnings
McDonald's is expected to earn some $5.71 per share this year. Next year analysts estimate that those earnings will grow to $6.30 per share. With a company as stable as this one, those estimates are likely to be very accurate if not understated. McDonald's very rarely misses its earnings expectations, and with rapidly growing markets overseas, it is very likely that they will continue to beat expectations. There is a certain premium built into the price of shares of McDonald's since it is known as such a stable company, but $100 a share is certainly not the limit. Not only will the dividend be likely to grow over the coming years, but so too will the demand for more shares of McDonald's by investors who continue to watch its earnings grow.
On The Other Hand
The other possibility for this company is that it stagnates for quite some time at the $100 mark. Since it has rarely broken this mark for a very long time now, there could be more waiting around for loyal shareholders. Assuming that the company does not perform a stock split, the massive amount of shares being constantly offered right at $100 could prevent McDonald's from seeing the kind of grow it deserves. In the worst case scenario, investors could be left waiting and waiting for their shares to gain. At least they would still be able to enjoy the dividend.
Disclosure: I have no positions in any stocks mentioned, and no plans to initiate any positions within the next 72 hours.