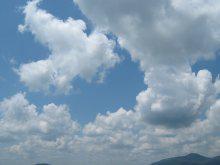 Since announcing strong earnings guidance Wednesday evening and getting a pop on Thursday , VMWare (VMW) should have stayed in bed. It has dropped over $10/share from last week's high, and is now at the lowest price since its mid-March upside breakout. This despite not really putting a foot wrong.
Is it just the market? Most major averages started April 25 very weak. But the tech-heavy NASDAQ was down 1.45% around noon. VMW is down twice that.
What's going on?
I call it cloud turbulence. It's like that bump you get on an airplane when it suddenly hits an air pocket and the captain asks you to put your seat belt back on.
When markets are rising, cloud tool companies enjoy a halo effect from the cloud. Arguments over the future direction of cloud technology are pored over for signs of future direction.
When markets are falling, however, cloud stocks get hit harder than others. Then talk turns to monetization - how are people going to profit in the cloud? And cloud stocks with proven business models, like Amazon.com (AMZN), are less-effected than the tech vendors.
If you're a trader, you can play this.
If you think stocks in general are heading higher, buy some options on cloud tech stocks to the upside. They will probably rise faster than their cloud business brethren. Conversely, if you think the market is going to fall (as it's falling today) take some options to the downside. Your lack of patience will be rewarded.
As a longer-term investor I've always stayed with the lower-volatility cloud business companies, like IBM (IBM), Amazon, Google (GOOG), Microsoft (MSFT) and Apple (AAPL), all of which I own.
But if I had a greater appetite for risk - and many here at SA do - that's how I'd play the cloud trade.
Up when things look great, down when things look bad. The tool vendors will always be more volatile.