Dick's Sporting Goods (NYSE:DKS) is the leading retailer in the sporting goods industry. Currently, the company operates as a $6.14 billion mid-cap retailer which will eventually grow into becoming a large-cap retailer as its store base continues to expand.
This growing retailer offers a variety of athletic and outdoor activity apparel, footwear, and equipment. The stores carry the major athletic brands that have earned the respect of sports enthusiasts over the years.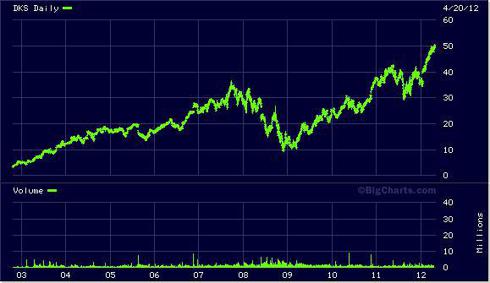 Click to enlarge
(Click to enlarge)
The company is fairly valued with a trailing PE ratio of 24, a forward PE of 18.09, a PEG of 1.38, and a price to book ratio of 3.69. This is positive for the stock of a high growth company not to deviate too far ahead of its earnings.
Dick's has an operating cash flow of $410.42 million and free cash flow of $168.18 million. In addition to strong stock appreciation, shareholders are also rewarded with a 1% dividend yield. About 36% of the company's free cash flow is dedicated to the 50 cents per share dividend.
The balance sheet looks good with total cash of $734.4 million and only $159 million in debt. The company has 1.99 times more current assets than current liabilities.
The stock price has grown considerably from just $3.29 in the fall of 2002 to the current price of $50. Dick's has achieved this through strong earnings growth over that time period.
Dick's has 3 upward earnings revisions for FY13 and 3 for FY14. Dick's is expected to grow earnings annually at 14.82% for the next five years. This growth should stimulate the stock price to approximately double in five years from $50 to $100.
The company's growth will continue through expansion. As of January 28, 2012, Dick's operated 480 stores in 43 states and 81 Golf Galaxy stores in 30 states. The company plans to open 40 new stores this year. Over the course of several years, Dick's would like to open 400 new stores bringing its total store count to approximately 900.
In addition to increasing store count, the company is working to improve existing stores. This year, the company will implement a store layout redesign to optimize the customer experience.
Dick's Sporting Goods was a company that was started by Dick Stack with $300 and a vision. The company continues to keep Mr. Stack's vision alive by constantly striving to provide customers with quality products and a positive shopping experience. Investors in the company should continue to do well as the stock continues to significantly outperform the market.
Disclosure: I have no positions in any stocks mentioned, and no plans to initiate any positions within the next 72 hours.