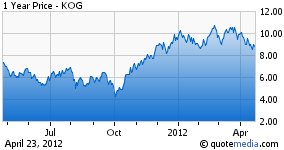 Talk about a company ready to shine! Kodiak Oil & Gas (NYSE:KOG) is one of those energy players in position to show great progress for investors this year and beyond. The company now has six rigs up and running and more is expected along with future acquisitions. This is one of those companies where a weak share price is seen as strength because buying now for long term holding will reward the investor dearly. I believe Kodiak to be the up and coming of oil and gas stocks, not just because it has nowhere else to go but up, but because it is making the right moves now for long term gain.
Kodiak is a Denver-based, independent oil and gas exploration and production company with primary assets in the Williston Basin of North Dakota. This is not one of the super majors, but it has been reaching for the stars. Over the past 12 months, the company's share price has increased more than 42%, and is expected to keep climbing. Kodiak's management plans to bring on 51 net wells this year, with a target exit rate of 30,000 barrels of oil equivalent per day, double what it was last year.
It is difficult to have a discussion today regarding oil and gas without mentioning the Bakken Shale which covers a wide swath through Montana, North Dakota, and into Canada. The U.S. Geological Survey estimates that there are potentially 3.65 billion barrels of oil, 1.85 trillion cubic feet of dissolved natural gas and 148 million barrels of natural gas liquids contained within it. It is believed that Bakken has even richer reserves than some of the major oil producing countries in the Middle East. Fortunately for investors, this is Kodiak's playground. This is where exploration for oil and gas will pay off for this patient little bear. The company has made the most of the oil boom in the Bakken for the past two years, growing production 171% and revenue 226%.
Kodiak announced it had closed on an $85.5 million leasehold and assets acquisition in the Williston Basin of the Bakken play at the end of June last year. The company raised its stake in Bakken acreage to 100,000 net acres. Then in September, Kodiak paid $235 million to acquire producing properties and undeveloped leaseholds in North Dakota from a private seller, allowing Kodiak to expand its exploration and development presence in the Williston Basin in North Dakota. This transaction added 13,500 net mineral acres with estimated net oil and gas production of about 3,000 barrels of oil equivalent per day, along with certain equipment and gas pipeline connection facilities to the company's holdings. This growth spurt is a strategic move to do what the company does best and that is get where the oil is and bring it to market.
Kodiak is in a unique position in the Bakken. The company's acreage is surrounded by Exxon Mobil (NYSE:XOM), ConocoPhillips (NYSE:COP), and EOG Resources (NYSE:EOG) and is currently blocking Exxon and ConocoPhillips from connecting their properties. Like the kid that owns the only football on the street, this is not a bad position to be in. Kodiak can just continue bringing up oil (a seventh well coming on line in the second quarter 2012), and wait out its position. The company may be a target to be purchased- with one projected price tag of $3.11 billion. The company's acreage is valued at roughly $2 billion and it has a market cap of about $2 billion and debt of under $100 million. Whether Kodiak is a thorn in the side of these big players or just an obstacle that needs to be ignored remains to be seen. Either way, Kodiak is in a great position holding ground while drilling into it.
One of the claims against buying Kodiak is that the company can't seem to hold onto cash. Over the five-year period running from 2006 through 2010, the company ran through $311 million in cash, and in 2011 burned through $333 million. While cash flow was indeed… flowing, the company was investing for future production and exploration, providing for a more profitable future. What is impressive though is that the company still has close to ten million barrels worth of proven oil reserves and an additional nine billion cubic feet of proven natural gas reserves. This is money in the bank. Current oil prices will provide a fantastic influx of cash while the natural gas reserves can wait it out until next winter's cold season, cashing in while prices rise.
Kodiak's 2011 year-end results reported oil and gas sales of $120 million, up 287% from the $31 million of sales in 2010. Adjusted EBITDA of $76.4 million was up 372%. This is sure to continue with the company ramping up production. With over 800 drilling sites available on its leased land, Kodiak's goal is to go from 10,000 barrels per day beginning January 2012 and increasing to 27,000 barrels per day by the end of the year.
One of Kodiak's closest competitors, Continental Resources (NYSE:CLR) is struggling to keep pace with Kodiak's growth potential which has allowed its share price to rise 36%, to outperform Continental Resources over the last year at 13%. Kodiak is trading a little over 50 times trailing earnings (P/E). Some analysts estimate Kodiak's P/E dropping to 10, with no change in price from these levels. Over the past year the company has outpaced the S&P 500 by 48% and in the past three months alone has gained 40% versus the index. Next month, Kodak is expected to report earnings of 14 cents per share on revenue of $112.14 million, compared with a loss of four cents per share and revenue of $13.44 million reported last year.
Kodiak is primed to really let loose, and soon. As CEO Lynn A. Peterson stated in a recent press release, "We continue to integrate the recently acquired properties and have allocated drilling rigs in three geographic areas where we plan to focus our drilling program during 2012. With our drilling program, we believe we can readily hold nearly all of our leasehold by production in early 2013, generating a multi-year development program."
Disclosure: I have no positions in any stocks mentioned, and no plans to initiate any positions within the next 72 hours.