By Delian Naydenov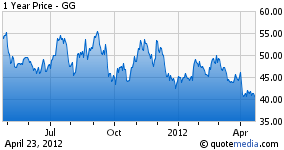 Gold has been an important commodity throughout our civilization. About five centuries ago, Christopher Columbus was the first European to explore the Caribbean and parts of South America in search of this coveted metal, with limited success. Today investors have a better chance benefiting from investments in this rare metal that serves as an inflation hedge and an investment alternative in times of political instability. Investors can always buy an ETF holding the physical gold. such as SPDR Gold Shares (NYSEARCA:GLD), but I think that investing in gold stocks (with the right companies) provides more opportunities for growth. In my opinion, Goldcorp (NYSE:GG), is perfect example of such a company. It is a low cost gold producer, with operations in stable regions in North and South America, it has significant reserves of gold, and is currently trading at an attractive valuation level.
Goldcorp has 810 million shares outstanding for a market capitalization of $34 billion and an enterprise value of $33 billion as the company has more cash than debt on its balance sheet. The stock pays a monthly dividend of $0.045 or $0.54 per share annually for a dividend yield of about 1.3%. In 2011, the company earned $2.34 per share which gives a trailing price to earnings ratio of 18. On a forward looking basis, I estimate that Goldcorp will earn between $2.50 to $3.00 per share in 2012 giving a price to earnings ratio of 16.8 to 14. For comparison, the average company in the gold and silver industry trades at a price to earnings ratio of about 64 because investors have already factored in higher metal prices in the stock valuations.
Compared to its direct competitors, Kinross Gold (NYSE:KGC), Barrick Gold (NYSE:ABX), and Newmont Mining (NYSE:NEM), only Barrick Gold has a more favorable price to earnings ratio of 9.3. However, Barrick derives a significant amount of its revenue from copper (about 15%) and is not as much of a pure play gold producer as Goldcorp. Also, its mines have lower quality deposits and less reserves and the company has significantly more debt. Compared to the other two gold producers Goldcorp is clearly more profitable. Goldcorp's operational margin was 44.7% in 2011 compared to 35.2% and 40.1% margins for Kinross and Newmont.
During 2011, Goldcorp produced 2.5 million ounces of gold at an average cost of $534 per ounce. Its competitors' gold productions and costs in 2011 were as follow: Kinross produced 2.6 million ounces at $542 per ounce (1.5% higher); Barrick Gold produced 7.7 million ounces gold at $460 per ounce (13.9% lower), and Newmont produced 5.2 million ounces at $591 per ounce (10.6% higher). While Goldcorp is not the lowest cost producer it is still a low-cost producer by any standard. Also, it realized a high average sale per ounce of $1,572 in 2011 compared to $1,502 (4.4% lower) for Kinross, $1,578 (fractionally higher) for Barrick, and $1,562 (fractionally lower) for Newmont. It appears that Goldcorp has a good position in terms of cost to produce gold and price to sell it.
What makes Goldcorp a better investment is its gold reserves and expected production growth. Goldcorp estimates its gold proven and probable reserves at 64.7 million ounces. Assuming the company produces at current rates, it have a production reserve of 25.88 years. For its competitors, the proven and probable reserves and production years at current production speeds are as follows: Kinross has 62.6 million ounces for 24.1 years of production, Barrick has 140 million ounces for 18.2 years, and Newmont has 99 million ounces for 19 years. It appears that Goldcorp is the best investment based on reserves and years left to extract these reserves. Goldcorp estimates that it will increase its production per year for the following five years. In 2012, the company expects to produce 2.6 million ounces of gold rising to 4.2 million ounces in 2016. The company's significant reserves and increase in extraction speed by 64% in the next 5 years together with its low-cost production, high operating margin, low valuation, and low debt level, make Goldcorp a truly compelling long-term investment.
It appears that on a long-term basis, Goldcorp can deliver a healthy return on investments. What will improve the stock performance in the medium term is the high price of gold coupled with the company's current projects under development. In early-January of this year, the company reported that it would proceed with the construction of the El Morro gold-copper project in Chile beginning in September of 2012. The project is expected to be completed in 2017 with full-production starting in 2018 at a capital cost of $3.9 billion. This project is expected to operate for 17 years and produce on average 210,000 ounces of gold and 200 million pounds of copper per year at a cost of $550 per ounce for the gold portion.
There are a handful of projects that will bear fruit in the next one to two years. The Peňasquito project should have ramped up throughput production to 130,000 tons per day by the end of March, 2012. Pueblo Viejo in the Dominican Republic is expected to start production in mid-2012. Goldcorp has a 40% participation in this project and its portion of the probable and proven reserves is 10.12 million ounces. In Canada, the Cochenour project is expected to deliver 5 million ounces, a significant increase from prior estimates. South of the border, in Mexico, the company will perform feasibility studies in mid-2012 on two projects, Camino Rojo and Noche Buena. Combined, these two projects contain measured and indicated reserves of 3.75 million ounces. The list continues but it is clear that Goldcorp management and board of directors as well as the company's 12,000+ employees are working with confidence and speed in discovering and acquiring reserves and producing gold.
To summarize, Goldcorp offers an attractive long-term as well as near-term investment opportunity. The company has operations in low-risk geographic areas and is also a low-cost producers with significant gold reserves. Its current valuation is not cheap, but the stock is priced low compared to the company's future prospects.
In conclusion, there are various ways to get exposure to gold - buying the SPDR Gold Shares ETF backed by physical gold, buying and then storing gold in your basement/yard, or by investing in the common stock of one or more of the gold mining companies. Investing in a company makes more sense because the company is usually run by industry veterans who are better able to time production and sale of gold than an average investor. One such company, in my opinion, is Goldcorp (traded on the NYSE). Of course, there are risks with any investment, especially gold mining companies, but I think in the case of Goldcorp the risk is relatively low compared to the proven and probable rewards.
Disclosure: I have no positions in any stocks mentioned, and no plans to initiate any positions within the next 72 hours.