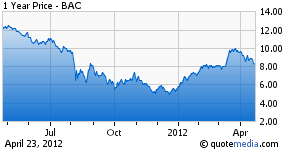 If buying back a significant portion of its own debt was part of Bank of America's (NYSE:BAC) business model then the Debit Valuation Adjustment ('DVA') would be relevant. But that is not the model and the DVA is not relevant. BAC will repay the vast majority of its debt at face value at maturity and price fluctuations between now and then will have no impact.
Like other banks, BAC took advantage of the crazy accounting rule that allowed the falling value of own debt to boost profitability and capital during the credit crunch. However, for banks to actually realize a profit they would have had to repurchase their own debt in the middle of the crises and in order to finance that they would have either had to issue new debt at sky high rates or sell assets at rock bottom prices. The simple fact is that during the crisis banks were trying to build liquidity buffers rather than buy back debt.
Nevertheless the profits were booked and now, as credit markets normalize, an equal and opposite loss has to be booked. However, shareholders should not pay any attention to them.
To use an example that may be more familiar to most people consider a residential mortgage. My bank may become worried about my ability to repay and they may write down the book value of my loan through an impairment. Under accounting rules, if my household provided an annual report, I could report the reduced value of the loan as revenue and income even though my obligation under the mortgage had not changed. If the bank then reviewed my mortgage and decided that my credit had improved and the impairment could be written back then, under accounting rules, this could be accounted for as a loss.
To be fair the rule has some logic to it. For example a private equity company may be interested in repurchasing all the debt and equity obligations of a targeted acquisition and if this can be executed below book value then the potential profit increases. However, it is difficult to apply this scenario to the largest financial institutions in the country.
The Results
BAC reported Q1 2012 net income of $653mm or $0.03 per undiluted share which was significantly below consensus estimates of around $0.31. However excluding DVA of $4.8bn (or $0.28 per share) then BAC hits consensus estimates and reports a significant improvement on Q1 2011 when it reported net income of $2.0bn or $0.17 per share.
The Valuation
The stock price fell over 6% on Thursday and Friday after the earnings miss was reported and full year estimates have fallen from $0.76 three months ago to its current estimate of $0.68. However, in my opinion, the quarterly run rate of EPS when adjusted for one off items and accountancy rules has been around $0.30 for several quarters and Q1 2012 reinforces that view. If that is correct then the closing price of $8.36 on Friday would represent a lowly multiple of less than 7.
Disclosure: This article does not constitute a recommendation to buy or sell. Investing in stocks or other securities and derivatives is a high risk activity and not suitable for everyone. It is strongly recommended that individuals should consult with a SEC registered investment advisor prior to making any investment decisions. The author holds no positions in Bank of America. The author is long JPM.