Shares of PPG Industries (NYSE:PPG), maker of protective and decorative coatings, are up 19% so far in 2012 and just off an all-time high. However, there are three reasons why the rally for PPG Industries is not over.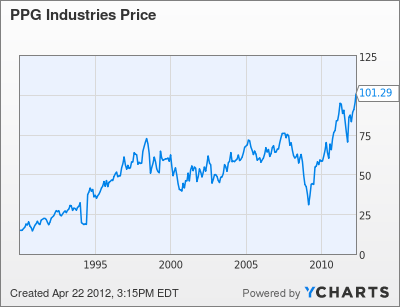 Options Activity
Option Monster reported on the high level of bullish options activity recently. 1,240 January 105 calls were purchased, while 1,492 January 90 puts were sold. Volume was more than twice open interest at each strike. This strategy will benefit from continued strength in PPG Industries. The large trades likely represent institutional money. Institutional money is usually smarter, thus worth following. In summary, the recent options activity points to more upside ahead for PPG Industries over the short term.
Dividend
PPG Industries currently pays a dividend of 2.33% or $2.36 per share. The company just announced an increase of 2 cents per share in the quarterly divided, which is now 59 cents per share up from 57 cents per share previously. This quarterly payment is the company's 455th consecutive payment. If history is any indication, PPG Industries will continue to raise its dividend going forward.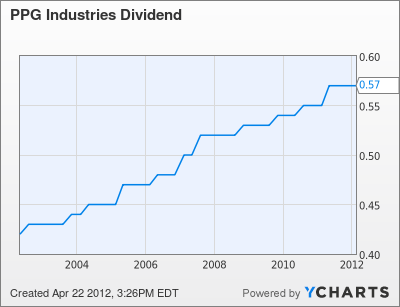 Valuation
PPG Industries currently trades at 18 times past earnings and 11.8 times forward earnings. Neither of these numbers are representative of a company that is overvalued. As you can see from the chart below, PPG Industries has traded at much higher P/E ratios in the past.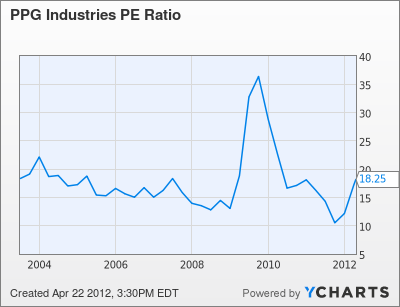 Conclusion
While PPG Industries has had a strong start to 2012, it remains likely that the stock will continue to rise. The bullish options activity, dividend history, and fair valuation are all reasons to consider PPG Industries.
Disclosure: I have no positions in any stocks mentioned, and no plans to initiate any positions within the next 72 hours.