A few weeks ago, in Ominous Signs and Sleepwalking, I highlighted reasons why the market was potentially heading for a major correction. Recent fundamental and technical data points have solidified that view.
Looking at the trajectory of fundamental data, we see continued deterioration in economic data misses. The inference is that if we are indeed at a turn in the economic cycle, the consensus has not yet accounted for it.
Click to enlarge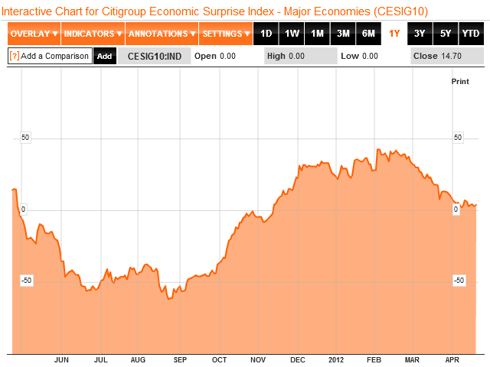 Click to enlarge
Source: Bloomberg
There are many reasons to believe that we could see a further weakening of economic data in the coming months, but #1 on my list is the flare-up in Europe, which in my mind has entered meltdown mode in some countries, most notably Spain, as the Credit Default Swap market has priced in the higher probability of default than last November! Remember, the CDS market is a better gauge of market sentiment than bond yields, since the ECB has gone "Bernanke" and is manipulating peripheral bond yields through LTRO.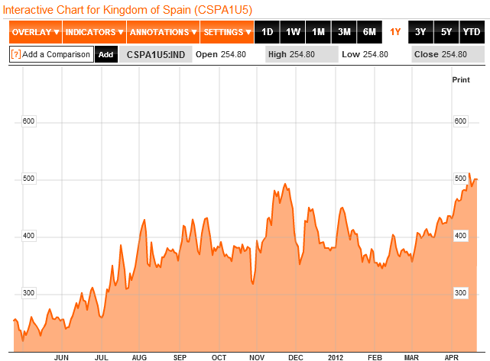 Click to enlarge
Source: Bloomberg
But a Credit Crisis party would not be any fun without our fashionably late stars, the Italians, whose CDS were routinely trading above Spain until recently, but are now attempting to play catch-up: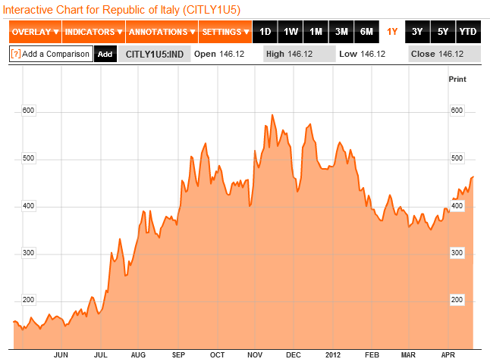 Click to enlarge
Source: Bloomberg
Is this time going to be it for Europe? The answer is I don't know and I don't care. I am really only concerend about the trajectory of macroeconomic data and the consensus (perception) versus the reality. That is what I believe ultimately moves my P&L, and on that note, I do believe given the recent European volatilty, the odds favor further weakening of data in the coming weeks.
Further substantiating that view is the technical action in markets. Despite the appearance of strength in the broad indices, some major cracks have appeared. One of my favorites is the ratio of Industrials to Defensives: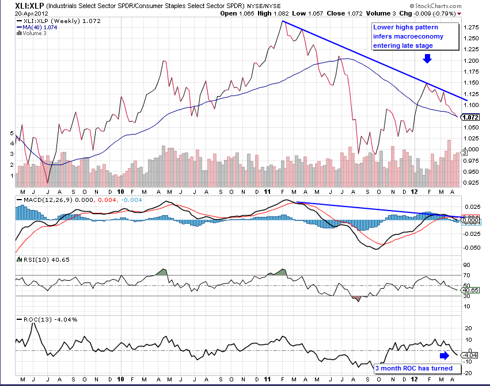 Click to enlarge
Source: Stockcharts.com
Slowing global activity is also being corroborated by Dr. Copper.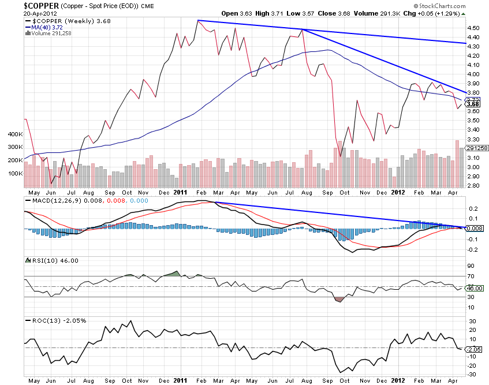 Click to enlarge
Source: Stockcharts.com
Conclusion
There is no change in view. Global risk markets are in dangerous territory. Recent macroeconomic volatility, coupled with evidence provided in my previous missives, and recent technical deterioration, leads me to believe that the global economy is slowing to a point which will exacerbate its numerous underlying structural problems. As such, I have avoided any hint of cyclical exposure in my portfolio in favor of a defensive posture.
Disclosure: I am long XLP, XLU.
Additional disclosure: I am long large cap US Defensives versus short Small Cap and Emerging Markets.