Messy as the data were, the results for the largest US banks in the first quarter should have allayed some of the fears floating around at the end of last year:
Trading income is not under pressure for structural reasons, but is subject to market sentiment
Expense controls are indeed in place
Reserve reversals have further to go, as do improvements in loan loss rates
Banks made good progress towards meeting much more stringent Basel III capital requirements
However, the uncertainties surrounding the mortgage liabilities and the fate of Europe could continue for a protracted period of time, and look to put a damper on things in future quarters:
Litigation costs, and the costs of repurchasing allegedly faulty mortgage loans sold look to weigh heavily on profitability for a few more years
Renewed fears over Spain and Italy could depress trading income
Overall, the health of the economy and the threat of more onerous regulations hangs like a pall over the future for banks. These uncertainties would appear to justify low valuations, both in terms of P/E multiples and multiples of book value for now. On the other hand, as clarity on these issues builds, the depressed multiples could begin to expand even as earnings begin to rise more quickly.
If we take out all of the noise in the quarter - the big negative accounting adjustments due to narrower spreads on banks' own debt (NYSE:DVA), gains on sale of various investments, litigation and mortgage repurchase expenses, gains on conversion of hybrid securities - we get a purer view of what underlying "normalized" earnings are. They are in fact pretty good.
Pretax margins (as a percent of revenues) are nearly back to 2006 levels for most of the top eight banks (BAC, C, GS, JPM, MS, PNC, UBS, WFC), with the notable exception of Bank of America , at 30-40%. When these underlying earnings will ever resemble reported earnings is the open question and depends on the direction of litigation on all fronts of the mortgage situation.
| | | | | | |
| --- | --- | --- | --- | --- | --- |
| Core Pretax Income/ Revenues | 1Q2012 | 4Q2011 | 3Q2011 | 2Q2011 | 1Q2011 |
| Bank of America | 12% | 6% | 0% | 23% | 20% |
| Citigroup | 30% | 18% | 23% | 23% | 29% |
| Goldman | 34% | 18% | 1% | 26% | 35% |
| JPMorgan | 40% | 29% | 29% | 38% | 42% |
| Morgan Stanley | 26% | 14% | 6% | 19% | 14% |
| PNC | 40% | 36% | 40% | 40% | 43% |
| US Bancorp | 38% | 34% | 38% | 36% | 32% |
| Wells Fargo | 43% | 35% | 40% | 40% | 37% |
| Average | 32% | 23% | 23% | 30% | 31% |
Litigation and mortgage repurchase costs totaled $6.2 billion for the four large mortgage lenders (BAC, C, JPM, WFC), reducing their reported pretax income by 21%. JPMorgan boosted its litigation reserves by $2.7 billion in the quarter, even though it already had the largest reserves among the group and given that there did not appear to be any new developments during the quarter. The others did not follow suit to the same degree, perhaps an indication they will need to catch up later. There is no end in sight in the near future for these costs. The government owned GSEs continue to defend the taxpayer by trying to push back more loans they had purchased from the banks.
We could say that the good underlying margins are not sustainable because provisions are unusually low. Delinquent loans continued their downward march, as did net charge-offs, which are now at historically low levels in all categories other than mortgages. This leaves more room to reduce reserves. Sometime soon, however, provisions and net charge-offs will have to converge.
Click to enlarge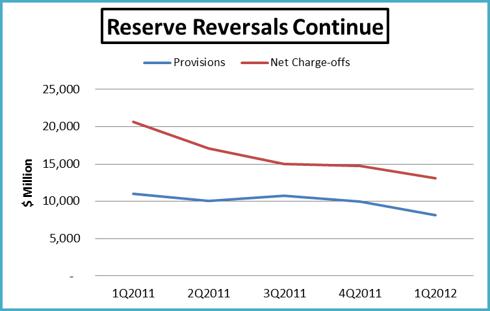 Click to enlarge
For now, the earnings benefit from reserve reversals are being handily offset by the drag of servicing seriously delinquent mortgages, and pressure on margins due to low interest rates.
The real revenue growth picture remains dismal. The net interest margin (NYSE:NIM) held steady in the quarter but at a low rate. Managements did not hold out hopes of improvement any time soon. That, coupled with very slow - if any - loan growth, will hold back net interest income growth.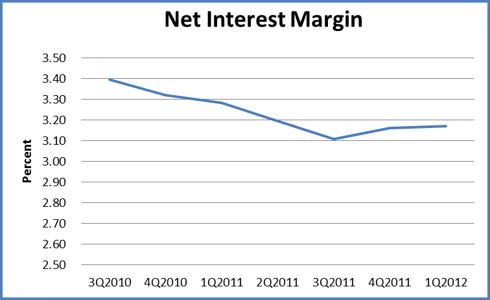 Click to enlarge
In addition to the drag from net interest margins, since the second quarter, fee income has dropped sharply due to the impact of the regulatorily mandated consumer fee reductions (Durbin amendment and Reg E), which are now fully phased in. Thus, the more stable aspects of bank's revenue stream, net interest income plus fees and commissions, are down year on year. Investment banking helped pull up fee income a bit this quarter. The good news is that we can look for these and other fees to grow with the economy on a linked quarter basis from here.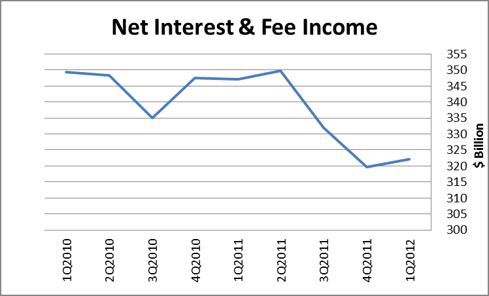 Click to enlarge
The real driver of improved performance in the quarter for this group of large banks has been sales and trading. The fixed cost element of trading operations hurts margins when income is depressed, as it was in the second half of 2011. Seasonally strong fixed income trading rebounded to levels last seen in the first quarter of 2011, which were arguably pretty good from a historical perspective. Excluding DVA, total sales and trading revenues were: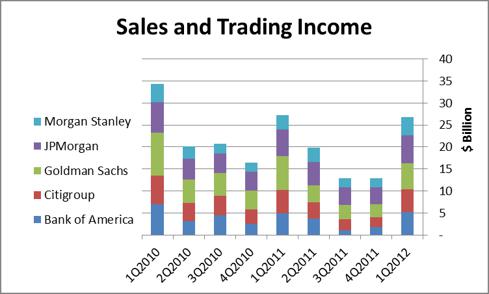 Click to enlarge
Relief over the resolution of the Greek resolution and the ECB fix for liquidity in sovereign bonds spurred investor activity, which helped the customer related "flow" business as well as no doubt producing a recovery in values on the inventory securities. In any case, the performance puts paid to the notion that reduced proprietary risk taking ahead of the Volcker Rule was at play in previous quarters. That may yet come to pass, although the final rule-writing has been pushed back for now. Renewed Euro fears will likely dampen results next quarter.
However, analysts' concerns that the apparent de-risking of trading portfolios as measured by VaR will reduce future earnings are largely misplaced. VaR measures were uniformly down considerably in the quarter. The VaR measures not only the amount of exposure but the riskiness of that exposure as measured by the volatility of the assets. With volatility having been very low in the quarter, the measure may be reflecting lower perceived risk of assets rather than reductions of risk assets. Lower VaR need not translate into lower profits next quarter.
Long-term investors should not worry about quarterly volatility in unpredictable trading income. More fundamental is potentially longer-lasting shifts in share of trading revenues among the various players. Clearly, resurgent banks Morgan Stanley and Citigroup were getting their groove back at Goldman Sachs' expense. Goldman was the only bank that failed to match 1Q 2011 sales and trading revenues (ex DVA) by 23%. The shortfall was entirely in fixed income; they held their preeminent place in equity trading.
Share shifts in investment banking are more glacial but perceptible nevertheless, with Citigroup losing to the others. Investment banking revenues remained weak in M&A advisory and equities as IPO activity has not recovered, indicating continued malaise in corporate boardrooms.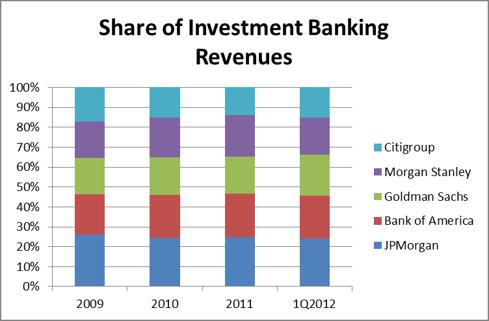 Click to enlarge
Banks have struggled to size their cost bases to the new, lower revenue bases and at the same time to absorb the rising costs of compliance and servicing delinquent mortgages. Bank of America, Citigroup and Morgan Stanley have been the most challenged on this front. This quarter they saw their cost cutting programs begin to produce results. The bounce-back in trading income also helped produce positive operating leverage and an improvement in the efficiency ratios (which also vary based on business mix). Further cost-cutting efforts are underway, but the real benefit for the large mortgage banks will come when the ongoing costs of servicing delinquent mortgages wane.
Expense/Revenues*
1Q2012
4Q2011
3Q2011
2Q2011
1Q2011
Bank of America
77.1%
79.6%
81.5%
64.6%
66.1%
Citigroup
56.7%
66.6%
61.0%
61.4%
56.8%
Goldman Sachs¹
66.1%
81.7%
98.5%
73.9%
65.0%
JPMorgan
57.7%
61.6%
60.7%
55.3%
53.9%
Morgan Stanley
74.0%
85.7%
94.5%
81.2%
86.4%
PNC
60.0%
64.3%
60.4%
60.4%
57.0%
US Bancorp
52.4%
55.7%
51.6%
51.7%
51.2%
Wells Fargo
47.9%
55.4%
51.3%
51.2%
52.5%
Total
61.2%
67.5%
66.1%
60.8%
60.1%
* Excludes disclosed litigation expenses, mortgage repurchase costs and unusual items
¹ Revenues exclude ICBC gain/loss
The large banks must drive towards meeting the proposed new Basel III capital standards of perhaps 9.5% Tier 1 common to risk weighted assets earlier than the 2019 date for the final phased in rules. Final rules have not yet been written but will surely make the definitions of both capital and risk-weighting much more stringent. All but Bank of America are in the 7-8% range now (I estimate BAC at about 6.3%). The rest can build towards the 9.5% even with modest share buybacks and dividend payouts.
The SCAP exercises confirmed that, although Citigroup must grapple further with regulators to decide how much it can return to shareholders and MS must keep its powder dry for the Smith Barney purchase, if it can settle on a price with Citigroup. BAC is gaining fast, making strenuous efforts to divest heavily risk weighted assets, while reaping profits on sales to boost capital and reduce the deduction for deferred tax assets.
Many uncertainties linger for bank stocks. It may take a while for the mortgage drag and associated litigation to dissipate. Much regulatory uncertainty still exists, particularly in the Volcker Rule; it could precipitate some significant strategic realignments if some current proposals are adopted. In addition, events in Europe could affect US economic growth and financial stability. Nevertheless, it is comforting to realize that absent all these isolated issues, the banks are mostly in pretty good shape.