Quite the week just came and went for Sirius XM (NASDAQ:SIRI). With the beginning of the week showing a wild downward spike in share price to $2.15 on Monday afternoon, many investors were left scratching their heads as to "why?" As the week progressed the reason became evident. The planned and pre announced sale of a portion of CEO Mel Karmazin's shares had been sold off in part of Monday, and in part on Tuesday. The over 5 million share sale on Monday dropped the share price considerably down to $2.15, offering what I feel was an excellent buying opportunity, and one which I took advantage of personally at $2.18. The rest of the week was spent in the usual range of consolidation from the low to mid $2.20's.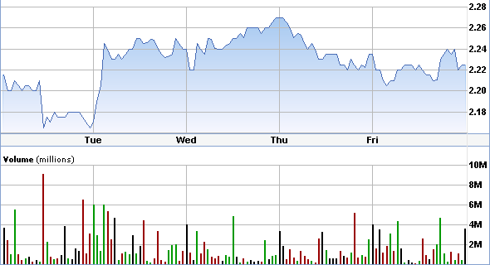 Click to enlarge
(Click to enlarge)
When I speak of consolidation, I am referring to the textbook cup and handle formation which is playing out as I outlined in the linked article. Despite some volatility introduced by rumors surrounding Liberty Media (NASDAQ:LMCA) and again, the sale of a portion of Mel Karmazin's shares, Sirius XM has traded and trended slightly downward ever since completing the cup part of this formation. This past week was no different in considering the longer term trend.


Click to enlarge
(Click to enlarge)
It appears nothing has changed from a technical aspect, and everything remains on track.
Going forward for the week, investors should be mindful of several key issues.
First and foremost, additional options may be exercised by Mel Karmazin and sold into the open market. I am of the belief that this is unlikely, but it should be expected regardless. Another sudden sale of 5 million shares may signal another sale by the CEO, as there remains another 49 million shares to be sold into the market. While this may present very short term instability in the stock to the downside, it is likely that the stock will return to previous levels quickly. These are not unexpected sales, and have been outlined since February, and therefore are "priced in." Traders who are expecting the sales can make money on the downward spike, and then selling on the rebound. Long term holders looking for an entry and attempt to buy on these spikes to afford themselves the best buying opportunity.
Second, the showdown between Sirius XM and Liberty Media will be playing out on a day to day basis. Rumor, he said she said, and changing expectations of what can or will happen should be expected to continue to dominate the week. This has rightfully taken center stage for Sirius XM but in my opinion means little in the grand scheme of things in terms of share price. Investors expecting a $3.50 buyout on a 10% stake are setting themselves up for disappointment.
My expectations are from $2.50 to $2.75 right now, if Liberty does choose to make a move. Regardless of anyone's expectations, one thing I feel is certain. The sooner the better, for both parties. Liberty's 40% stake may as well be a controlling stake, and it would be better for all if they are able to take over control and guide the company.
A house divided cannot stand, and while I believe Sirius XM will have a great year in 2012 of its own accord, it absolutely must receive strong guidance moving forward in order to take the company to the next level. This means one point of control and guidance, and that is shaping up to be Liberty Media. Let's get it done, and out of the way.
Third, earnings are due to be announced on Tuesday May 1st. I believe expectations for this have actually been overshadowed by the tumultuous proceedings surrounding Liberty Media. 2012 has been an excellent year so far for auto sales, and since new car sales are the largest driver of new subscribers for Sirius XM, this bodes well for their first quarter conference call. Churn increase has already been described as modest by Mel Karmazin, and with potential for the expanding used auto sector to bring in additional subscribers, I am expecting a strong quarter for Sirius XM. Conservative guidance of 1.3 million new subscribers is likely to be raised, and this should bode well for the share price.
Do I expect a run up this week ahead of earnings? No. Not beyond any recent share pricing, and that means a likely cap at $2.40 if there is a run at all. Judging by the volume in Sirius XM, investors have adopted a "wait and see" approach. With relatively low volume, and huge spikes on bits and pieces of rumor and news, individuals have their finger on the trigger for both "sell" and "buy" alike. I fully expect the coming week to be the same, with investors waiting on the sidelines for concrete news or numbers to push them one way or another into a decision.
This allows for an opportunity ahead of such news. Do you expect it to be good to excellent as I do? Then now is the time to buy, ahead of those sitting on the sidelines, in order to capitalize on a run. Do you expect the conference call to be underwhelming? Then now is the time to sell, or buy puts to cover your position, or even short the stock in anticipation of a drop. I would caution against a straight short, though, as I do believe Liberty waiting in the wings provides for a bit of downside protection until or unless they move to a 51% stake. As it stands, it may be an interesting week for Sirius XM, but I am expecting a rather flat week in the absence of any real news to take action upon.
Disclosure: I am long SIRI, LMCA. I am long SIRI May and June $2 calls.