According to a report, Tongjitang Pharmaceuticals (NYSE:TCM) announced its mainstay traditional Chinese medicine for osteoporosis, Xianling Gubao, was effective in a two-year trial. The randomized, double-blind, multi-center study demonstrated that Xianling Gubao prevented bone resorption and increased bone density. The trial was conducted in patients with post-menopausal osteoporosis.
Bone resorption is the process by which osteoclasts break down bone and release the minerals, causing a transfer of calcium from bone fluid to the blood. A secondary finding of the study was that calcium and vitamin D supplements do not by themselves improve bone density. Tongjitang will use the data from the trial as a basis for its request for FDA approval of Xianling Gubao in the U.S.
Tongjitang began the trial in late 2005. At the time, the company expected to be granted FDA approval in 2006. Now, Tongjitang is budgeting more than $10 million and a time period of three to five years before the FDA makes a ruling. The trial was conducted by Synarc, which is headquartered in the U.S., but with operations spread throughout the world, including Beijing.
Synarc specializes in clinical trials that involve radiology and biochemical biomarkers. It is noteworthy that Synarc co-founder, Chairman Emeritus and osteoporosis authority, Harry K. Genant, serves on Tongjitang's board as an independent director. FDA approval would open a huge market for Xianling Gubao, as the West would welcome a TCM drug for osteoporosis. At present, the drug is marketed only in China.
In August, Xianling Gubao was given "Trade Secret Status" by China, guaranteeing Tongjitang marketing exclusivity for five years. As a company, Tongjitang remains heavily dependent upon Xianling Gubao, which is sold as both a prescription and OTC drug. In China, the modernized formulation of a TCM compound is approved by the SFDA for osteoporosis, osteoarthritis, ischemic necrosis and bone fracture. It produced sales of 375 million RMB ($48 million) in 2006, an amount that comprised 77% of Tongjitang's total revenues. Xianling Gubao holds a 70% share of the market in China for TCM osteoporosis treatments. Perhaps even more astonishing is that it produces 0.75% of all revenues for all TCM drugs that are administered by hospitals in China (there are several thousand TCM formulations in all).
Since Tongitang's IPO in March of 2007 at a price of $10 per share, it has traded in range from $12.88 to $7.50. The news of the successful trial sent its shares toward the top of the range. In mid-session action on Monday, Tongjitang was priced at $11.84, up 44 cents.
TCM 6-mo chart: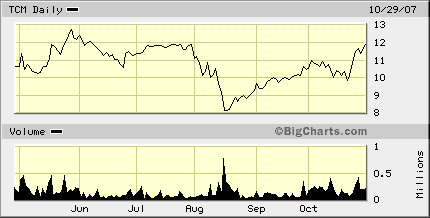 Disclosure: none.