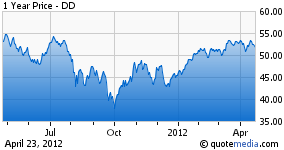 I was surprised to see relatively little coverage of DuPont's (NYSE:DD) earnings on Seeking Alpha. This is, after all, one of the largest American companies, a Dow Jones Industrial component, and a major bellwether in multiple industries. All told, then, a stock worth following. So, once more into the breach ...
A Decent Start To The Year
Although a lot of DuPont's constituent pieces were weak this quarter, the company has a whole did a little bit better than expected - due in very large part to success in pushing through price increases.
Revenue rose 12%, with price chipping in about two-thirds of that (+8%), the Danisco acquisition adding seven points of growth, and volume (down 2%) and foreign exchange (down 1%) weighing down results.
Profitability was pretty good as well. Pre-tax operating profits exceeded expectations by a high single-digit percentage and grew nearly 17%. What's more, this result could have been even better, but for the company's ongoing spending on productivity initiatives and investments in new businesses.
Ag Leads The Way
DuPont is probably still thought of primarily for its advanced material products like Kevlar and Tyvek, but the reality is that agriculture is a huge part of this business - fully one-third of sales and proportionately more of the company's growth.
Ag revenue this quarter rose 16% on a 20% jump in seed sales. Although Monsanto (NYSE:MON) has recovered from its foibles of recent years, DuPont is holding its own and keeping a lot of share - suggesting that it's companies like Syngenta (NYSE:SYT) and the smaller players in seeds that are really under pressure. That said, Monsanto is ahead in the lab, and could be more than three years ahead of DuPont with advanced drought resistance traits.
No Joy In Electronics
DuPont reported another significant drop in its electronics materials business. Revenue dropped 17% on an 18% decline in volume as markets like display and photovoltaics continue to struggle. This does not bode well for 3M's (NYSE:MMM) Tuesday earnings (at least in this segment), nor this part of the business for Dow (NYSE:DOW) or OM Group (NYSE:OMG).
PV is about 40% of this business and one would think that the solar de-stocking cycle has to be closer to the end at this point. Likewise, markets like display and communications should have found their footing by now and results should rebound through the year.
Can Titanium Dioxide Pricing Stick?
The titanium dioxide market is helping out the performance chemicals business, as revenue rose 6% here on a 16% jump in prices. Thus far, companies like DuPont (which has about 20% of the TiO2 market), Huntsman (NYSE:HUN), and Kronos (NYSE:KRO) have been able to pass on pretty aggressive price increases and neutralize the impact of rising ore prices, but can that continue?
Quite a lot of titanium dioxide ends up in consumer goods, whether as paint or as part of paper, packaging, and other goods (even food in some cases). Sooner or later, customers will stop paying up and there will be a battle between Sherwin Williams (NYSE:SHW), Valspar (NYSE:VAL), PPG (NYSE:PPG) and the suppliers - and if smaller suppliers crack, pricing could erode. For now, though, business and profits are good.
The Bottom Line
For a business where half of the segments were down (industrial bio and nutrition don't really count this time around), DuPont is doing pretty good. If DuPont can continue to leverage price, revenue growth and profits could stay in solid shape, but the gap between pricing and variable costs makes me wonder how far they can push it. It's also worth noting that there could be an unexpected growth opportunity in resins for the auto industry, due to a competitor's plant accident.
DuPont deserves for its efforts to become less economically sensitive and more growth-oriented with exposures to markets like advanced agriculture, photovoltaics, ethanol, and so on. At the same time, the company continues to be heavily exposed to a wide range of end-markets like food and electronics where growth is either constrained or volatile.
I'd be interested in DuPont at the right price, but the stock's strong performance since October of 2011 has taken a lot of juice out of it. Even with solid mid single-digit free cash flow growth expectations and/or an 7x multiple to 2012 EBTIDA estimates, the stock doesn't look cheap today. DuPont is a decent enough hold at today's prices, but there's too much already in the valuation to make it a compelling buy.