Last week, Denison Mines (NYSEMKT:DNN) reported that it was entering into a very interesting but somewhat overlooked agreement with Energy Fuels regarding its uranium mining assets within the United States. Under the agreement, Energy Fuels will acquire all of Denison's U.S. mining assets and operations to Energy Fuels in exchange for about a two-thirds stake in Energy Fuels.
See a recent performance chart for Denison: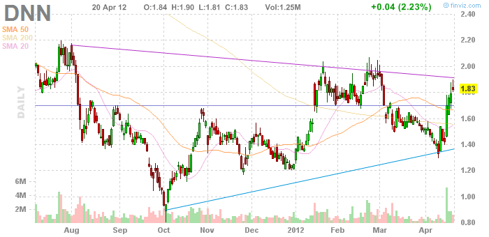 Click to enlarge
(Click to enlarge)
Denison also reported that it will distribute the Energy Fuels shares it receives to DNN shareholders. Therefore, current shareholders in Denison will soon own separate equity in both a United States uranium miner and an international but primarily Canadian one.
At this point in time, it is unclear exactly how this separation will benefit shareholders, though it each may benefit from streamlined operations and the ability for each to focus on one set of government regulations. Denison noted that it expects shareholders to benefit from the division of two distinctly different business profiles as well as exclusive management focus on exploration and development.
According to Denison, the domestic U.S. miner that will be formed through this deal will be the largest pure uranium miner within the country. There will also be some related by-product mining included with the operations, such as vanadium. Denison's U.S. mining assets are projected to account for about 25 percent of the nations estimated 2012 production.
Ron Hochstein, President and CEO of Denison commented:
"This transaction is an important step forward for Denison. The company has evolved on two parallel but different tracks, being both an exploration and development entity with a global footprint and an established producer in the United States. We are pleased to have the opportunity to combine our U.S. operations with such a complimentary set of assets and people. I'm excited about the opportunities that lie ahead for both Denison and Energy Fuels shareholders and believe that this transaction only serves to strengthen the operations of both companies."
Uranium miners and the commodity itself performed exceedingly poorly in 2011. Shortly after the year started, the Japanese nuclear catastrophe slammed the industry. This was followed by Germany indicating that it was going to reduce its use of nuclear power and slowly curb the habit.
See a recent performance chart for Global X Uranium ETF (NYSEARCA:URA), which tracks the Solactive Uranium Index of miners.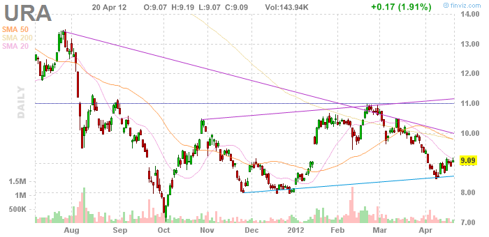 Click to enlarge
(Click to enlarge)
The result of these concerns pushed most uranium mining equities down between 50 and 80 percent in 2011. Nonetheless, several of these equities started 2012 with a vengeance. This was at least partially due to the market rebounding, but also likely due to a short-term bidding war broke out between Cameco Corp (NYSE:CCJ) and mining powerhouse Rio Tinto (NYSE:RIO) over Hathor, a Canadian uranium miner, which RIO eventually won.
Few other deals have occurred within the industry recently, and especially within the domestic U.S. mining industry. Still, this current deal may actually exist solely to make the remaining Denison assets more attractive to a suitor, and very possibly either CCJ or RIO. Both companies have already shown an interest in expanding their portfolio of Canadian uranium assets and also have considerably larger market values than DNN. Additionally, Denison's U.S. operations were running at a loss to an extent that may have turned off some buyers.
Cameco and Denison also happen to own uranium assets that are reasonably close to one another within Saskatchewan. In fact, Cameco already owns a 30 percent stake in Denison's Wheeler River asset, so there is already some clear interest in the property by CCJ. Additionally, if Cameco wants to prevent Rio Tinto from obtaining a strong foothold in its neck of the woods, acquiring Denison could help secure some of that geography.
With uranium prices still being historically low and several of the largest uranium miners already expressing an interest in acquiring assets, it appears likely that more deals are coming.
Disclosure: I have no positions in any stocks mentioned, and no plans to initiate any positions within the next 72 hours.
Disclaimer: This article is intended to be informative and should not be construed as personalized advice as it does not take into account your specific situation or objectives.